Quilts made from baby clothes are some of the cutest quilts we make. When a box of baby clothes come into the shop, we all ooh and aw over the clothes. Some of us are particular to girl clothes and other prefer the boy clothing. Whatever the gender, we delight in making these quilts.
If you are an avid Harley-Davidson rider, you probably love of Harley-Davidson T-shirts. You might be one to take your vacation on your Harley and travel all over the country. If you are like a lot of other riders, many of your stops are made at various Harley-Davidson dealers along the way. And if you find an awesome T-shirt at the shop, you leave with it.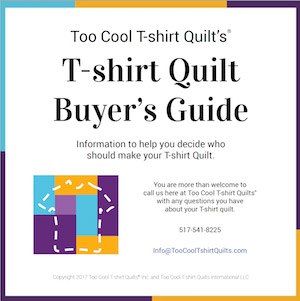 T-Shirt Quilt Buying Guide
If you are in the process of finding someone to make your T-shirt quilt, you may not have all the information you need to make an informed decision. Our T-shirt Quilt Buying Guide has the information you need to fill in any knowledge gaps.
Athletic Quilts | Planning a T-shirt Quilt
Why do you have too many T-shirts? Because you love to race. Racing lets you challenge yourself. You can race for the gold. You can race as a training goal. Some runners race for the T-shirts!
In the years since I began making T-shirt quilts in 1992, I have made numerous quilts from all white T-shirts. Despite being all white, they end up much more colorful than you might imagine.
Styles & Types of T-shirt Quilts
If you are a bicyclist, chances are that you have more bicycle jerseys than you can wear.
So you are ready to ship your T-shirts to Too Cool T-shirt Quilts. Then you stumble… "I don't have a box!