When we make a pillow from just a single T-shirt, we make that T-shirt the star of the pillow. That shirt is centered and all the surrounding colors are chosen to support the colors of and in that shirt. If you just have one special T-shirt that you want to save, consider having it transformed into a T-shirt pillow. There are many situations in which a T-shirt pillow made out of one T-shirt would be beneficial. Some of those situations are unique and some are more common than you might think. There are two typical situations where we would recommend this type of pillow: celebrating one T-shirt vs. one odd T-shirt out.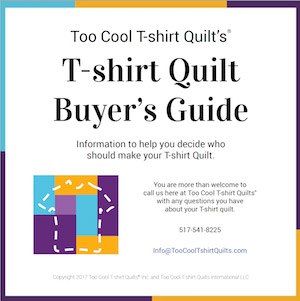 T-Shirt Quilt Buying Guide
If you are in the process of finding someone to make your T-shirt quilt, you may not have all the information you need to make an informed decision. Our T-shirt Quilt Buying Guide has the information you need to fill in any knowledge gaps.
Memorial Quilts | T-shirt Pillows
A T-shirt quilt does not have to be used as a quilt. Nor does it have to be big. A T-shirt quilt can be small and used as a wall hanging or as a child's blankie. Why a small quilt? There are a number of reasons you might want or end up with a small quilt… Not enough T-shirts T-shirts have very small logos Only want a wall hanging Need to have multiple memorial quilts made from a limited number of items Needed baby blankie Have a limited budget
Are you looking for an interesting gift for a student headed off to college? Consider having a T-shirt pillow made from school T-shirts for her to take to college.
Styles & Types of T-shirt Quilts | T-shirt Pillows
Too Cool T-shirt Quilts is now making pillows. But not just any old T-shirt pillows – we are making pillows that are too cool.