An Overview of T-shirt Pillows
May 1st, 2023
By Andrea Funk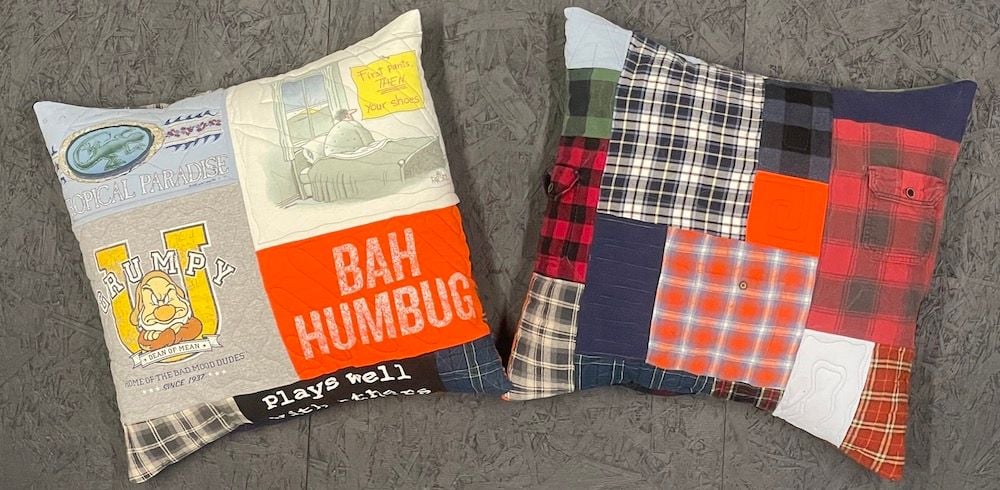 At Too Cool T-shirt Quilts, we don't just create ordinary T-shirt pillows - we make pillows that are too cool! When we begin thinking about adding a pillow to our product line-up, we approach this problem with purpose. We set a series of criteria that must be fulfilled.
The Pillow Must Be Able to Use Multiple T-shirts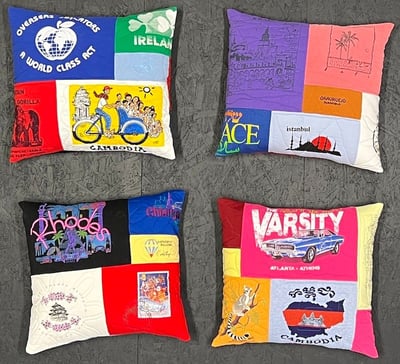 We had seen T-shirt pillows were made from just one T-shirts - the whole T-shirt! They were awful. The entire T-shirt was made into the pillow. The arms and neckline were sewn shut and a pillow was put in from the bottom. It was a cheap looking pillow case. We were not even going to consider this approach!
Rather, we wanted to be able to use a number of T-shirts in a pillow. T-shirts tell a story. As a T-shirt quilt is to a book, a T-shirt pillow is to chapter or a novella.
In the method we have developed, we can use anywhere from 1 to 10 T-shirts.
The Pillow Must Be Quilted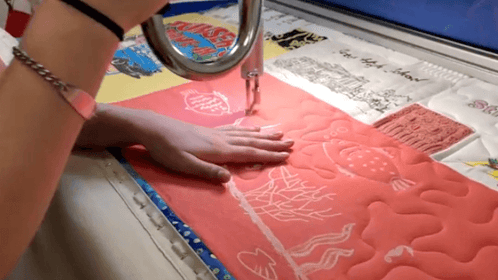 We love the quilting we do on our quilts. It's one of the characteristics of our quilts that is most commented upon. We decided if we were to do a pillow, it was going to be quilted.
We knew that the quilting would not be seen on the inside of the pillow as you can see it on the back of a quilt. Even so, it was important that the exterior of the pillow have the same texture as a quilt.
The Pillow Form Must be Removable
A pillow without a removable pillow form are a pain because you can't wash the case or change out the form. We wanted our pillows to useable and practicable. So, we made sure that the pillow form was removable.
The Pillow Form Must Not Show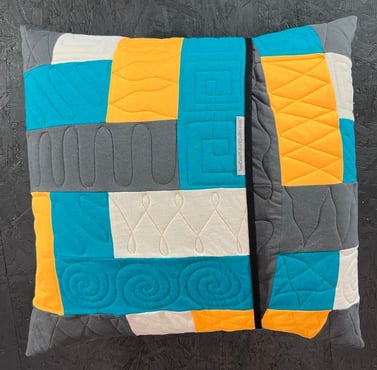 When we began our pillow journey, we spent time looking at the pillow we use all the time. We noticed that the pillows we use in bed tend to work their way out of the case. We did not like that look. Thus, our pillows had to hide the pillow form.
The Pillow Should Not Have a Zipper or Button Closure
For a sewer, zippers are tricky, time consuming and difficult to make look good. Buttons are also time consuming and something we didn't want to spend our time on. This is the one requirement that took the most time to figure out.
We could have gone online and seen how other people were making their pillows, but we didn't. We wanted a solution that was ours and that worked with what we do. Note, this does not mean that we "created" this solution. Rather we independently developed the solution that we use.
The Pillow Must Be Washable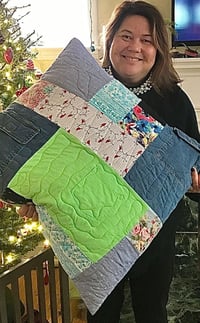 A pillow is for your head and face. If a pillow can't be washed, well, gross! Since our quilts are washable, the only thing we had to make sure for our pillows was that the form can be removed.
The Pillow
Must be Durable
We wanted to make pillows that were durable. And ours are. Although, how you use any item will influence its lifespan. More about the durability of T-shirt quilts here.
Must be Made in the Too Cool T-shirt Quilts Style
This was important because wanted to be able to pair up a pillow with one of our quilts. Accordingly, as we developed our pillow, we made sure we used the same system we use to puzzle together our quilts.
After many attempts, we have developed a pillow that met all of the above criteria. We make over 75 pillows each year. Below is more information.
---
Planning a T-shirt quilt?
Here are step-by-step directions for ordering your Too Cool T-shirt quilt.
---
T-shirt Pillows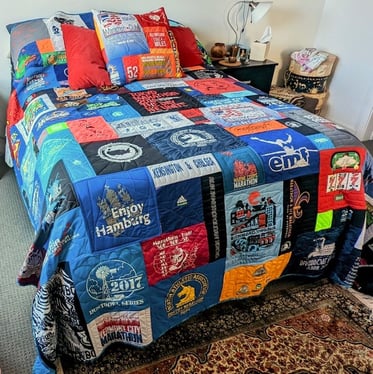 T-shirt pillows are great if you don't have enough T-shirts for a T-shirt quilt or if you have more T-shirts than you need for the size quilt you want.
We also think that T-shirt pillows will make great gifts because they are less expensive than quilts and require fewer T-shirts. Think coaches, teachers and friends. Here's the basic information about pillows.
1 to 10 T-shirts. The actual number of T-shirts needed will depend on the design(s) on the T-shirts.
Size 24" x 24". We selected this size because it is large enough to let us use a numbers of T-shirts.
Fully quilted like our T-shirts quilts. We felt it very important that our pillows match our quilts.
Memorial Clothing Pillows
Our memorial pillow transforms your loved one's clothing into a pillow that will bring comfort. You can also have this type of pillow made with your own clothing.
6 washable clothing items. (If the items are not washable, then you will need to dry clean the pillow.)
Size 24" x 24".
Fully quilted like our T-shirts quilts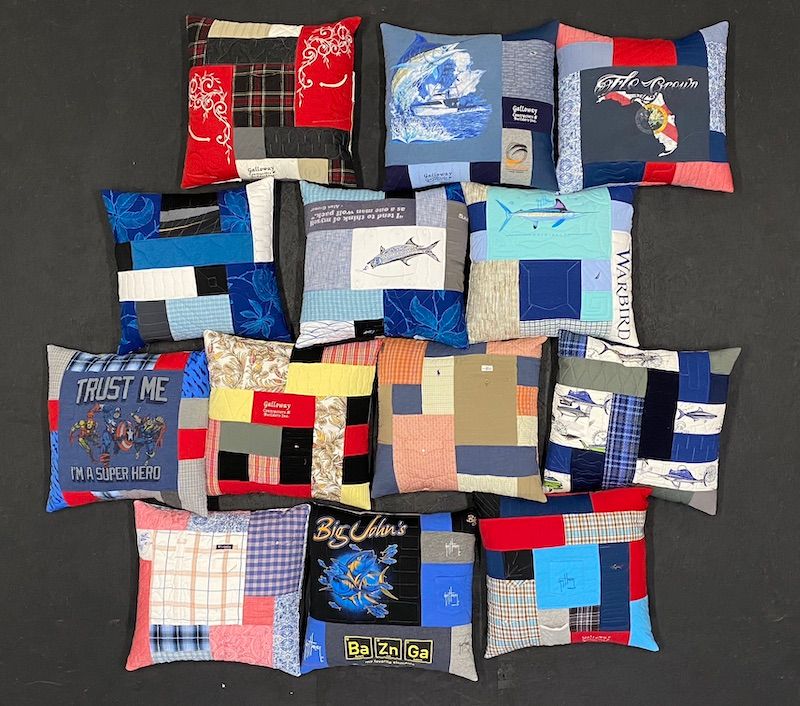 Pricing
The pricing of a pillow is much less than for one of our quilts because there are a number of steps that we don't have to do for a pillow that we do have to do for a quilt. For example, we don't have to do a three different steps in the layout and design that we do for a quilt.
We also don't have to add backing fabric into the pricing of a pillow because we are able to long-arm quilt a pillow at the bottom of another quilt. Since you don't see the inside of the pillow, the backing color we use does not matter.
Read more about the pricing of the pillows here.
---
Want to learn more about T-shirt quilts? Visit our Learning Center.
We have over 200 articles about all aspects of T-shirt quilts.
---
Andrea Funk is the inventor of T-shirt quilts made with multiple blocks sizes. The modern method of making T-shirt quilts. In 1992 she founded Too Cool T-shirt Quilts. Her life has been immersed in T-shirt quilts ever since.