Too Cool T-shirt Quilts - Austin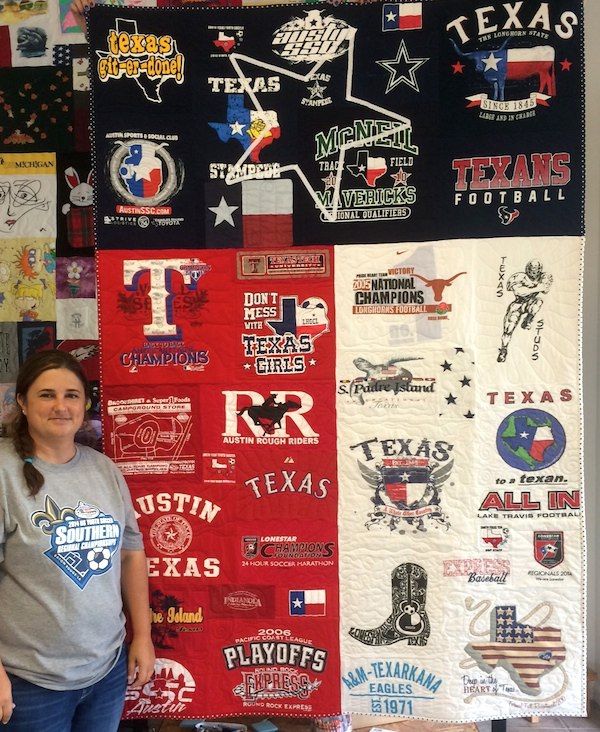 Too Cool T-shirt Quilts - Austin is located in Round Rock, Texas and owned by Michelle Bailey.
Michelle found the Too Cool method of T-shirt Quilts about 8 years ago when her oldest daughter was a Freshman in High School. Knowing that she wanted to make a t-shirt quilt for her daughter's HS graduation and knowing she needed time to practice before creating the lasting memory of "prized" T-shirts, she began learning all different types of quilting.
When searching for a way to make the T-shirt quilt, she knew she didn't want the extra step of stabilizing the t-shirts and making them "stiffer", she also wanted to be able to do more than 9 or 12 same sized blocks. She knew her daughter's T-shirts ranged in size and quantity.
A google search brought her to the Too Cool T-shirt Quilt website. She bought the book and templates and has been hooked ever since! In 2014, she quit her corporate job to do what she loves (T-shirt Quilts, of course!). She formed her own company Sharpy Creations, LLC, and signed up as a franchise of Too Cool T-shirt Quilts! She now has 3 employees working with her in creating these beautiful quilts and looks to be growing again soon.
Besides the original Too Cool T-shirt Quilt, the Austin branch offers
Too Cool T-shirt Quilts - Austin
3010 Williams Drive, Suite 156
Georgetown, TX 78628
(512) 496-8613 - Michelle