Comparing T-shirt Quilts | Finding a T-shirt Quilt Maker | Planning a T-shirt Quilt
Not all T-shirt quilt makers fall into the world of T-shirt quilts the same way. But they are all making T-shirt quilts and T-shirt blankets. Which type of quilt maker should you find to make your quilt? Here is an explanation of each type of T-shirt quilt maker. This explanation includes how they came into the T-shirt quilt world and what you could expect if you ask them to make a T-shirt quilt for you.
How Much Do T-shirt Quilts Cost
Why is there such a large price range? On the Internet, you can find T-shirt quilts ranging in price from $100 to over $2,000. That is a huge price range for what you might think is the same thing. But T-shirt quilts aren't all the same. And most of the time, they aren't even close to being the same.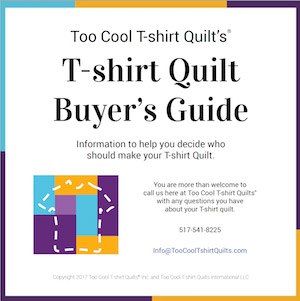 T-Shirt Quilt Buying Guide
If you are in the process of finding someone to make your T-shirt quilt, you may not have all the information you need to make an informed decision. Our T-shirt Quilt Buying Guide has the information you need to fill in any knowledge gaps.
Comparing T-shirt Quilts | Styles & Types of T-shirt Quilts | The Construction of a T-shirt Quilt
A quilt and a blanket are not the same thing! Many of our customers ask us what is the difference between a quilt and a blanket. And if you're looking to have your T-shirts transformed into a quilt or blanket you need to know the difference between the two. You also need to know which one you want. Because, a blanket and a quilt are not the same thing. Sure, they both can keep you warm. But other than that, they are very different.
We've made a quick video to keep you up to date on what we're doing and what's happening at each of our locations. Not much has changed, but we are asking everyone to call before putting your box in the mail.
On the Internet, there are millions of photographs of T-shirt quilts. Since you have landed here, you've probably seen some of them yourself. To help you understand what you are looking at, we have broken down 5 details that are important to look for. Once you have these figured out, you will know what to look for based on what is important to you. Look at lots of pictures and pick out the little details that set an amazing T-shirt quilt apart from an ordinary or awful quilt.
Since I began making T-shirts quilts in 1992, I have found that most people have more than enough T-shirts to make a quilt the size they want. But there are situations when you might want more T-shirts than you have.