"I Don't Want an All Black T-shirt Quilt" Normally, if all the T-shirts going into a quilt are black, we would make an all black T-shirt quilt.
Comparing T-shirt Quilts | Styles & Types of T-shirt Quilts | The Construction of a T-shirt Quilt
Are you getting ready to have a quilt made from your T-shirts? If so, you know there are a lot of choices you will need to make about your quilt. The quilting style? It's an important decision. It will influence the look and life of your quilt.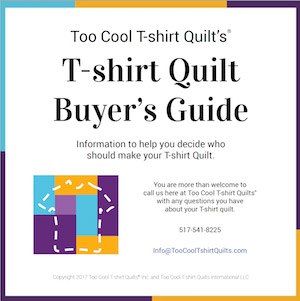 T-Shirt Quilt Buying Guide
If you are in the process of finding someone to make your T-shirt quilt, you may not have all the information you need to make an informed decision. Our T-shirt Quilt Buying Guide has the information you need to fill in any knowledge gaps.
Planning a T-shirt Quilt | theme quilts
Most Americans will admit that we all have too much stuff! We will also admit that it is hard to let go of this same stuff. One of these things we have too many of is T-shirts. So, how many do you need to have to wear?
What can you use in a T-shirt quilt?
This is one of the most frequent questions we are asked about T-shirt quilts. Since it's called a T-shirt quilt, many people think that you can only use T-shirts in such a quilt. A T-shirt quilt is much more than just T-shirts.
Are you considering making your own T-shirt quilt? With the right directions, skills, time, experience and tool, you probably can make your own quilt. But before you begin, you need to know if you have what it takes to complete the project. We have rescued many "would-be" T-shirt quilt makers who found themselves over their heads with the project. But the final quilt ended up costing more than it would have if a professional quilt maker had made the quilt from the get-go.
Comparing T-shirt Quilts | Planning a T-shirt Quilt | Styles & Types of T-shirt Quilts
There are many styles of T-shirt quilts. Some styles are very traditional while others are much more modern. The question to ask about any solution is, does it solve all the challenges inherent to all T-shirt quilts? Here is a look at the three problems that have to be solved in order to consider a T-shirt quilt successful.