Comparing T-shirt Quilts | The Construction of a T-shirt Quilt
The Dark Ages of T-shirt Quilt Making Before 1992, most T-shirt quilts were made one way.
Materials Used In T-shirt Quilts | Q & A About T-shirt Quilts
We love displaying our T-shirt Quilts various events such as marathon expos. We enjoy visiting with current customers and future customers. People walking by our booth often comment to us about how cool our T-shirt quilts are. It's a lot of fun.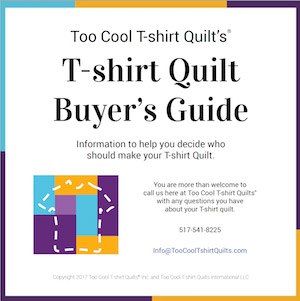 T-Shirt Quilt Buying Guide
If you are in the process of finding someone to make your T-shirt quilt, you may not have all the information you need to make an informed decision. Our T-shirt Quilt Buying Guide has the information you need to fill in any knowledge gaps.
My first quilt sucked. There, I said it. I'm not going to deny it; the first T-shirt quilt I made was awful. Why am I sharing this with you?
When you think of a quilt, your first thought might be – a blanket or something to snuggle with. But there are other ways to enjoy and use a T-shirt quilt. Hanging your quilt on your wall is a wonderful way to enjoy your quilt everyday.
The first time I included a pocket from a T-shirt in a quilt - well that was a big hit. Ever since I have encouraged using pockets in T-shirt quilts.
When parents gather their children's T-shirts in preparation to have a high school graduation T-shirt quilt made, we get many questions about what to put in and what to leave out. One of the most frequent questions I am asked is: Should a piece of the child's baby blanket be included in the quilt?