Are you planning on having a quilt made from your deceased loved one's clothing? The first step, going through you loved one's clothing is very difficult. Here is a plan for sorting through their clothing you can follow to make the job a little easier. Unfortunately, this knowledge has come from firsthand experience. Hang in there, you can do this!
People have been making quilts from old and/or excess clothing for hundreds of years. Since the arrival of the T-shirt after WWII, it too has found it's way into quilts. T-shirt quilts evolved into what they are today from the advancements of generations of past quilters.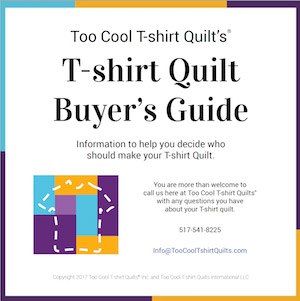 T-Shirt Quilt Buying Guide
If you are in the process of finding someone to make your T-shirt quilt, you may not have all the information you need to make an informed decision. Our T-shirt Quilt Buying Guide has the information you need to fill in any knowledge gaps.
The Basics of a T-shirt Quilt 1. Will you send my T-shirt back with the quilt? No. We will use them to make your quilt!
Comparing T-shirt Quilts | Planning a T-shirt Quilt
1. Figure out what type and style of T-shirt quilt you want. To figure this out, you need to know two things. First, do you want a blanket or quilt? And second, what style quilt do you want?
We love making T-shirt quilts from concert T-shirts. What distinguishes a concert T-shirt quilts from other T-shirt quilts? It is the designs on the T-shirts, the colors of the T-shirts and the value of the quilt.
What do you do with all the clothes someone leaves behind when they die? This is always a big question you face when you lose someone you love. Many people say, they are just clothes, donate them! Yeah, BUT… You can't just box all the clothing up and take them to Goodwill because clothing triggers memories of your loved ones.