Periodically we are asked, "Can you add T-shirts to my quilt after it's finished?" Our answer generally is, "It's not a good idea."
How long will your T-shirt quilt last? Forever, I hope. Okay, I know nothing lasts forever. So then, I hope your quilt lasts a number of generations. How long a T-shirt quilt lasts depends on a number of factors.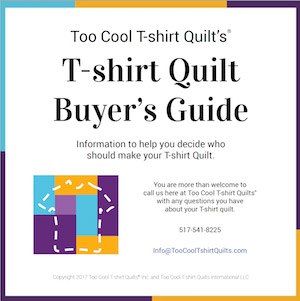 T-Shirt Quilt Buying Guide
If you are in the process of finding someone to make your T-shirt quilt, you may not have all the information you need to make an informed decision. Our T-shirt Quilt Buying Guide has the information you need to fill in any knowledge gaps.
Beyond the T-shirt | Materials Used In T-shirt Quilts | The Best of
Each year we make a number of quilts using the Too Cool method that end up different. In most of them, you can see our underlying methodology. But the end result is different than a normal Too Cool T-shirt Quilt. We are sharing those quilts from 2018 that are different here.
Parents of twins graduating from high school have twice as many issues as parents with just one child. Basically, everything needs to be done in twos. This includes two T-shirt quilts.
Planning a T-shirt Quilt | The Best of
We have not always added borders to our T-shirt quilts. As a matter of fact, we only stared offering borders 6 years ago.
How Much Do T-shirt Quilts Cost | Planning a T-shirt Quilt | Styles & Types of T-shirt Quilts | T-shirt Quilt Details
If you are on a tight budget yet still want a T-shirt quilt, you have options. There will be tradeoffs, but if you know what those tradeoffs are going in, you will know where to set your expectations.