Memorial Quilts | Planning a T-shirt Quilt | Styles & Types of T-shirt Quilts
Can you imagine planning 21 quilts and five pillows from one person's clothing? Perhaps not. But it happens. Here's how they planned their quilts.
Comparing T-shirt Quilts | Styles & Types of T-shirt Quilts
When you make a quilt, a binding is used to cover the raw edges of your quilt's three layers. In this article I will explain each type of binding and list the advantages and disadvantages of each.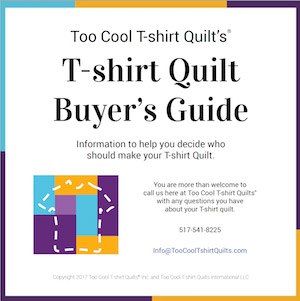 T-Shirt Quilt Buying Guide
If you are in the process of finding someone to make your T-shirt quilt, you may not have all the information you need to make an informed decision. Our T-shirt Quilt Buying Guide has the information you need to fill in any knowledge gaps.
We've made a quick video to keep you up to date on what we're doing and what's happening at each of our locations. We are still making quilts. As always, please call before shipping your box of T-shirts to us.
A dance costume quilt is a quilt that is made from a dancer's collection of dance costumes. These can include performance costumes, practice outfits and T-shirts and sweatshirts from dance competitions.
What can you do with a Crown Royal bag? So many things! Some items are great. Others, not so much! Face Masks ✔️ Pillows ✔️ Corn Hole Bags ✔️ A Dress ✖️ Pants ✖️ Slippers ✖️ Dog Clothing ✖️ Golf Club Covers ✔️ Drink Coasters ✔️ Baby Clothes ✖️ Lamp Shade Covers ✖️ A Coat ✖️ Apron ✔️ Purse ✔️ Boot Cover for Stick Shift ✔️ Bikini Bathing Suit ✖️✖️✖️ Mittons ✖️ Gun Case ✔️ A Quilt!! Of Course! ✔️✔️✔️
Styles & Types of T-shirt Quilts
If you were in a sorority in college, you probably have gobs of T-shirts from that period in your life. You don't wear them any more, but you can't stomach parting with them because each one tells a story and holds memories.