Are you are looking to have a quilt made from your T-shirts? If you know what to look for in a T-shirt quilt, finding the right quilt maker will be easier. Here are 10 of the most common mistakes you will find in a T-shirt quilt. Some of these errors you can see in a photograph. Others you can see in person. The last two you will need to ask about.
Are you in the process of learning about a T-shirt quilt made from your shirts? If so, here are some terms that will be used in your discussion about your quilt. Knowing these will let you understand and follow the conversation. If the term you want to know about is not listed below, here's a link to our glossary.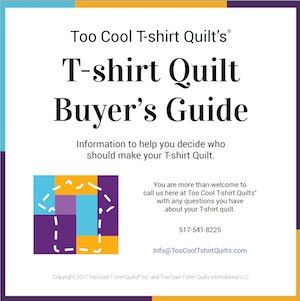 T-Shirt Quilt Buying Guide
If you are in the process of finding someone to make your T-shirt quilt, you may not have all the information you need to make an informed decision. Our T-shirt Quilt Buying Guide has the information you need to fill in any knowledge gaps.
If you have spent any time watching tiny house videos on YouTube, you will understand the Tiny House Movement. If not, the tiny house movement is about downsizing. It's about limiting your impact on the environment. It's also about finding affordable housing. Plus, so many other things.
For any number of reasons, it may not be the right time for you to have a T-shirt quilt made. You might not have enough money saved for a quilt or you still have more T-shirts to collect. What ever the reason might be, you have an issue: How to store your T-shirts until the time is right.
Comparing T-shirt Quilts | Finding a T-shirt Quilt Maker
Every company or person who makes T-shirt quilts, does it in her own unique way. Each maker's process can differ from another maker's process. If you are not careful, you might run into some confusion while you are having your quilt made.
Materials Used In T-shirt Quilts | Styles & Types of T-shirt Quilts
We can use just about anything! If you want something in a quilt, send it with your T-shirts and we will see if we can use it. If not, we will return the item with your quilt.