Below are 5 skills you want your quilt maker to have. In this article we will explain what each skill is and explain how you can easily tell if a quilter has these skills.
Finding a T-shirt Quilt Maker | Planning a T-shirt Quilt
When you are planning a T-shirt quilt, your first step is to learn everything you can about T-shirt quilts. Here's a link to our learning center. Our learning center has 100's of articles about everything T-shirt quilts. Your second step is to find a quilt maker. Here's an article about finding a quilt maker. When you think that you have found the right person, take time to either interview them and/or get the answers to these questions from their website.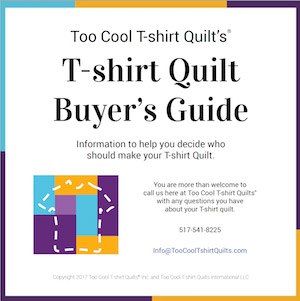 T-Shirt Quilt Buying Guide
If you are in the process of finding someone to make your T-shirt quilt, you may not have all the information you need to make an informed decision. Our T-shirt Quilt Buying Guide has the information you need to fill in any knowledge gaps.
I hear over and over from some people that they are looking for someone local to make their T-shirt quilt. When asked why, I am told that they fear mailing their T-shirts to someone they don't know. I feel that these are minor issues compared to settling for a quilt maker just because they are local.
We receive boxes of T-shirts everyday here at Too Cool T-shirt Quilts. They come from the post office, UPS and FedEx. Some boxes are packed better than others. Here are some thoughts, based on years of experience, on packing your T-shirt to ship to your quilt maker.
Materials Used In T-shirt Quilts
YES! The batting used in your T-shirt quilt is important. Although you don't see the batting in a quilt, it is very important. The type of the batting used influences the look, feel, quality and longevity of your T-shirt quilt.
Comparing T-shirt Quilts | Q & A About T-shirt Quilts | T-shirt Quilt Details
There are a lot of misconceptions about T-shirt quilts – from how they look to how they are made. Below is a look at the top 10 misconceptions. We will break each down for you and debunk them one at a time. When available, we also have included links to more information about each misconception. If you understand these facts about T-shirt quilts, you will be able to better find a quilt maker to make your quilt.