So, do you have that stack of T-shirts you want turned into a T-shirt quilt. Have you had a T-shirt quilt made before? Do you know what you want your T-shirt quilt to look or feel like? Without some basic information, you may choose a quilt maker who is not the right fit. Here are 10 things to look for in someone who may make your T-shirts quilt. These are clues you can use to determine a quilt maker's skill and if they are a good fit for you and your T-shirts.
Graduation T-shirt Quilts | Planning a T-shirt Quilt | baby clothes
Our kids have a lot of T-shirts! Many kids pick up their first T-shirt on the way out of the hospital after having just been born. After that they start getting T-shirts from their parent's alma mater, from friends and families favorite sports teams, from grandparents and aunts and uncles. Then there are the shirts from Disney characters, cartoon characters, trucks and cars and fairy princesses. And that is all in just the first year of a kid's life!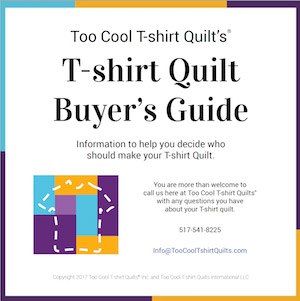 T-Shirt Quilt Buying Guide
If you are in the process of finding someone to make your T-shirt quilt, you may not have all the information you need to make an informed decision. Our T-shirt Quilt Buying Guide has the information you need to fill in any knowledge gaps.
What can you use in a T-shirt quilt?
Should a homemade T-shirt be included in a T-shirt quilt? There are no right or wrong answers to that question. It's your quilt and you get to decide what to put into it. Here are a number of things to take into consideration when making your decision.
T-shirt Quilt Details | The Construction of a T-shirt Quilt
A quilt's three layers are held together with quilting. Although there are four major styles of "quilting" a quilt maker can use, we are going to look at machine quilted T-shirt quilts here. Most T-shirt quilts are quilted, are quilted with a long-arm quilting machine. This article is a Q & A about the thread used to long-arm quilt T-shirt quilts.
I hear over and over from some people that they are looking for someone local to make their T-shirt quilt. When asked why, I am told that they are scared of mailing their T-shirts to someone they don't know. I feel that these are minor issues compared with choosing a quilt maker just because they are local.
We receive boxes of T-shirts everyday here at Too Cool T-shirt Quilts. They come from the post office, UPS and FedEx. Some boxes are packed better than others. Here are some thoughts, based on years of experience, on packing your T-shirt to your quilt maker.