Styles & Types of T-shirt Quilts
If you are in the military or have been in the military, you have T-shirts! And uniforms, flight suits, caps, sweatshirts, coats and just about every other type of clothing items that relates to your military service. And you probably have more of them than you need. So...you need to have a T-shirt quilt made!
Athletic Quilts | Styles & Types of T-shirt Quilts
When my nephew Isaac finished his last year playing Little League, he was disappointed that team had not made the Little League World Series. But then again, most Little League players are disappointed their teams did not make the Little League World Series.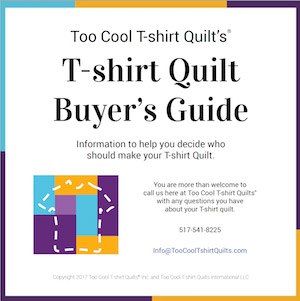 T-Shirt Quilt Buying Guide
If you are in the process of finding someone to make your T-shirt quilt, you may not have all the information you need to make an informed decision. Our T-shirt Quilt Buying Guide has the information you need to fill in any knowledge gaps.
T-shirt Quilt Details | The Best of
The Best T-shirt Quilt I Ever Made Each December I go through photos of the T-shirt quilts we made in the past 12-month. I usually showcase 10 photos of the most awesome quilt we made in the previous year. This year I am doing things differently because one quilt stands above every other quilt we made this year. And perhaps ever.
Finding a T-shirt Quilt Maker | Making Your Own T-shirt Quilt
Are you considering making your own T-shirt quilt? With the right directions, skills, time, experience and tool, you probably can make your own quilt. But before you begin, you need to know if you have what it takes to complete the project.
Here at Too Cool T-shirt Quilts we love to do special projects. We have quilting skills that go beyond just making T-shirt quilts. Our experience combining fabrics with different stretchiness makes what we can do unique.
Memorial Quilts | Planning a T-shirt Quilt
We know grief is different for everyone. Some people work through the grief of losing a loved one in a matter of months. While other people never do. Grief is universal, but very personal.