Memorial Quilts | Styles & Types of T-shirt Quilts
Have you considered having a memorial quilt or pillow made from the clothing of someone who had passed? With a memorial-clothing quilt, you can wrap up in their clothing and memory. If you are planning to have a quilt or two made from your deceased loved ones clothing, here are the steps of that planning process.
Planning a T-shirt Quilt | T-shirt Quilt Details
We regularly use collars and necklines in our quilts. It's one part of our quilts people positively react. We hear comments like, "Oh, it really is made from T-shirts" or "Wow, that is so much fun." We like to add collars and necklines into our quilts because they add a special touch to the quilt.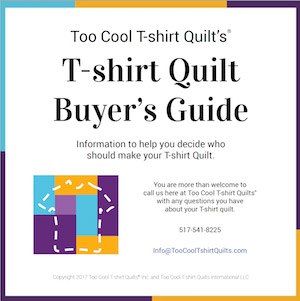 T-Shirt Quilt Buying Guide
If you are in the process of finding someone to make your T-shirt quilt, you may not have all the information you need to make an informed decision. Our T-shirt Quilt Buying Guide has the information you need to fill in any knowledge gaps.
Styles & Types of T-shirt Quilts
There are many different styles of T-shirt quilts. Each style can result in a different look and feel. And each style also comes with its own issues. Here is a look at the types of T-shirt quilts. You can click on each style or read from top to bottom.
Materials Used In T-shirt Quilts | T-shirt Quilt Details | The Construction of a T-shirt Quilt
There are a number of things you need to know about backing materials used for a T-shirt quilt. We have broken this article into four sections. Below, you can jump to any section. Or you can read from top to bottom.
We love making T-shirt quilts from concert T-shirts. What distinguishes a concert T-shirts quilts from other T-shirt quilts? It is the designs on the T-shirts, the colors of the T-shirts and the value of the quilt.
Clothing Quilts | Memorial Quilts | Planning a T-shirt Quilt
Clothing is part of who we are. You might not think about it every morning as you get dressed. Stand back and take a broader look at what you and those around you wear. Some clothes invoke strong associated memories. Other clothes are made from beautiful fabrics that are a joy to wear and touch.