A Brief History of Advertising Feed Sacks The history of feed sacks is the story of the transportation of consumer goods. Consumer goods had been transported in wood barrels and boxes for centuries.
Q & A About T-shirt Quilts | Styles & Types of T-shirt Quilts | T-shirt Quilt Details
The quilting designs you see on the back of a T-shirt quilt should be fun. But not all quilt makers choose to or can include this type of artistry in their quilts. The quilting on a T-shirt quilt should be cool and include the following features: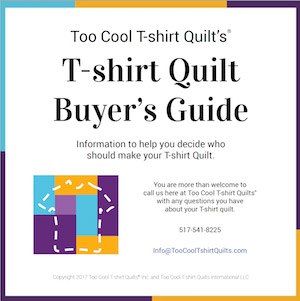 T-Shirt Quilt Buying Guide
If you are in the process of finding someone to make your T-shirt quilt, you may not have all the information you need to make an informed decision. Our T-shirt Quilt Buying Guide has the information you need to fill in any knowledge gaps.
We have used neckties as part of T-shirt quilt, but we had never made an entire quilt with neckties. So when we had a customer ask us to make a quilt from neckties, I was intrigued with the challenge and excited with what my team and I could come up with.
What do you do with all those hankies that you inherited from you great aunt? They are pretty, but what do you do with them? We recently came across a group of hankies that we found at a garage sale that we decided to transform into a quilt.
Comparing T-shirt Quilts | Styles & Types of T-shirt Quilts | T-shirt Quilt Remakes
Hate is such a strong word. But sometimes when there is an error in a T-shirt quilt, the hate word is used. You could also insert the words: dislike, unhappy with, disappointed with and the like. In this article we will begin by looking at what you can do about a T-shirt quilt you are unhappy with. Then we will look at some of the reasons you might hate your quilt. Here we will examine what can or cannot be done to solve the problem.
Beyond the T-shirt | baby clothes
When my daughter Milie was a baby, we went through four to five bibs a day. She was a typical baby – a very messy eater! We had both everyday and special occasion bibs. We were given bibs for gifts and at holidays. Who knew one baby needed so many bibs!