Memorial Quilts | Planning a T-shirt Quilt
We know grief is different for everyone. Some people work through the grief of losing a loved one in a matter of months. While other people never do. Grief is universal, but very personal.
How Much Do T-shirt Quilts Cost | Memorial Quilts
A memory quilt celebrates the life of a loved one you have lost. Before you have a quilt made, learn about some of the costs that go into making a memory quilt. With this knowledge, you will be able to choose a quilt maker based on your wants and budget.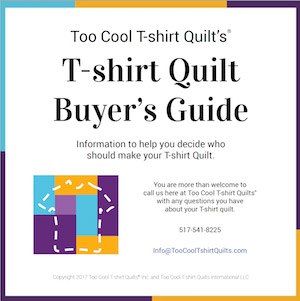 T-Shirt Quilt Buying Guide
If you are in the process of finding someone to make your T-shirt quilt, you may not have all the information you need to make an informed decision. Our T-shirt Quilt Buying Guide has the information you need to fill in any knowledge gaps.
Memorial Quilts | Styles & Types of T-shirt Quilts
Have you considered having a memorial quilt or pillow made from the clothing of someone who had passed? With a memorial-clothing quilt, you can wrap up in their clothing and memory. If you are planning to have a quilt or two made from your deceased loved ones clothing, here are the steps of that planning process.
Clothing Quilts | Memorial Quilts | Planning a T-shirt Quilt
Clothing is part of who we are. You might not think about it every morning as you get dressed. Stand back and take a broader look at what you and those around you wear. Some clothes invoke strong associated memories. Other clothes are made from beautiful fabrics that are a joy to wear and touch.
Memorial Quilts | Planning a T-shirt Quilt
When someone you love dies, your world gets turned upside-down and inside-out. Then you have to pick up the pieces of your life and go on.
If you are looking for a special way to celebrate and remember someone you have lost, a quilt made from his or her T-shirts and/or clothing may be just the thing.