Memorial Quilts | Styles & Types of T-shirt Quilts
Have you considered having a memorial quilt or pillow made from the clothing of someone who had passed? With a memorial-clothing quilt, you can wrap up in their clothing and memory. If you are planning to have a quilt or two made from your deceased loved ones clothing, here are the steps of that planning process.
Clothing Quilts | Memorial Quilts | Planning a T-shirt Quilt
Clothing is part of who we are. You might not think about it every morning as you get dressed. Stand back and take a broader look at what you and those around you wear. Some clothes invoke strong associated memories. Other clothes are made from beautiful fabrics that are a joy to wear and touch.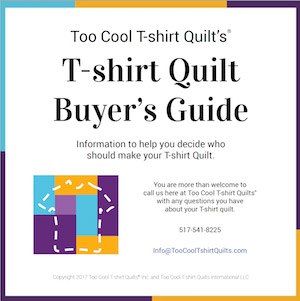 T-Shirt Quilt Buying Guide
If you are in the process of finding someone to make your T-shirt quilt, you may not have all the information you need to make an informed decision. Our T-shirt Quilt Buying Guide has the information you need to fill in any knowledge gaps.
Memorial Quilts | Planning a T-shirt Quilt
When someone you love dies, your world gets turned upside-down and inside-out. Then you have to pick up the pieces of your life and go on.
If you are looking for a special way to celebrate and remember someone you have lost, a quilt made from his or her T-shirts and/or clothing may be just the thing.
A million years ago when I was a kid, nurses wore white uniforms and starched white hats. You could pick out a nurse from miles around. Now days, it seems that everyone but the doctors wear scrubs. And not just the green one you see in surgery, but ones made from printed fabric with all sorts of prints. There are scrubs especially for the holidays, for your favorite team and those that are attractive to kids.
Life is complex and at times messy. But sharing a T-shirt between two quilts does not have to be complex or messy. Many people have had more than one quilt made and needed to split T-shirts or clothing items between two or more quilts. Below are the best strategies based on our experience with other groups of quilts.