Are you planning on having a quilt made from your deceased loved one's clothing? The first step, going through you loved one's clothing is very difficult. Here is a plan for sorting through their clothing you can follow to make the job a little easier. Unfortunately, this knowledge has come from firsthand experience. Hang in there, you can do this!
What do you do with all the clothes someone leaves behind when they die? This is always a big question you face when you lose someone you love. Many people say, they are just clothes, donate them! Yeah, BUT… You can't just box all the clothing up and take them to Goodwill because clothing triggers memories of your loved ones.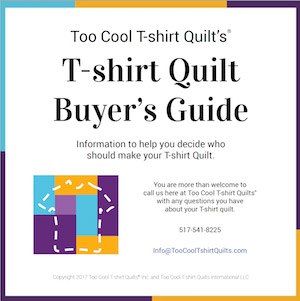 T-Shirt Quilt Buying Guide
If you are in the process of finding someone to make your T-shirt quilt, you may not have all the information you need to make an informed decision. Our T-shirt Quilt Buying Guide has the information you need to fill in any knowledge gaps.
Are you looking for something meaningful to do with the clothing of a deceased loved one? Have you considered having a memorial quilt or pillow made from their clothing?
Memorial Quilts | Planning a T-shirt Quilt | Styles & Types of T-shirt Quilts
Can you imagine planning 21 quilts and five pillows from one person's clothing? Perhaps not. But it happens. Here's how they planned their quilts.
Memorial Quilts | Planning a T-shirt Quilt
We know grief is different for everyone. Some people work through the grief of losing a loved one in a matter of months. While other people never do. Grief is universal, but very personal.
How Much Do T-shirt Quilts Cost | Memorial Quilts
A memory quilt celebrates the life of a loved one you have lost. Before you have a quilt made, learn about some of the costs that go into making a memory quilt. With this knowledge, you will be able to choose a quilt maker based on your wants and budget.