Graduation T-shirt Quilts | Planning a T-shirt Quilt | baby clothes
Our kids have a lot of T-shirts! Many kids pick up their first T-shirt on the way out of the hospital after having just been born. After that they start getting T-shirts from their parent's alma mater, from friends and families favorite sports teams, from grandparents and aunts and uncles. Then there are the shirts from Disney characters, cartoon characters, trucks and cars and fairy princesses. And that is all in just the first year of a kid's life!
We receive boxes of T-shirts everyday here at Too Cool T-shirt Quilts. They come from the post office, UPS and FedEx. Some boxes are packed better than others. Here are some thoughts, based on years of experience, on packing your T-shirt to your quilt maker.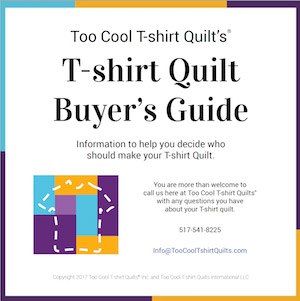 T-Shirt Quilt Buying Guide
If you are in the process of finding someone to make your T-shirt quilt, you may not have all the information you need to make an informed decision. Our T-shirt Quilt Buying Guide has the information you need to fill in any knowledge gaps.
I am always tell my husband David, "you have too many T-shirts." He always looks at me and says, "No, I don't." And then we break into that "Yes, you do. No I don't" argument. Then I said, "Okay, let's do an experiment."
Planning a T-shirt Quilt | T-shirt Quilt Details
We regularly use collars and necklines in our quilts. It's one part of our quilts people positively react. We hear comments like, "Oh, it really is made from T-shirts" or "Wow, that is so much fun." We like to add collars and necklines into our quilts because they add a special touch to the quilt.
We love making T-shirt quilts from concert T-shirts. What distinguishes a concert T-shirts quilts from other T-shirt quilts? It is the designs on the T-shirts, the colors of the T-shirts and the value of the quilt.
Clothing Quilts | Memorial Quilts | Planning a T-shirt Quilt
Clothing is part of who we are. You might not think about it every morning as you get dressed. Stand back and take a broader look at what you and those around you wear. Some clothes invoke strong associated memories. Other clothes are made from beautiful fabrics that are a joy to wear and touch.