Planning a T-shirt Quilt | The Construction of a T-shirt Quilt
There are 1000's of color combination you could choose for your T-shirt Quilt. How do you pick the best one for your quilt? Here's a place to start.
Finding a T-shirt Quilt Maker | Planning a T-shirt Quilt
When you are planning a T-shirt quilt, first learn as much as you can about T-shirt quilts – there is a lot to know. Next find a quilt maker. When you think that you have found someone, take time to either interview her and/or get the answers to these questions from her website. If you know ahead of time what you can expect, you won't end up with a T-shirt quilt that will break your heart.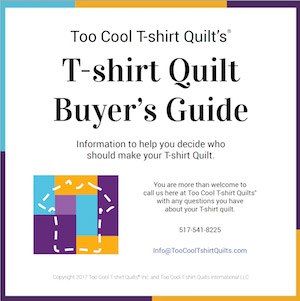 T-Shirt Quilt Buying Guide
If you are in the process of finding someone to make your T-shirt quilt, you may not have all the information you need to make an informed decision. Our T-shirt Quilt Buying Guide has the information you need to fill in any knowledge gaps.
That will depend on the style of quilt you have made. Below is how to figure out "how many" for a number of different style of T-shirt quilts. Click on the quilt style you are interested in reading about. Click here to learn more about different styles of T-shirt quilts.
If you are planning a T-shirt quilt, here are 8 choices you will need to make about your quilt before you find a quilt maker.
There are so many different ways to make T-shirt quilts. There are different ways to cut the blocks, different ways to layout the quilt top, different batting choices, different quilting styles, and different binding styles. How do you figure out which style is for you?
So what do you do if you have more T-shirts than you need for a king size quilt? The main frustration with a puzzle style T-shirt quilt that is puzzled together with blocks of different sizes is that you never know what size quilt any one group of T-shirts will make until they are cut. This is because the blocks are cut to fit the image on the T-shirts and not a set size. It makes for a much more interesting quilt, but a little more guesswork on the preparation.