We get this question a lot! Yes they can. They can be mixed in with any other type of material that is machine washable. When the quilt is finished, it is difficult to know if a block was from a T-shirt or a sweatshirt.
Here's the situation: you want your quilt larger than your T-shirts will make. For example, you want a queen size quilt for your bed, but only have enough T-shirts to make a quilt that is between a twin and a full size. What are your options?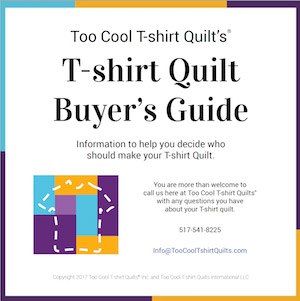 T-Shirt Quilt Buying Guide
If you are in the process of finding someone to make your T-shirt quilt, you may not have all the information you need to make an informed decision. Our T-shirt Quilt Buying Guide has the information you need to fill in any knowledge gaps.
Comparing T-shirt Quilts | Planning a T-shirt Quilt
There are a lot of companies making T-shirt quilts or T-shirt blankets. Digging through search results to find a list of makers is not easy. To solve this problem, we have compiled a list here for you.
Memorial Quilts | Planning a T-shirt Quilt | Styles & Types of T-shirt Quilts
Can you imagine planning 21 quilts and five pillows from one person's clothing? Perhaps not. But it happens. Here's how they planned their quilts.
Comparing T-shirt Quilts | Photographs of T-shirt Quilts | Planning a T-shirt Quilt
We are frequently asked: "Does my T-shirt quilt need a border?" "Will it look better with a border?" These questions are so hard to answer for a number of reasons:
How many T-shirt you will need for a quilt will depend on the style of quilt you have made. Below is how to figure out "how many" for a number of different T-shirt quilt styles.