When you think of a quilt, your first thought might be – a blanket or something to snuggle with. But there are other ways to enjoy and use a T-shirt quilt. Hanging your quilt on your wall is a wonderful way to enjoy your quilt everyday.
The first time I included a pocket from a T-shirt in a quilt - well that was a big hit. Ever since I have encouraged using pockets in T-shirt quilts.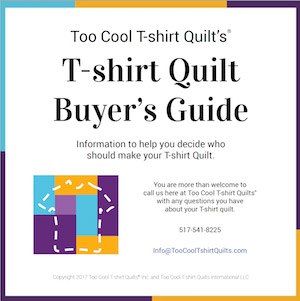 T-Shirt Quilt Buying Guide
If you are in the process of finding someone to make your T-shirt quilt, you may not have all the information you need to make an informed decision. Our T-shirt Quilt Buying Guide has the information you need to fill in any knowledge gaps.
Athletic Quilts | Planning a T-shirt Quilt
Why do you have too many T-shirts? Because you love to race. Racing lets you challenge yourself. You can race for the gold. You can race as a training goal. Some runners race for the T-shirts!
So you are ready to ship your T-shirts to Too Cool T-shirt Quilts. Then you stumble… "I don't have a box!
For the uninitiated, a T-shirt quilt is just a T-shirt quilt. You might think that anyone with a sewing machine can successfully make a T-shirt quilt. That's just not true. There are so many ways we have seen T-shirt quilts screwed up in the past 30 years. Based on our experience of having made thousands of quilts and having remade so many others, our advice is to have your quilt made right the first time. Here are some mistakes to avoid:
Right now, may not be the right time for you to have a T-shirt quilt made. You might not have enough money saved for a quilt or you still have more T-shirts to collect.