Athletic Quilts | Planning a T-shirt Quilt
Runners have many problems: Stinky Shoes Shin Splints Ear Buds Falling Out Heat Waves and Cold Spells Runner's Runs Blisters And Too Many T-shirts! Why do you have too many T-shirts? Because you love to race. Racing lets you challenge yourself. You can race for the gold. You can race as a training goal. Some runners race for the T-shirts!
Harley-Davidson T-shirt Quilts | Planning a T-shirt Quilt
A customer had contacted me because she was concerned that all her T-shirts were black. She felt that without adding colorful blocks or colorful sashing around each block that her quilt would be dark and not appealing. I assured her that a quilt made from all black T-shirts is awesome and much more colorful than she might expect.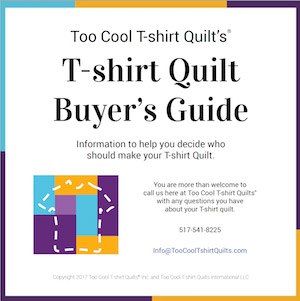 T-Shirt Quilt Buying Guide
If you are in the process of finding someone to make your T-shirt quilt, you may not have all the information you need to make an informed decision. Our T-shirt Quilt Buying Guide has the information you need to fill in any knowledge gaps.
If you have spent any time watching tiny house videos on YouTube, you will understand the Tiny House Movement. If not, the tiny house movement is about downsizing. It's about limiting your impact on the environment. It's also about finding affordable housing. Plus, so many other things.
For any number of reasons, it may not be the right time for you to have a T-shirt quilt made. You might not have enough money saved for a quilt or you still have more T-shirts to collect. What ever the reason might be, you have an issue: How to store your T-shirts until the time is right.
Comparing T-shirt Quilts | Materials Used In T-shirt Quilts | Planning a T-shirt Quilt | The Construction of a T-shirt Quilt
Are you in search of a T-shirt quilt maker? If so, you have seen a lot of people and companies making quilts or blankets. It might even seem overwhelming at times with all the choices you have. Don't just guess on a quilt maker. Take a more purposeful approach to find someone who is a good fit for you.
Comparing T-shirt Quilts | Planning a T-shirt Quilt
I love being out and about showing people my T-shirt quilts. I almostI always end up talking to people who don't have any T-shirts. What? No T-shirts? Is that you? Ok, so you have no T-shirts but you love the idea of a T-shirt quilt. No problem!!! You are at the perfect starting point for planning an awesome quilt. Here's how to plan a T-shirt quilt from scratch - from T-shirt zero.