We sorted through over 5000 photographs to bring to you these 10 awesome T-shirt quilts. This is not an easy choosing just 10 from so many fabulous quilts. We love all the quilts we make! What we looked for were quilts exemplifying different genres of quilts. For example, we made over 50 all white quilts. We chose the quilt that best represented that style of quilt.
Photographs of T-shirt Quilts | Q & A About T-shirt Quilts
Photographing a T-shirt quilt, or any quilt, is difficult. It's an odd shape to photograph. It's large. It's flat. It's one-dimensional. It has texture. It's floppy. Just figuring out where to photograph a T-shirt quilt can be difficult.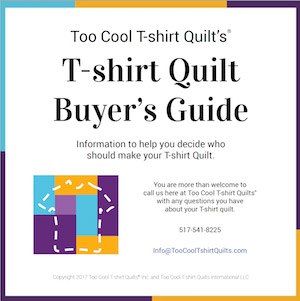 T-Shirt Quilt Buying Guide
If you are in the process of finding someone to make your T-shirt quilt, you may not have all the information you need to make an informed decision. Our T-shirt Quilt Buying Guide has the information you need to fill in any knowledge gaps.
These Harley Davidson T-shirt quilts were made for a guy named Ed. He told us that he had even more Harley T-shirts than we were actually going to use in his quilts. These were just his favorites. If you are an avid Harley rider then you probably understand this guy's love of Harley-Davidson T-shirts. Ed told us that he and his wife would take vacations on his Harley all over the country. Some of stops they made were made at various Harley-Davidson dealers along the way. And if they found an awesome T-shirt at the shop, they left with it. So these quilts in many ways are travel quilts! Ed had way too many favorites for just one quilt, so he and I started by dividing the T-shirts up into three groupings.
I have never been to Blacksburg, Virginia. I have never visited Virginia Tech.
Photographs of T-shirt Quilts | T-shirt Quilt Details
There are a number of qualities that make a T-shirt quilt awesome. Some, you can describe. Some result from getting all the little things right. And there are other qualities that come from great technique and design coupled with the perfect combination of T-shirts.
This is a Slideshare presentation of photographs of T-shirt quilts made entirely from a particular high school or college T-shirts. 100% school spirit. Like the quilt on the right, these are photographs celebrating school spirit.