If you are an avid Harley-Davidson rider, you probably love of Harley-Davidson T-shirts. You might be one to take your vacation on your Harley and travel all over the country. If you are like a lot of other riders, many of your stops are made at various Harley-Davidson dealers along the way. And if you find an awesome T-shirt at the shop, you leave with it.
Photographs of T-shirt Quilts | T-shirt Quilt Details
Looking at photographs of lots and lots T-shirt quilts is a great way to figure out what you like and don't like when it to your T-shirt quilt. Here are photographs 24 awesome T-shirt quilts. I hope you enjoy them!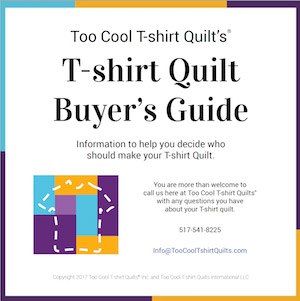 T-Shirt Quilt Buying Guide
If you are in the process of finding someone to make your T-shirt quilt, you may not have all the information you need to make an informed decision. Our T-shirt Quilt Buying Guide has the information you need to fill in any knowledge gaps.
Photographs of T-shirt Quilts | Q & A About T-shirt Quilts
Photographing a T-shirt quilt, or any quilt, is difficult. It's an odd shape to photograph. It's large. It's flat. It's one-dimensional. It has texture. It's floppy. Just figuring out where to photograph a T-shirt quilt can be difficult.
Comparing T-shirt Quilts | Photographs of T-shirt Quilts | Planning a T-shirt Quilt
We are frequently asked: "Does my T-shirt quilt need a border?" "Will it look better with a border?" These questions are so hard to answer for a number of reasons:
We sorted through over 5000 photographs to bring to you these 10 awesome T-shirt quilts. This is not an easy choosing just 10 from so many fabulous quilts. We love all the quilts we make! What we looked for were quilts exemplifying different genres of quilts. For example, we made over 50 all white quilts. We chose the quilt that best represented that style of quilt.
I have never been to Blacksburg, Virginia. I have never visited Virginia Tech.