Each week we make between 15 and 20 T-shirt quilts. We have so much fun looking at these quilts when they are finished. I thought I would share some of the great quilts with you. Enjoy the photos! We also have a short video of a customer seeing her quilt for the first time. Her quilt is at the bottom of the blog. ***Spoiler alert - she loves it!
Here are some of our favorite T-shirt quilt from 2016 and why we like them. They are in no particular order. Breast Cancer This quilt started out as an all white T-shirt quilt. However because the quilt was smaller than the customer wanted she decided to add a border. The Ombre effect of border was inspired from all the different pink graphics in the T-shirts we used. In French, Ombre means shaded. It is the gradual blending of one color in tints and shades from light to dark. We love the border on this quilt. Although the customer did not have any pink T-shirts, we were able to provide the fabric for the cool border from our huge stash of colored T-shirt material. Size: 68" x 84" Border: 4" pieced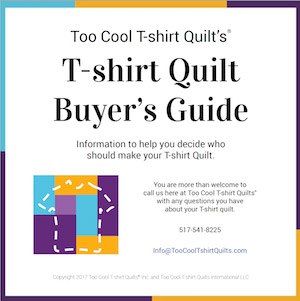 T-Shirt Quilt Buying Guide
If you are in the process of finding someone to make your T-shirt quilt, you may not have all the information you need to make an informed decision. Our T-shirt Quilt Buying Guide has the information you need to fill in any knowledge gaps.
These Harley Davidson T-shirt quilts were made for a guy named Ed. He told us that he had even more Harley T-shirts than we were actually going to use in his quilts. These were just his favorites. If you are an avid Harley rider then you probably understand this guy's love of Harley-Davidson T-shirts. Ed told us that he and his wife would take vacations on his Harley all over the country. Some of stops they made were made at various Harley-Davidson dealers along the way. And if they found an awesome T-shirt at the shop, they left with it. So these quilts in many ways are travel quilts! Ed had way too many favorites for just one quilt, so he and I started by dividing the T-shirts up into three groupings.
I have never been to Blacksburg, Virginia. I have never visited Virginia Tech.
Photographs of T-shirt Quilts | T-shirt Quilt Details
There are a number of qualities that make a T-shirt quilt awesome. Some, you can describe. Some result from getting all the little things right. And there are other qualities that come from great technique and design coupled with the perfect combination of T-shirts.
Here are some of our favorite T-shirt quilt from 2015 and why we like them. They are in no particular order.