Graduation T-shirt Quilts | Planning a T-shirt Quilt | baby clothes
Our kids have a lot of T-shirts! Many kids pick up their first T-shirt on the way out of the hospital after having just been born. After that they start getting T-shirts from their parent's alma mater, from friends and families favorite sports teams, from grandparents and aunts and uncles. Then there are the shirts from Disney characters, cartoon characters, trucks and cars and fairy princesses. And that is all in just the first year of a kid's life!
Parents of twins graduating from high school have twice as many issues as parents with just one child. Basically, everything needs to be done in twos. This includes two T-shirt quilts.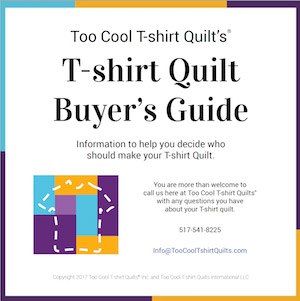 T-Shirt Quilt Buying Guide
If you are in the process of finding someone to make your T-shirt quilt, you may not have all the information you need to make an informed decision. Our T-shirt Quilt Buying Guide has the information you need to fill in any knowledge gaps.
Everyone graduating from high school should have a quilt made from their T-shirts. Most high school graduates would agree with us. They also think they should have a quilt made from their T-shirts!
Are you planning on giving your child a T-shirt quilt for high school graduation? First, you go through the process of planning your child's T-shirt quilt. Then, collecting the T-shirts. Next, deciding who should make the quilt. Then having the quilt made. Then the joy of giving it to your child. And finally hanging the quilt at the open house. Baby, those are the easy parts of this!
What is a T-shirt Pillow? Definition: A pillow made from T-shirts, sweatshirts and other clothing items. On the Internet, you can see many different quality levels of T-shirt pillows. These range from a T-shirt just slipped over a pillow form to a fully quilted, multi block pillow.
If your child is graduating from high school, they are most likely expecting a quilt made from their high school T-shirts. For American high school students, it has become an expected right-of-passage. They will only be surprised if they don't receive a quilt!