When parents gather their children's T-shirts in preparation to have a high school graduation T-shirt quilt made, we get many questions about what to put in and what to leave out. One of the most frequent questions I am asked is: Should a piece of the child's baby blanket be included in the quilt?
Receiving a T-shirt quilt for a High School graduation gift is a traditional right-of-passage for American kids. Whether you have been saving your child's T-shirts since they were born or just for the past few years, when your child is a senior, it is time to begin planning their quilt in earnest.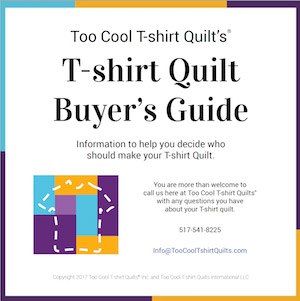 T-Shirt Quilt Buying Guide
If you are in the process of finding someone to make your T-shirt quilt, you may not have all the information you need to make an informed decision. Our T-shirt Quilt Buying Guide has the information you need to fill in any knowledge gaps.
In early March each year we begin working on graduation T-shirt quilts. As we work on high school graduation quilts the one question we hear most often is "Should I have the quilt made to fit an extra-long twin size mattress for the dorms?"
Graduation T-shirt Quilts | Planning a T-shirt Quilt
Too Cool T-shirt Quilt customer Sonya Ash shares her experience with her son's T-shirt quilt.
Graduation T-shirt Quilts | What can you use in a T-shirt quilt?
If you are a parent, you probably have or had a refrigerator door decorated with your child's artwork. It begins with scribbles, then advances to stick figures and finally ends when your child decides enough is enough and stops bringing the drawings home from school.
Graduation T-shirt Quilts | Planning a T-shirt Quilt | baby clothes
Our kids have a lot of T-shirts! Many kids pick up their first T-shirt on the way out of the hospital after having just been born. After that they start getting T-shirts from their parent's alma mater, from friends and families favorite sports teams, from grandparents and aunts and uncles. Then there are the shirts from Disney characters, cartoon characters, trucks and cars and fairy princesses. And that is all in just the first year of a kid's life!