Quilts made from baby clothes are some of the cutest quilts we make. When a box of baby clothes come into the shop, we all ooh and aw over the clothes. Some of us are particular to girl clothes and other prefer the boy clothing. Whatever the gender, we delight in making these quilts.
Baby clothes quilts are so much fun! A baby clothes quilt is full of the special clothes and baby items from the first year of a baby's life.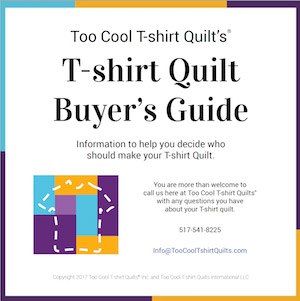 T-Shirt Quilt Buying Guide
If you are in the process of finding someone to make your T-shirt quilt, you may not have all the information you need to make an informed decision. Our T-shirt Quilt Buying Guide has the information you need to fill in any knowledge gaps.
Beyond the T-shirt | baby clothes
When my daughter Milie was a baby, we went through four to five bibs a day. She was a typical baby – a very messy eater! We had both everyday and special occasion bibs. We were given bibs for gifts and at holidays. Who knew one baby needed so many bibs!
Graduation T-shirt Quilts | Planning a T-shirt Quilt | baby clothes
Our kids have a lot of T-shirts! Many kids pick up their first T-shirt on the way out of the hospital after having just been born. After that they start getting T-shirts from their parent's alma mater, from friends and families favorite sports teams, from grandparents and aunts and uncles. Then there are the shirts from Disney characters, cartoon characters, trucks and cars and fairy princesses. And that is all in just the first year of a kid's life!
Each year we make 30 to 40 baby clothes quilts. Baby clothes quilts come in two varieties – simple and complex. A complex baby clothes quilt is exactly what the name says; it's complex. We use all of the adorable parts of your baby's clothes. We've used complete onesies, footie pajamas, bibs, hats, dresses, overalls, shoes and much more! The result is a quilt that reflects the personality of each clothing item.
T-shirt Pillows | baby clothes
One of the coolest products we make here at Too cool is a baby cloths pillow. We take your child's bibs, onesies, hats and other baby paraphernalia and turn them into a pillow.