Planning an amazing Baby Clothes Quilt: Step-by-Step
August 16th, 2021
By Andrea Funk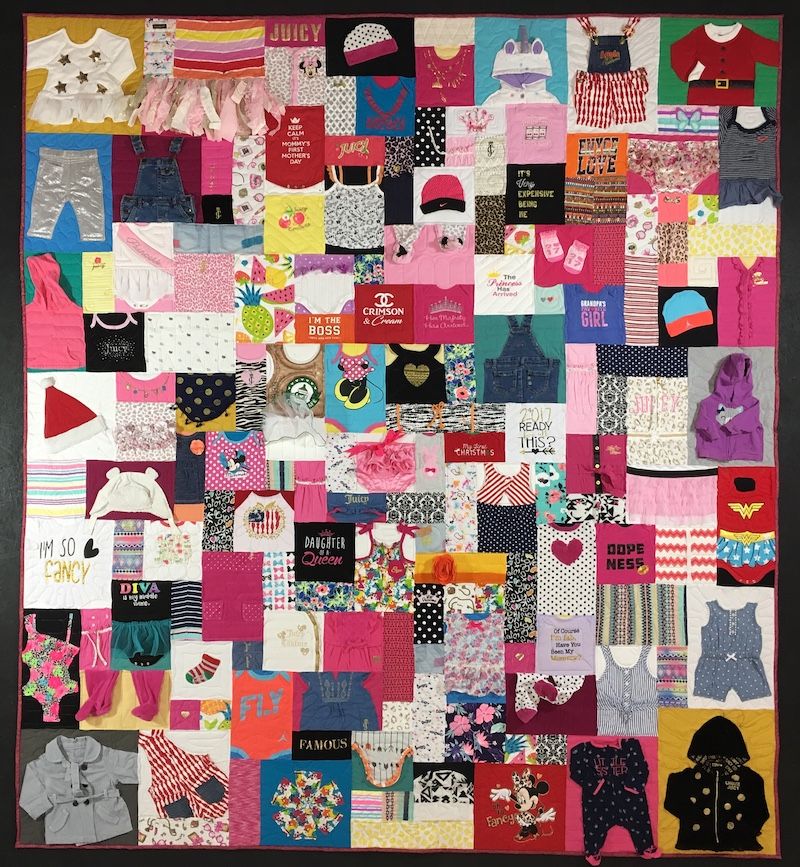 Steps to planning a baby clothes quilt
Decide who the quilt is being made for.
Decide if you want a simple or complex baby clothes quilt.
Select items to use.
Choose how many items to include.
Have the quilt made.
Baby clothes quilts are so much fun!
A baby clothes quilt is full of the special clothes and baby items from the first year of a baby's life.
Here's how to have a baby clothes quilt made.
1. Decide who the quilt is being made for.
Deciding what to put into the quilt is different if the quilt is being made for the parents or the child.
For the Parents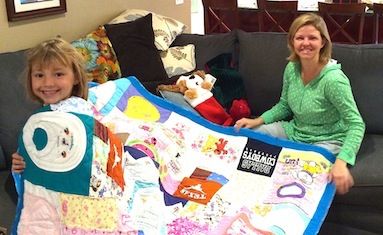 If you are the parent or if you are making a quilt for a parent or the parents, you can combine the clothing of multiple children into one quilt. You also will want to try to choose items from each child evenly so the quilt reflects each child's babyhood.
For the Child
Carefully sort the clothing out among the children. Make sure you have the right items in each child's quilt. Fortunately, the children will not remember each item. If there is a mix up, it won't be the end of the world as it might be for a quilt made with their T-shirts.
We suggest getting a basket or box for each child while you are sorting out the clothing. If more than one child wore an item, put those items into a separate bag. Label the bag "For Use in Multiple Quilts". Then write a note on each item as to whose quilt it needs to go in.
For example, if you have a blanket that needs to go into both Ann and Mary's quilt, write on the note "Ann and Mary". This will tell us to cut two blocks from the shirt and put one in each child's quilt.
The quilt below is for four girls. Each child's clothing were put in their own section. Right now, they are enjoying the quilt as a family. When the girls grow up and have their own child, we will divide the quilt up into 4 small quilts. You can see that the sections are divided with a thin line of pink fabric.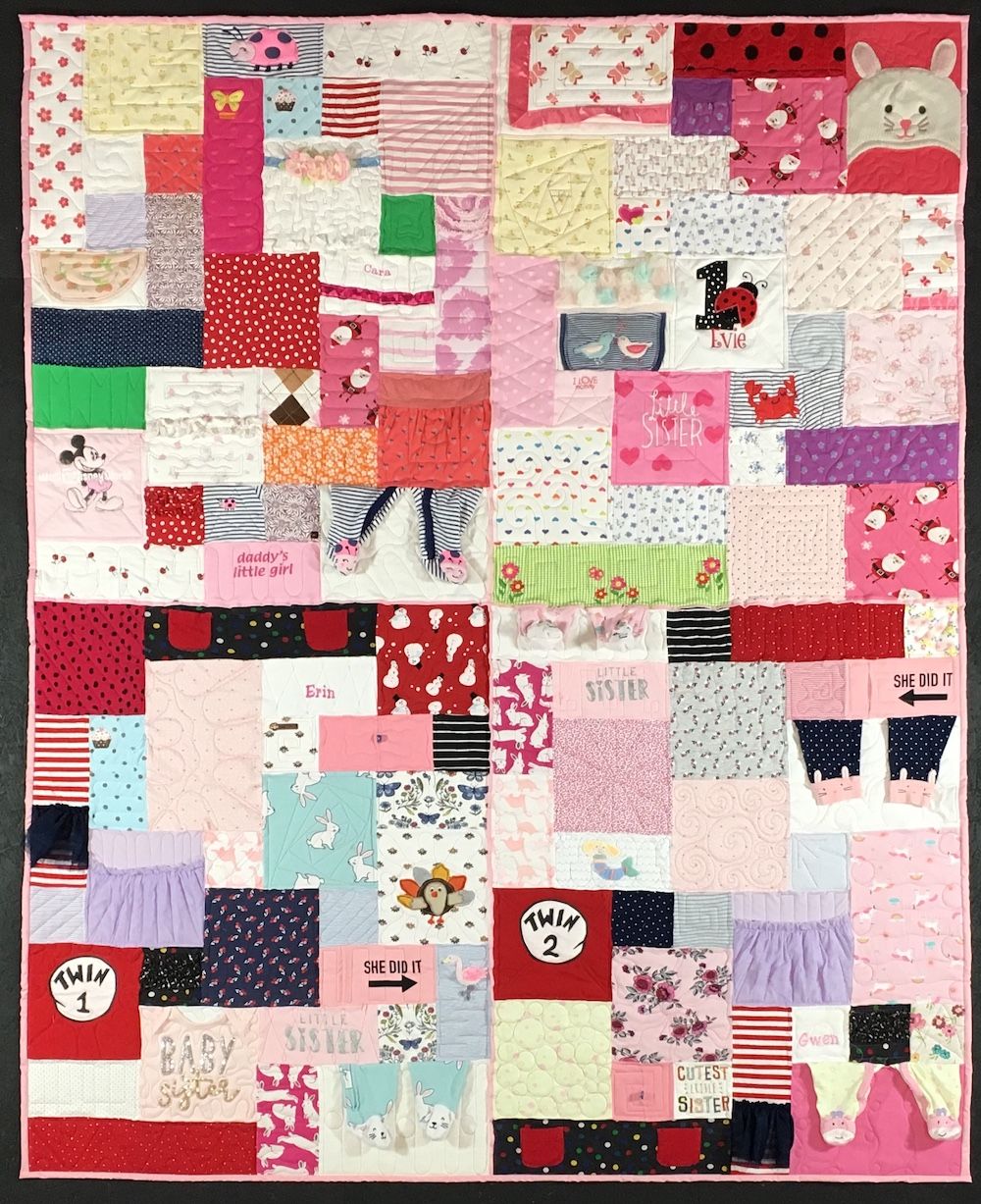 2. Decide if you want a simple or complex baby clothes quilt.
Simple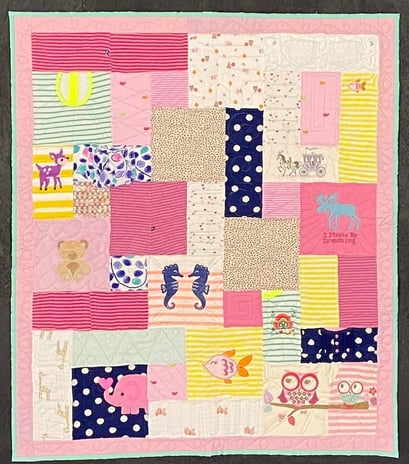 Our simple baby clothes quilts are made using a block or two from each clothing item. These blocks are just blocks of fabric without any special adornments.
Our simple baby clothes quilts do not include appliquéing or sewing down of items such as necklines, collars, bibs, hats, socks, outfits or other such items.
Although these quilts appear relativity simple, they do require a very skilled sewer and quilter to make them look right. As a result, they cost more than a typical T-shirt quilt.
Complex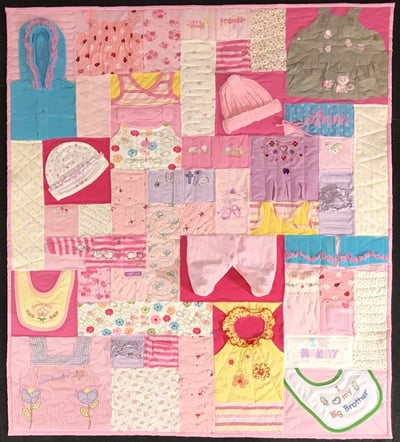 Our complex baby clothes quilts also use a block from each item, but these blocks may include zippers, buttons, bows, collars and other adornments. We also include items that will need to be stitched onto or appliquéd onto another block of fabric. These items include entire outfits, dresses, socks, soft shoes, bibs, hats and bloomers.
The result is an interactive quilt with a 3D feel to it. Buttons can be unbuttoned, zippers zip and unzip. Bibs may flip up. Stuffed animals feet and arms are free to move. Quite simply, these quilts are wonderful.
A complex baby clothes quilt takes much, much more work than a simple one. The variety of fabrics mixed with the 3D items makes sewing and quilting these quilts very difficult. Thus, they are priced at a higher rate than a simple baby clothes quilt.
More about baby clothes quilt pricing.
3. Select items to use
We can use just about anything that is soft and washable. Here are some items you might not think of using.
Baby shoes

Look for ones with soft soles. The rubber-soled shoes are not useable.
Stuffed toys
We remove the stuffing and flatten it out.
Blankets and bedding
This can include blankets, sheets and crib bumpers.
Socks, booties and hats
Each of these are great items to put into a quilt.
Special bibs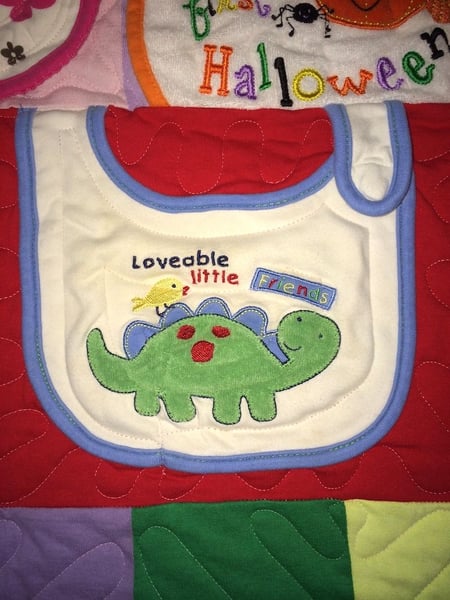 You can use bibs in the quilt. Look for the special ones and the ones that are less stained (unless the stains are important).
Some items can be used whole like dresses and some we can use just a piece from. If there are particular items you would like to use the whole, please label those items.
Here's a list of some of the items you can use:
Bibs

Socks

Baby slipper

Overalls with shirt underneath

Baby blankets

Onesies

Dresses

Ruffle-butt tights

Headband

Baby shoe

Stuffed animals

Bloomers

Whole and parts of dresses
4. Choose how many items to include.
How many items do you send?

Most people will send us what belongs in the quilt and tell us what size they are hoping to get. We will work with you to make the quilt the size you would like with what you have sent to us.
Visit this page to get some rough estimates on how many items to send.





Do you think you might have too many items?
First pull out the items that must be in the quilt. Then, in a second pile place your second string items. Send us both groups and tell us to cut the first group, check the size and then cut from the second bag until we reach the size you want made.
If you only want a small piece from each item, you will need a lot. But if you have a number of larger items that you want whole, you will need less.
If you send too much and the quilt is way larger than you want, we can cut many of the print blocks smaller. A king size baby clothes quilt might take 100 to 150 items.
I don't know for sure how many items you will need. It will depend on how we use the items and how much fabric the items can yield. But we will be working with you as we figure the size of the quilt.
5. Have the quilt made.
1. Mark Your T-shirts with Any Special Instructions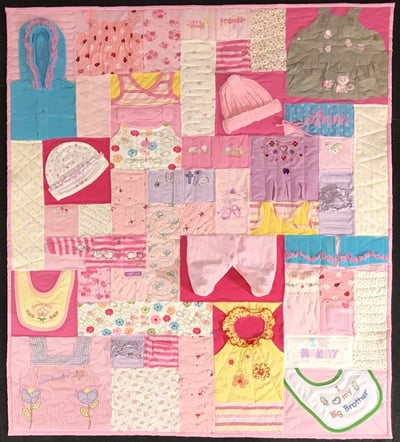 Please either view our video or read our written instructions on how to mark what part(s) of your T-shirts you would not like used. This is important.
2. Print Out Your Order Form
When you get to the order form page, click on the state you live in to be directed to the quilter assigned to your state. Then print out and fill in the order form. If you have special instructions please write them on the order form or include them with the order form on a separate sheet of paper.


5. Your T-shirts Arrive At Too Cool T-shirt Quilts
We will e-mail you within 48 hours of receiving your box of baby items.
We will cut your clothing according to your instructions.
Next, we calculate the size of your quilt.
Then we send you an e-mail with size and cost information.
If we need to change the size of your quilt, we will work on that with you.
Once you give us the OK, we will make your quilt.
6. Your Quilt is Finished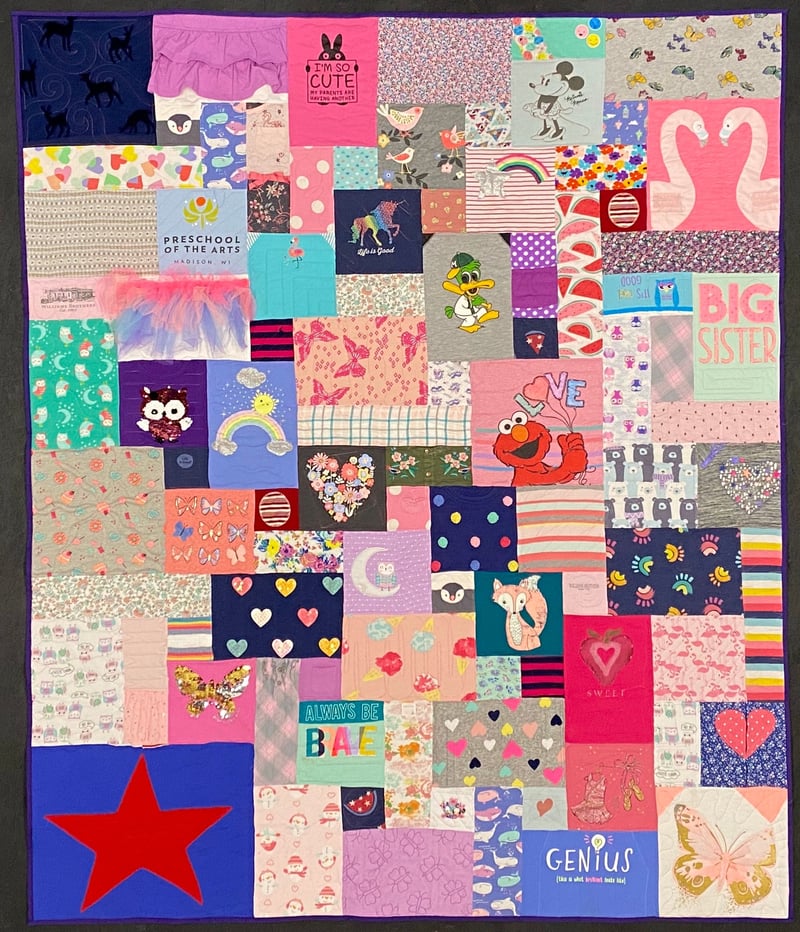 ---
---
Andrea Funk is the inventor of T-shirt quilts made with multiple blocks sizes. The modern method of making T-shirt quilts. In 1992 she founded Too Cool T-shirt Quilts. Her life has been immersed in T-shirt quilts ever since.