The Best Way to Package Your T-shirts to Ship Them to Your Quilt Maker
September 27th, 2021
By Andrea Funk

Packing a Box of T-shirts - Best Practices
Choose a Sturdy Box
Use Good Packing Materials
Include Your Order Form
Tape Up Your Box Well
Get a Tracking Number
We receive boxes of T-shirts everyday here at Too Cool T-shirt Quilts. They come from the post office, UPS and FedEx. Some boxes are packed better than others. Here are some thoughts, based on years of experience, on packing your T-shirt to ship to your quilt maker.
Choose a Box That Fits Your T-shirts
Boxes that are packed incorrectly will either be crushed or will explode. Either way, it can be bad news. This is because your T-shirts can escape the box! And you don't want that to happen.
In the photos here, the box on the left exploded and the box on the right was crushed.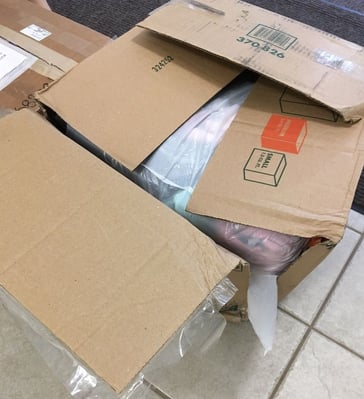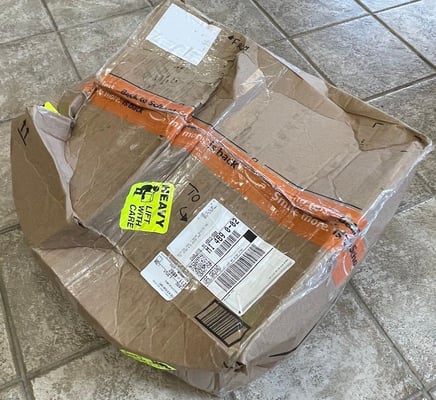 Try to use a box the right size for your pile of T-shirts. Boxes that are over or under-stuffed tend be damaged more often than correctly sized boxes. Over stuffed boxes tend to explode, while the under packed boxes tend to get crushed.
Packing Materials
Use appropriate packing material if your box is larger than you need for your T-shirts. This will help the box from being crushed. Note: your objective is to keep the box from being crush. Not to protect the T-shirts from damage. T-shirts are not fragile.
Good packing materials:
Air bubbles
Bubble wrap
Wads of newspaper, Kraft paper or brown paper bags
Reused foam from other packaging
Eggshell foam
Clean egg cartons – sans eggs.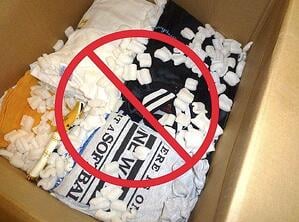 Poor choices for packing materials:
Packing peanuts (we hate packing peanuts)!!!
Shredded paper or plastic bags
If you must use these items, please put them in zip lock bags before you put them in the box.)
Strange packing material that we have seen:
New packages of toilet paper rolls
Boat seat cushions
Empty 2-liter bottles
Packing materials we would like to see:
Bags of m&m's
Unscratched lottery tickets
Wadded up dollar bills


Order Forms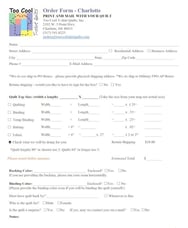 Put your order form in the box. We would suggest it be the last item you put in the box. That way it will end up the first thing your quilt maker see. It's not fun to have to dig through a box of T-shirts looking for an order form.
On the outside of the box, please put your return address. Even if you get a shipping label. Sometimes shipping labels don't have your address on them. They may have the address of the shipping company or location.
Believe it or not, we receive boxes here with no return address and no order form. Then we must wait until you call wondering if we received your T-shirts.
Tape Your Box Well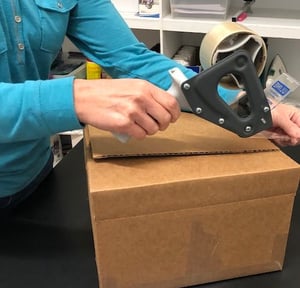 Many boxes come damaged because they were not taped well. Aim for a strip across the flaps and one on each end.
Don't forget the bottom of the box – especially if you are reusing an old box. Double-check the bottom of your box. Is it well sealed? If not, re-tape it.
Tracking
Yes, you want to have a tracking number. That way you can make sure they have reached your quilt maker.
Here at Too Cool T-shirt Quilts, we try to let you know your box has arrive within 24 hours of receiving it. Other quilt makers, I don't know about. Every T-shirt quilt company has different directions and procedures. Here's an article about the 5 things to do after you choose a T-shirt quilt maker.
Let us know your T-shirts are coming!
We would love an e-mail or phone call telling us ahead of time that your T-shirts are on the way. You can call the phone number on the top of your order form. This helps us plan.
---
To learn more about the different types, styles and qualities of T-shirts,
download our T-shirt Quilt Buyer's Guide.
It's a great place to begin your journey to finding a quilt maker.
---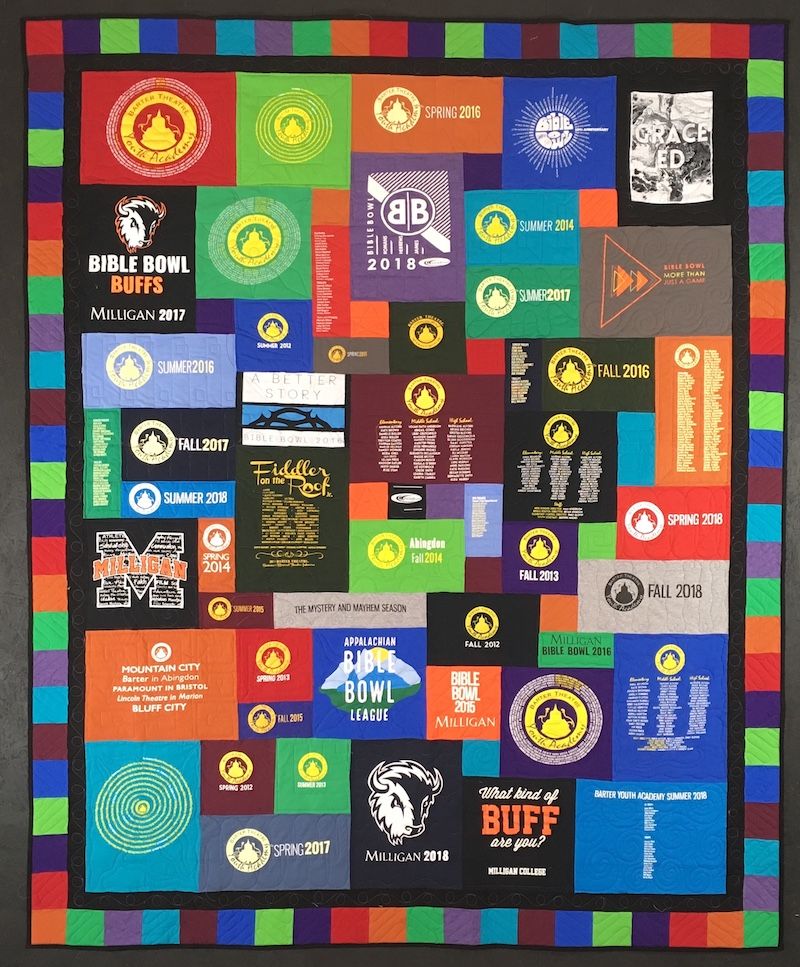 Andrea Funk is the inventor of T-shirt quilts made with multiple blocks sizes. The modern method of making T-shirt quilts. In 1992 she founded Too Cool T-shirt Quilts. Her life has been immersed in T-shirt quilts ever since.