A Quick Explanation of a T-shirt's Quilt Backing & Binding
November 21st, 2022
By Andrea Funk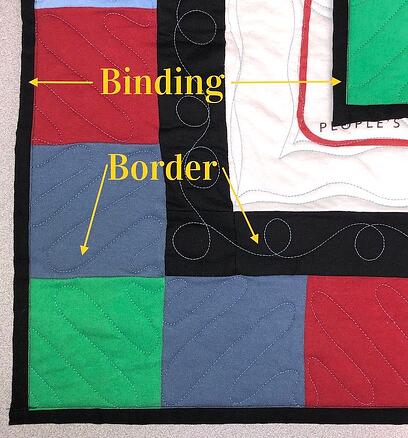 Backing Material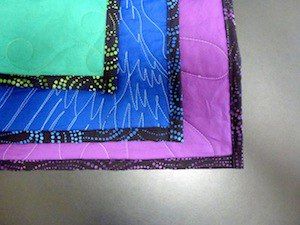 The backing is the fabric that is on the backside of the quilt. We use a solid color backing fabric so the quilting can be seen.
Backing colors - we have over 250 colors to choose from. If you want something beyond a standard generally accepted colors, please send a swatch. For example navy, hunter green, red, orange, etc. are colors that are, what they are. But a color like teal or sage - there is more interpretation to these colors. So if you would send a swatch of color that would be helpful. You can get a swatch from a paint chip, from one of your T-shirts, a color crayon scribble on a piece of white paper or out of a magazine (circle the color). Click here to read more about Backing & Binding Color
Binding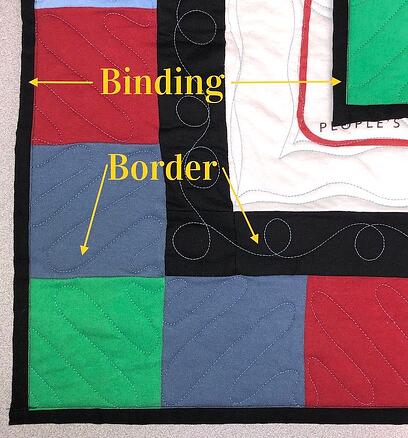 The binding is the material that goes around the outside of the quilt. It finishes off the quilt so the raw edges of the quilt top, the batting and the backing are all hidden.
The binding can be the same color as the backing or it can be a contrasting color. For example, if the quilt is for a high school graduate, you can use the darker of the two school colors as the backing and the other school color as the binding. We also have print and batik batting - so your quilt can be a unique as you.
The binding is different than a border. Read more about borders here.
Andrea Funk is the inventor of T-shirt quilts made with multiple blocks sizes. The modern method of making T-shirt quilts. In 1992 she founded Too Cool T-shirt Quilts. Her life has been immersed in T-shirt quilts ever since.