T-shirt Quilts for Baseball & Softball Players
January 6th, 2020
By Andrea Funk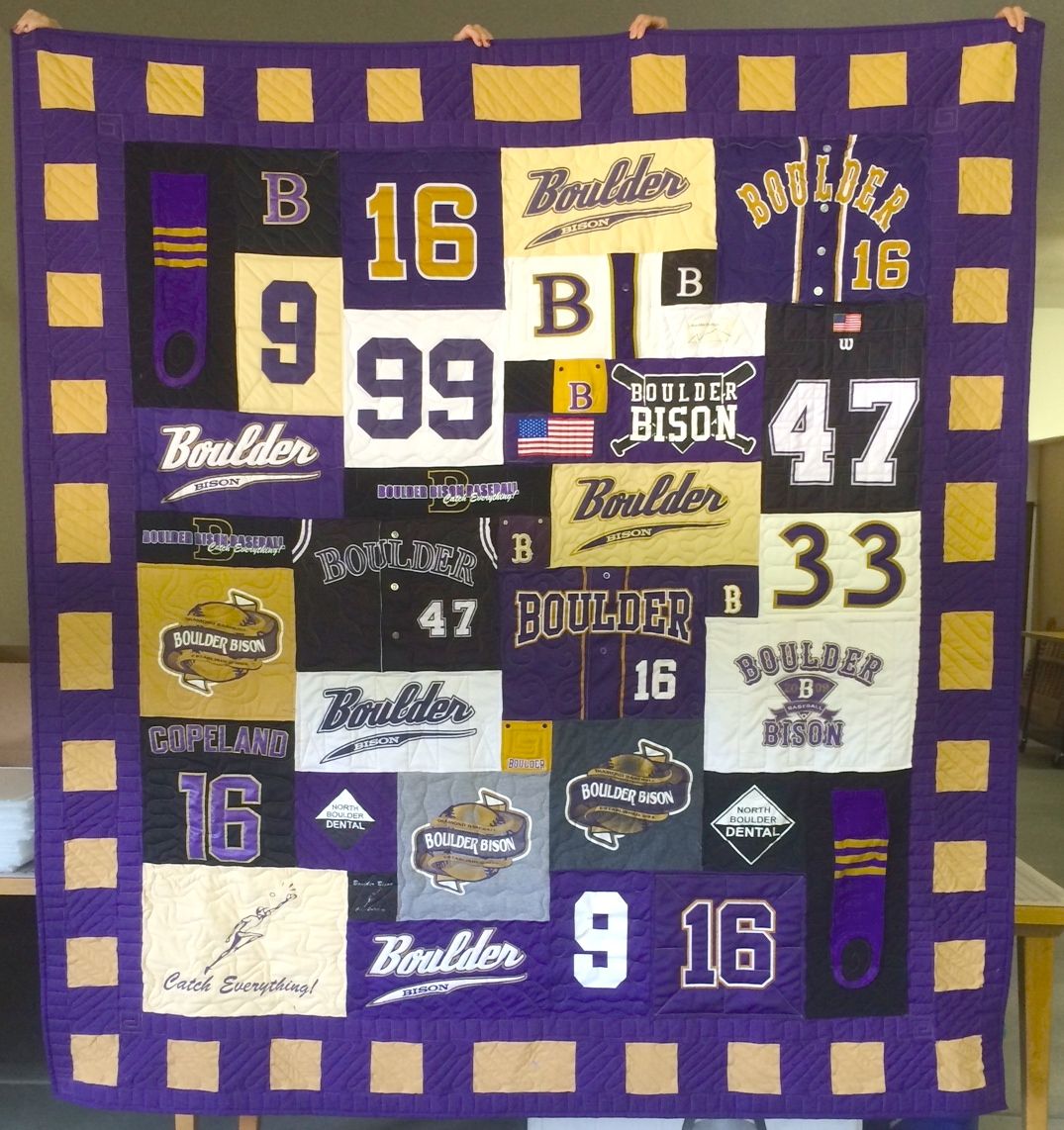 What can be used in a baseball or softball T-shirt quilt?
Uniforms
Uniform Pants
Jerseys
Ball caps
Socks
Bags
Jackets
Pennant and Flags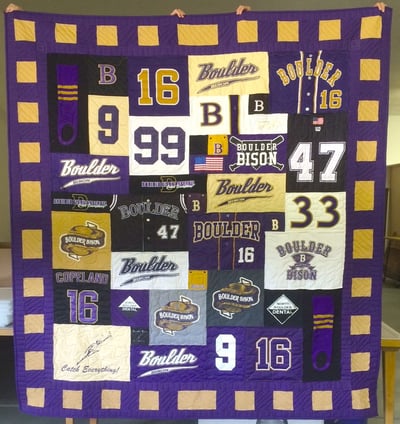 When my nephew Isaac finished his last year playing Little League, he was disappointed that team had not made the Little League World Series. But then again, most Little League players are disappointed their teams did not make the Little League World Series.
To celebrate his final year playing Little League baseball, we made him a T-shirt quilt from all of his favorite baseball T-shirts and related items. These included a jacket and a few ball caps.
This is Isaac's purple and gold T-shirt quilt. It has a 2" solid + 4" pieced + 2" solid border. Read more about border here.
Baseball and softball players of all level and skill collect T-shirts, jerseys, ball caps, jackets, pants and even bags. We can use all of these items in your quilt. If we are unable to use something, we will let you know.
T-shirt quilts tell a story. Sometimes you have to include more than just T-shirts to tell that story. Don't be afraid to include something that belongs to your story because it's not a T-shirt. We love the challenge of unique items.
Below are photos that show how each of these items can be used in a Too Cool T-shirt quilt.
Uniforms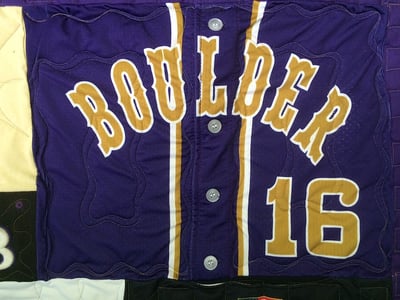 Most Baseball and Softball players end up with team uniforms. The ones we are speaking about are the button up ones that have the team name split down the center where it buttons up. These are important – they are the uniform that they wore. They have to go into the quilt. At Too Cool T-shirt Quilts, that is no problem. We use them all the time.
It's important to include the buttons. Sometimes we leave the shirt so the buttons still can be opened. Other times we sew the opening closed. It depending on the thickness and feel of the uniform top. We always leave the buttons on.
Uniform Pants
Most of the time, if they have top, they have the bottoms. We have used ball pants in a number of different ways. One is to use the pants to make a border for the quilt – either top, top and bottom or around the entire quilt.
The other way is to use a piece from the pants within the quilt. This might be the pocket, the strip on the side or the stirrup on the bottom. Send the pants, we can use them.
The first quilt here used the uniform pants for the Top border. The second used the pin striped uniform pants for the top and bottom borders. Both quilts also include pieces of the pants in the body of the quilt.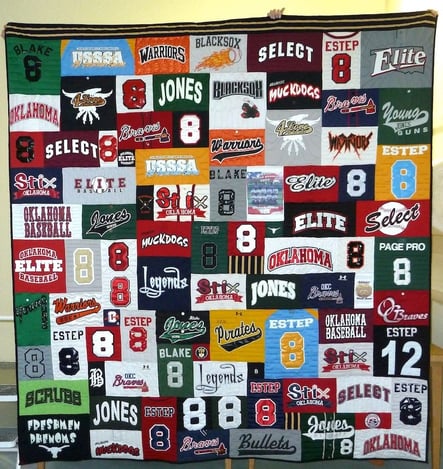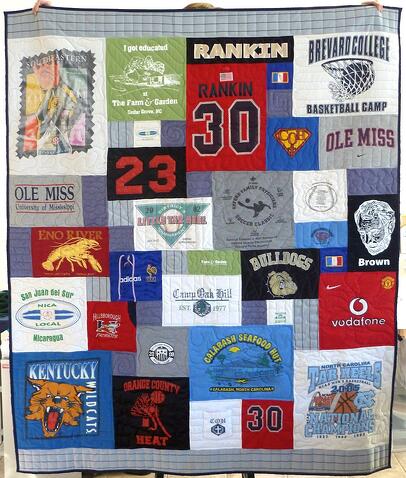 Ball Caps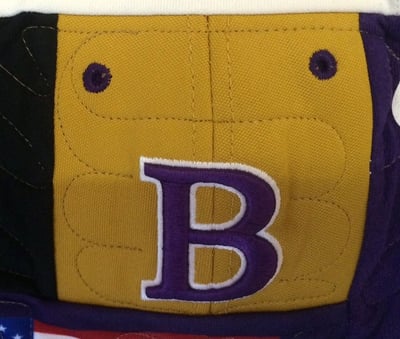 Ball players end up with a lot of ball caps. Actually, there are very few men out there that do not have too many ball caps!
The good news is that they work just fine in a T-shirt quilt. You are welcome to include them in with your T-shirts and other items.
Read more about baseball caps here.
Socks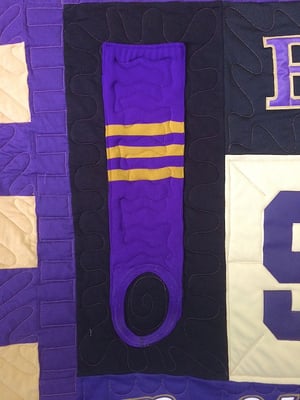 Ball players have cool socks they wear. If they tell part of the story, we encourage you to use them. The photo here shows the entire sock. We can also choose to just use the graphic or stripe design from the sock.
Read more about using socks in a T-shirt quilt here.
Jackets
Jackets also go along with playing ball. We love to use these items in quilts because they add texture to a quilt. The silkiness of the jackets is a great texture counterpoint to the texture T-shirts or other fabrics.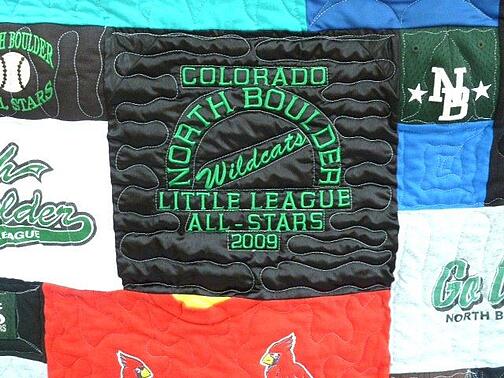 Bags
If you have a gear bag with your team logo or your name on it, it can be used! The bag can be nylon or canvas.
Pennant
A pennant is a triangle shaped flag used to show support for a particular athletic team. Sometimes they are given out to a team who wins a particular tournament or title. Other times they are from favorite professional or college team.
If you have one you want to include in your quilt, it's not an issue! You are welcome to include it.
Too Cool T-shirt Quilts can use any machine washable fabrics in your T-shirt Quilt. Don't hesitate to send any item you would like to use in your quilt. If we can't figure out how to use it, we will return the item to you with the quilt.
Celebrate your ball player with a unique T-shirt quilt
made from their favorite ball playing clothing items!
---
To learn more about having a quilt made from your athletic T-shirts, download our free Athletic T-shirt Quilt Buyer's Guide.
It's a great place to learn about the different styles and quality of T-shirt quilt.
---
Andrea Funk is the inventor of T-shirt quilts made with multiple blocks sizes. The modern method of making T-shirt quilts. In 1992 she founded Too Cool T-shirt Quilts. Her life has been immersed in T-shirt quilts ever since.