All About Bicycle Jersey Quilts
March 14th, 2022
By Andrea Funk

2 Ways You Can Use Old Bicycle Jerseys in a Quilt:
Make a quilt entirely from bicycle jerseys.
Include bicycle jerseys with T-shirts and other items in a T-shirt quilt.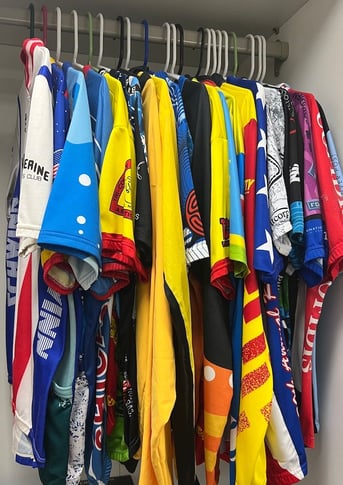 If you are a bicyclist, chances are that you have more bicycle jerseys than you can wear.
I have about 30 bicycle jerseys hanging in my closet. I know there are some jerseys that I love that I won't wear again. Some are too small or too large. Others are worn-out or ugly. I have white ones that have turned orange around the neckline from sunscreen. Those I won't wear in public again.
So, you cull your closet of your unworn bicycle jerseys. But then what? What do you do with that stack of expensive bicycle jerseys? Here are some of the obvious answers…
Throw them away.
Sell them at a garage sale, on eBay or at a swap meet.
Give them to beginning cyclists.
Put them in a box in the basement or attic for another day.
Or....Have a Quilt Made From Your Jerseys! (More photo examples at the bottom of the page.)
Features of a Quilt Made from Bicycle Jerseys
They are very soft because of the nylon/spandex fabric of the jerseys.
Functional zippers. Bicycle jerseys have designs over their entire surface; you have to include the zippers in the quilt so you don't cut off any of the designs.
Functional pockets. The backs of most bike jerseys have pockets on them. And since you don't want to cut off any of the designs, the pockets are included.
The arms of the bike jersey can be incorporated into the quilt.
T-shirts and other biking gear such as jackets and vests can also be mixed in with your jerseys.
Even jerseys torn up from a bike crash can be used. Read more about that here.

A bike jersey quilt is colorful and like a bike jersey, they will not fade.
Who Should Make Your Bicycle Jersey Quilt?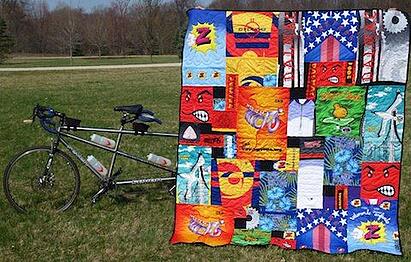 Bicycle jersey quilts are not easy quilts to make. Find the right quilt maker before you send your jerseys out!
Find an accomplished T-shirt quilt maker who has made a number of quilts made with bike jerseys.
Use a quilter who does not use iron on interfacing. There are two issues with iron on interfacing and bike jerseys. First, the interfacing will make the jersey stiff. And second, the iron could melt the Lycra fabric the jerseys are made from.
Choose a quilt maker who makes quilts with many different size blocks. A one-size-block-fits-all method is not suitable for your jersey. Read more about quilt styles here.
Consider having a quilter who is also a bicycle rider make your quilt. That's me! In the photo here, that's my bike and my bicycle jersey quilt.
How to Have a Bicycle Jersey Quilt Made
Choose the jerseys, T-shirts or other fabric items you want for your quilt. Here is a link to the How Many T-shirts page on the website. If you plan to use the front and back of each of your jerseys, you will need about half as many items as the low end of the estimate says. Bike jerseys have a lot of designs that can be used.

If the front and back of the jerseys have the same design, you can have us choose either the front or back. We will choose some backs with pockets and some fronts with the zippers.


Read the directions for preparing your T-shirts (jerseys) for a quilt. This will include directions for marking any part of the jersey or T-shirt you don't want used.

Print out and complete an order form. This will give us directions and information to contact you.


Box up your jerseys to ship them to your quilter. Read more about finding a box and shipping here.


Before you ship your items, please call your Too Cool T-shirt Quilt quilter to make sure she works on bike jersey quilts. These are tricky quilts to make and some of our quilters prefer to have them worked on at the Michigan location.


We will let you know when your box arrives at our shop. When it arrives, we will read your directions and cut your jerseys and then work with you on the quilt size and backing and binding colors.
But I don't have enough to make an entire quilt from bike jerseys.
It does take a lot of bicycle jerseys to make an entire quilt. What else could I do? You can add them to any T-shirt quilt you have made.
---
To learn more about having a quilt made from your athletic T-shirts and clothing, download our Athletic T-shirt Quilt Guide.
It has directions for using a large variety of athletic clothing.

---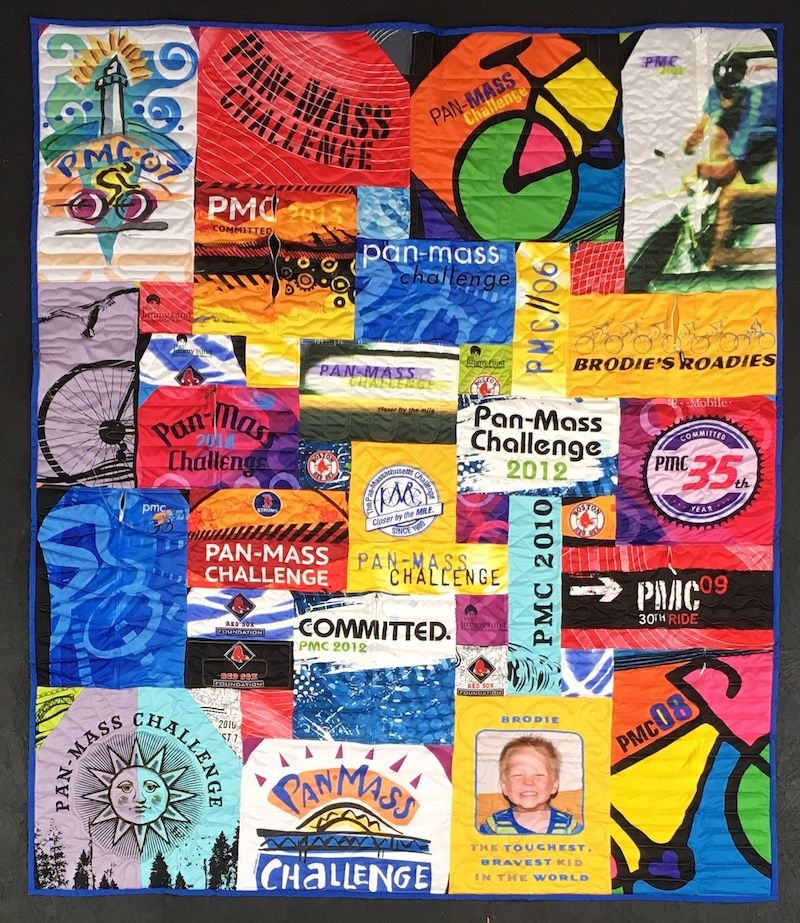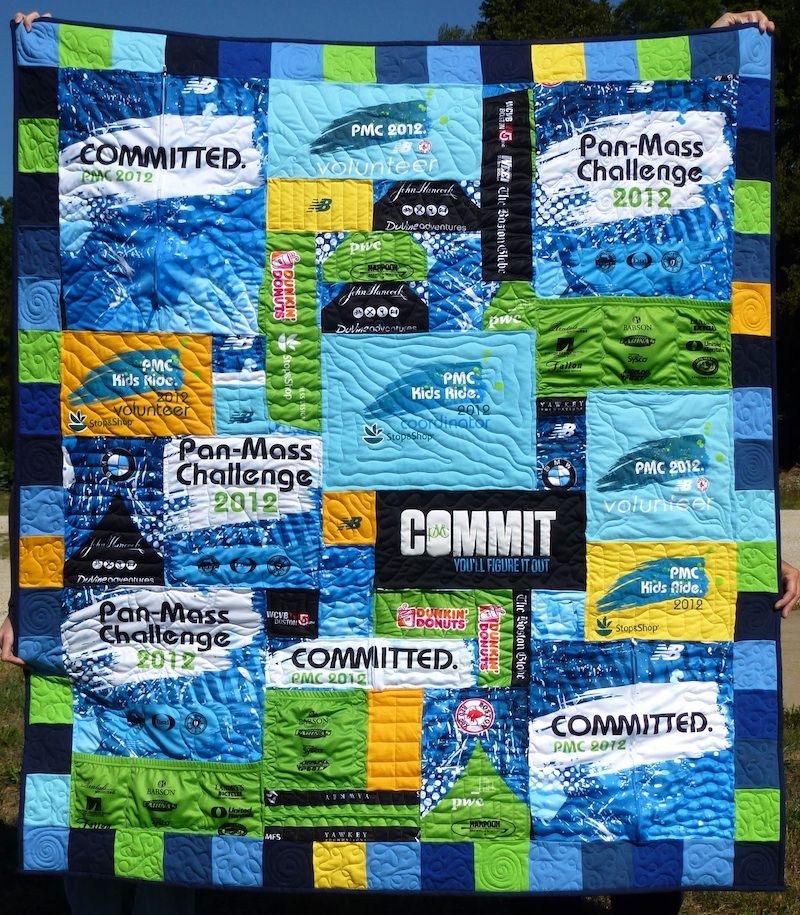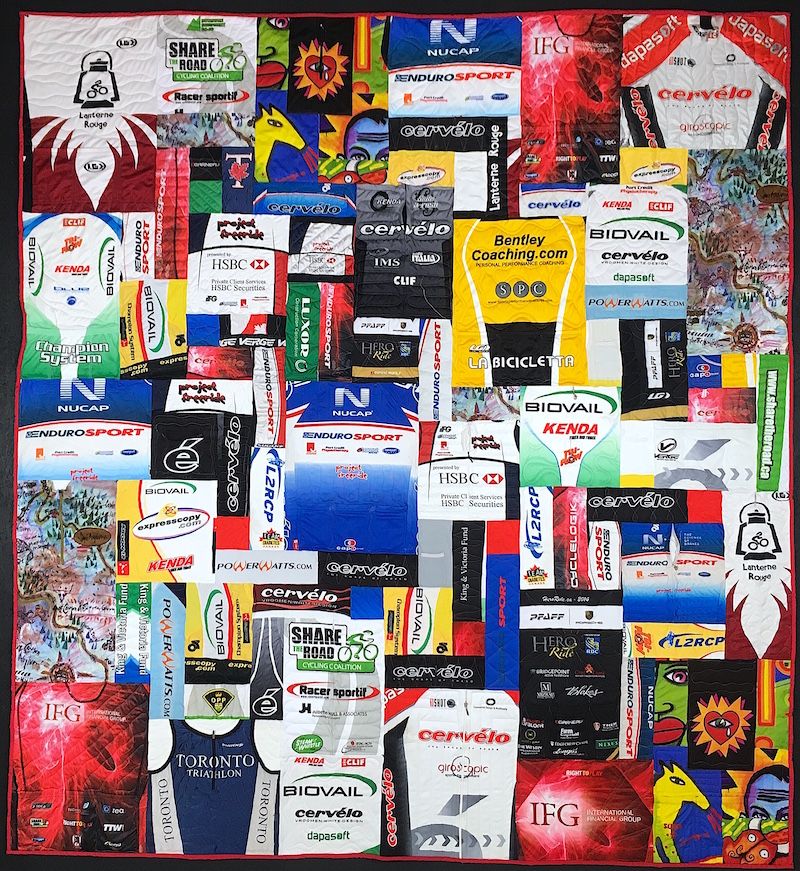 Andrea Funk is the inventor of T-shirt quilts made with multiple blocks sizes. The modern method of making T-shirt quilts. In 1992 she founded Too Cool T-shirt Quilts. Her life has been immersed in T-shirt quilts ever since.