What you need to know to plan a Travel T-shirt Quilt
October 3rd, 2022
By Andrea Funk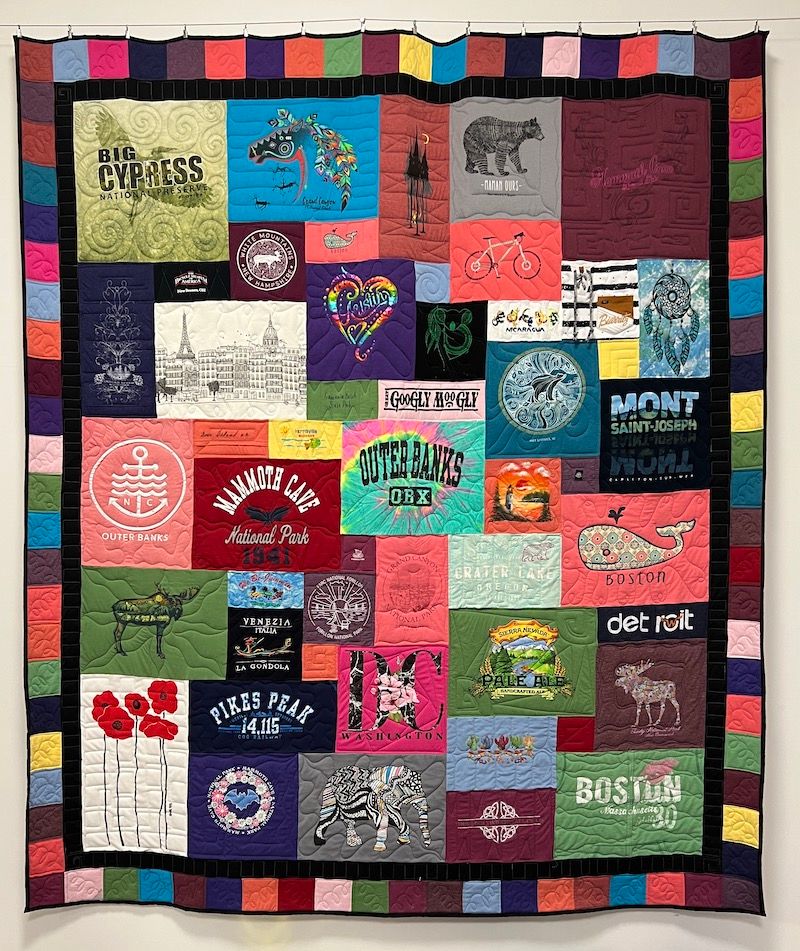 Planning a Travel T-shirt Quilt: Simplified
1. Travel
2. Collect T-shirts
3. Have a T-shirt quilt made.
We are traveling again!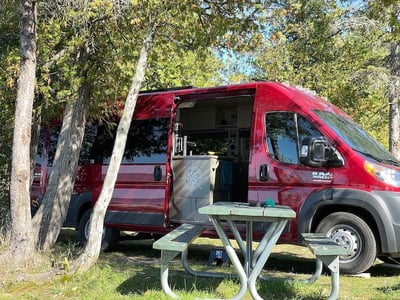 Do you have a trip planned? If so, don't forget to get T-shirts from where you travel. A travel T-shirt quilt can be a daily reminder of the great vacations and adventures of your life.
Each place you visit is an opportunity to acquire another T-shirt. Look around – you will see T-shirts everywhere!
David and I travel in our big red camper van that I like to call The Monster. We built out the inside to be one of the coolest camper vans out there. (In my opinion). I even built in a special storage spot for all the T-shirt I buy while we are out and about.
Where to find T-shirt while traveling: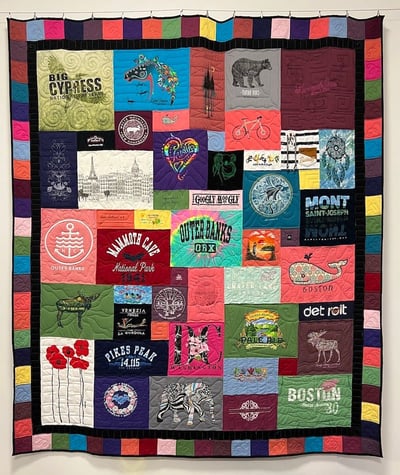 I have found T-shirts in so many different places. David has found that if I don't want to go somewhere that he just has to say, "They might have a gift shop." I am a sucker for T-shirts. I guess I am in the right business!
The T-shirt quilt here is one of my personal quilts. The T-shirts came from many different trips. I love this quilt so much that I have it hanging in the shop.
Are you on a budget?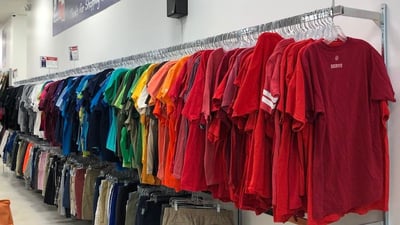 Here are some places to look for T-shirts that are not aimed at tourists. This means you will not have to pay tourist prices!
Walmart – New T-shirts that are not usually as expensive as in tourist locations.
Goodwill – Used T-shirts with generally a good selection in one spot within the store.

Thrift shops – Used T-shirts. Depending on the store, they may be more or less expensive than Goodwill. The T-shirts might not be in one spot in the store, so it takes more time to find them among regular clothing.
Garage Sales – If you can find them, these will be the least expensive place to find used T-shirts. Although you might have to go to a few sales to find what you want. But if you see a sale that is easy to get to, you might consider checking it out.

You can also purchase a child's size T-shirt. Many times, these will cost less than an adult T-shirt. They will also take up less space in your luggage. Sadly, the disadvantage of a child size T-shirt is that you won't get to wear the T-shirt before you have a quilt made.


---
To learn more about having a quilt made from your T-shirts, download our free T-shirt Quilt Buyer's Guide.
It's a great place to learn about the different styles and quality of T-shirt quilt.
---
Which T-shirts to Choose?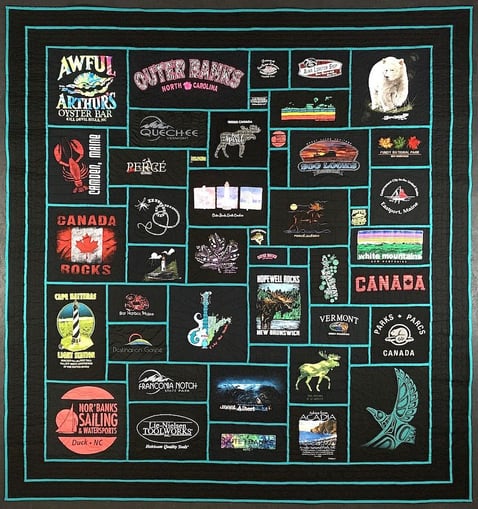 So, you are on your trip and looking at T-shirts. Which one do you choose?
Most of my customers just choose the T-shirt they love. They end up with a mix of colored, black, white, and gray T-shirts. This makes for an awesome quilt.
But they are other ways you might think about your choices of T-shirt. For example, on one trip I took, I only purchased black T-shirts.
It was more difficult to find that perfect T-shirt because I had limited myself to just black T-shirts. But I had a plan, so I stuck to purchasing only black T-shirts.
My plan was to make a stained-glass style T-shirt quilt from just black T-shirts.
I love how this quilt turned out. I used teal fabric for the thin leading between the blocks. The inspiration for the teal came from the T-shirt in the bottom right corner.
I am thinking that my next travel quilt might be from T-shirts from one color family. Such as blues or reds. This would limit my choice of T-shirts, but it might make a cool T-shirt quilt.
Where to Use your T-shirt Quilt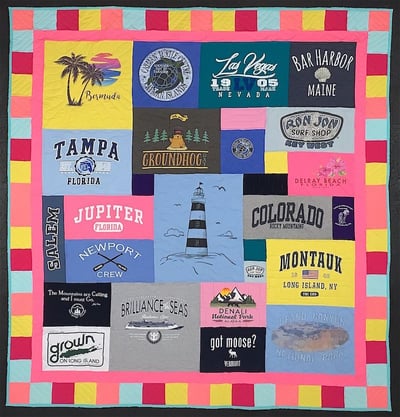 Where or how you choose to use your quilt will determine how many T-shirts you need to collect. Basically, the larger the quilt, the more T-shirt quilt will need. Read more about how many T-shirts you will need here.
If you want a large quilt, you should look for T-shirts with large graphics. When cut, these T-shirts will make larger blocks. You will need fewer T-shirts if the graphics are large.
If you want a larger quilt and are short on T-shirts, you have a few options. One, take another trip. I would vote for this option! Two, add a border to make the quilt larger. Or three, add blank blocks to increase the size of your quilt.
Conclusion
1. Travel
2. Collect T-shirts
3. Have a T-shirt quilt made.
If you are ready to have a quilt made from your T-shirts, here's how.
Below are travel T-shirt quilts being used.
If you use your quilt on your bed, you can sleep under your memories. And it just looks good too.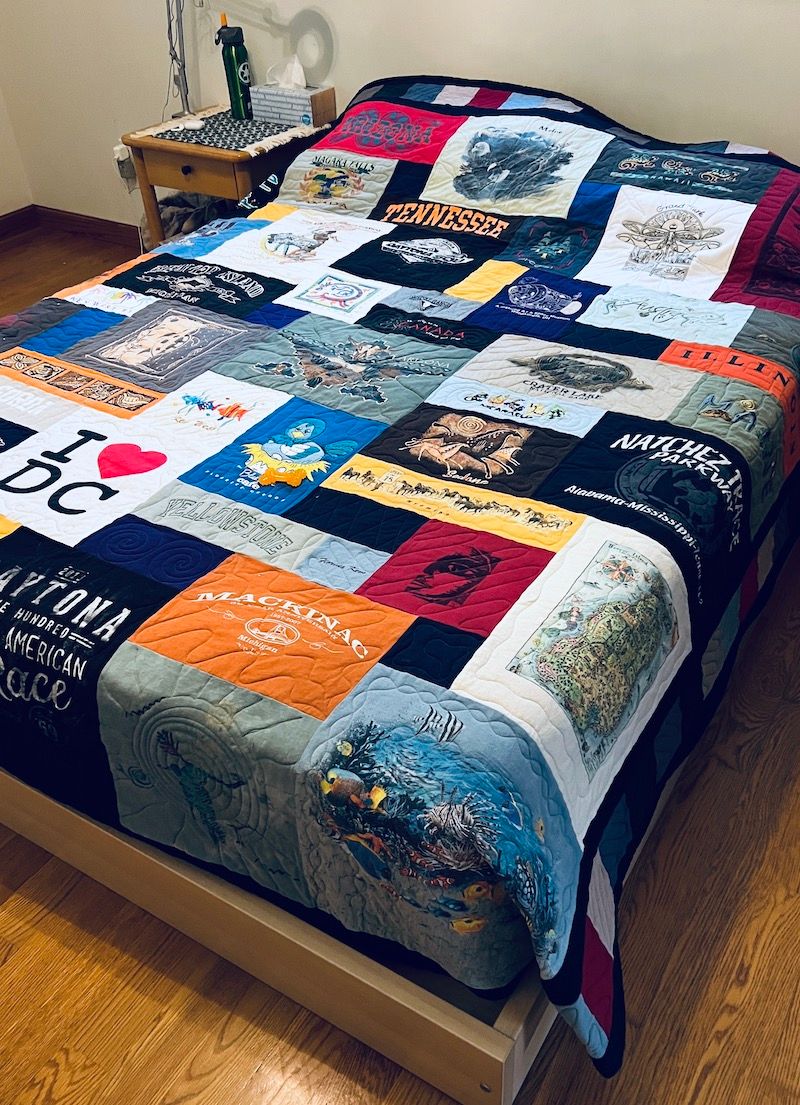 Here are quilts being used in a camper with a slide-out and a camper van.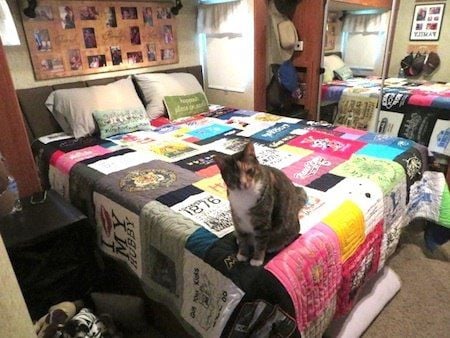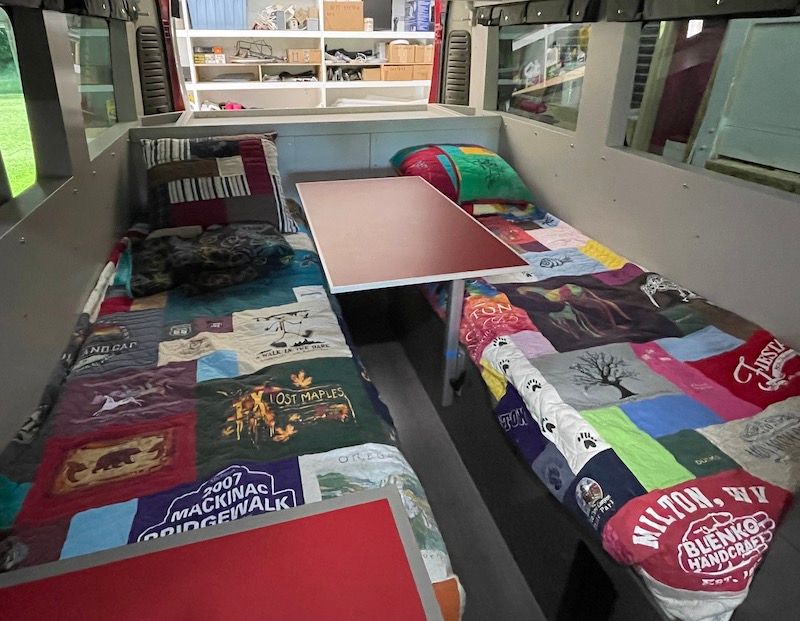 Andrea Funk is the inventor of T-shirt quilts made with multiple blocks sizes. The modern method of making T-shirt quilts. In 1992 she founded Too Cool T-shirt Quilts. Her life has been immersed in T-shirt quilts ever since.