How To Order A T-shirt Quilt
1. Choose Your T-shirts
Visit our pricing page to determine how many T-shirts you will need for the size quilt you would like.
2. Mark Your T-shirts with Any Instructions
Please either view our video or read our written instructions on how to mark what part(s) of your T-shirts you would not like used.
3. Print Out Your Order Form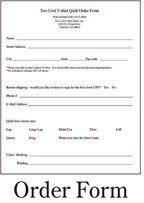 When you get to the order form page, click on the state you live in to be directed to the quilter assigned to your state. Then print out and fill in the order form. If you have special instructions please write them on the order form or include them with the order form on a separate sheet of paper.
4. Box Up Your T-shirts
Include your T-shirts; order form and deposit check if you are paying by check. If you are planning on paying with a credit card, you will not send a check. Here is a fun blog about packing T-shirts.
5. Ship Out Your Box to Too Cool T-shirt Quilts
You can ship via UPS, US Mail, FedEx or any other carrier you like to work with.
6. Your T-shirts Arrive At Too Cool T-shirt Quilts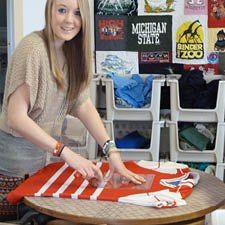 We will cut your T-shirts according to your instructions. Next, we calculate the size of your quilt. Then we send you an e-mail telling you that your T-shirts have arrived and what the size and cost of your quilt will be. We will e-mail you within 48 hours of receiving your box of T-shirts. If we need to change the size of your quilt, we will work on that with you. Once you give us the OK, we will make your quilt.
Click here to read more about our process.
7. Your Quilt is Finished
After your quilt is completed, we will send you a ransom photo of your quilt and upon receipt of the full payment, we will ship your quilt to you.