Memorial Quilts | Planning a T-shirt Quilt
We know grief is different for everyone. Some people work through the grief of losing a loved one in a matter of months. While other people never do. Grief is universal, but very personal.
How Much Do T-shirt Quilts Cost | Memorial Quilts
A memory quilt celebrates the life of a loved one you have lost. Before you have a quilt made, learn about some of the costs that go into making a memory quilt. With this knowledge, you will be able to choose a quilt maker based on your wants and budget.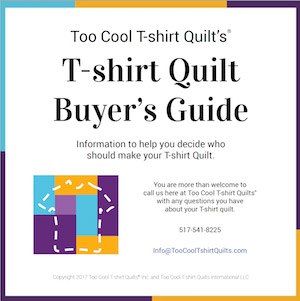 T-Shirt Quilt Buying Guide
If you are in the process of finding someone to make your T-shirt quilt, you may not have all the information you need to make an informed decision. Our T-shirt Quilt Buying Guide has the information you need to fill in any knowledge gaps.
We sorted through over 5000 photographs to bring to you these 10 awesome T-shirt quilts. This is not an easy choosing just 10 from so many fabulous quilts. We love all the quilts we make! What we looked for were quilts exemplifying different genres of quilts. For example, we made over 50 all white quilts. We chose the quilt that best represented that style of quilt.
Comparing T-shirt Quilts | Q & A About T-shirt Quilts | T-shirt Quilt Details
There are a lot of misconceptions about T-shirt quilts – from how they look to how they are made. Below is a look at 10 big misconceptions. We will break each down for you and debunk them one at a time. When available, we also have included links to more information about each misconception.
A double-sided T-shirt quilt is great because you can use twice as many T-shirts inside your quilt. Once you decide on a double-sided T-shirt quilt, you then have to decide how to divide up your T-shirts between the front and back of your quilt. While there are a number of different ways you can divide up your T-shirts, keep in mind that the two sides of the quilt must be the same size.
Full explainer video below.