Campus Quilts has been a player in the T-shirt quilt market for years. You see their ads in the back of many magazines. So how do they stack up against Too Cool T-shirt Quilts? We have broken-down a T-shirt quilt purchase into 8 base components. This article will look at how both companies handle each component. Each of these will affect the look, feel and life of your T-shirt quilt.
Are you planning on giving your child a T-shirt quilt for high school graduation? First, you go through the process of planning your child's T-shirt quilt. Then, collecting the T-shirts. Next, deciding who should make the quilt. Then having the quilt made. Then the joy of giving it to your child. And finally hanging the quilt at the open house. Baby, those are the easy parts of this!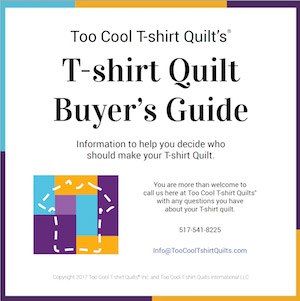 T-Shirt Quilt Buying Guide
If you are in the process of finding someone to make your T-shirt quilt, you may not have all the information you need to make an informed decision. Our T-shirt Quilt Buying Guide has the information you need to fill in any knowledge gaps.
Are you searching for a custom T-shirt quilt? Are you looking for a quilt that is uniquely yours? What customization are you seeking?
How Much Do T-shirt Quilts Cost
And why such a large price range? On the Internet, you can find T-shirt quilts ranging in price from $50 to over $1,000. That is a huge price range for what you might think is the same thing. But T-shirt quilts aren't all the same. And most of the time, they aren't even close to being the same.
Are you considering having a quilt made from your T-shirts? Cool. So, what do you need to do to begin? This article will distill what you need to do into three steps: Decide what type and style of quilt you want. Find a great quilt maker. Prepare your T-shirts for a quilt.
Styles & Types of T-shirt Quilts
Here is a great gift idea for that T-shirt junkie in your life – a T-shirt of the Month Club! Each month the recipient received a new T-shirt. Some clubs send a particular shirt to its members and other clubs let you choose your T-shirt. It may be a little safer to choose your own T-shirt, but more interesting just to have one sent to you.