Q & A About T-shirt Quilts | T-shirt Quilt Details | The Construction of a T-shirt Quilt
Have you noticed T-shirt quilts with blank blocks? Have you wondered why some T-shirt quilts have blank blocks? In this article I will explain:
You want to plan your T-shirt quilt so it turns out awesome. That's our aim too! As you are planning your quilt, you might figure out that you are short on T-shirts. For example, a deceased loved one's T-shirt have to be split up among many people. The result is not enough T-shirts to make a quilt useable on a bed. But that's not a problem!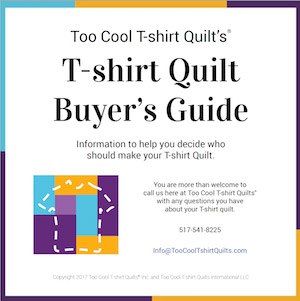 T-Shirt Quilt Buying Guide
If you are in the process of finding someone to make your T-shirt quilt, you may not have all the information you need to make an informed decision. Our T-shirt Quilt Buying Guide has the information you need to fill in any knowledge gaps.
Athletic Quilts | Planning a T-shirt Quilt
Every T-shirt quilt tells a story. An athlete who participated in team sports has a unique element to their story. You know, all those numbers on their jerseys! How many numbers should you include in the quilt?
Comparing T-shirt Quilts | Styles & Types of T-shirt Quilts | The Construction of a T-shirt Quilt
Are you getting ready to have a quilt made from your T-shirts? If so, you know there are a lot of choices you will need to make about your quilt. And the quilting style? It's an important one. It will influence the look and life of your quilt.
Harley-Davidson T-shirt Quilts
I understand why free is so attractive. Getting something for free makes you fell like a winner. But deep down inside, we all know that nothing is really free. There is always a trade off – whether you are aware of it or not.
Memorial Quilts | Planning a T-shirt Quilt
When someone you love dies, your world gets turned upside-down and inside-out. Then you have to pick up the pieces of your life and go on.