Too Cool T-shirt Quilts does make pillows from T-shirts. But not just any old T-shirt pillows – we are making pillows that are too cool. When we began to consider making pillows, we first experimented with turning T-shirts and clothing into pillows. We began, we approached the problem with a number of criteria that we need to meet. These included:
How Much Do T-shirt Quilts Cost
Some people look at our quilt prices and say, "Are you kidding me? That's too expensive." Yes, our quilts are expensive. And yes, they are out of the price range of some people. But for what you get, they are not unreasonable. Let's breakdown the "that's too expensive".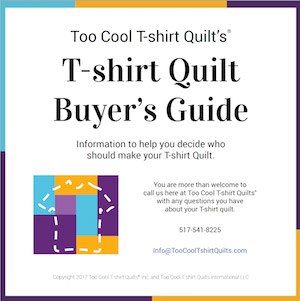 T-Shirt Quilt Buying Guide
If you are in the process of finding someone to make your T-shirt quilt, you may not have all the information you need to make an informed decision. Our T-shirt Quilt Buying Guide has the information you need to fill in any knowledge gaps.
Styles & Types of T-shirt Quilts | What can you use in a T-shirt quilt?
In 1992 the first T-shirt quilt I made was for my sister who is runner. Since that first quilt, I have discovered that you can use much more than just T-shirts in a quilt. Here are a number of other items that can be used in your quilt. As long as it's machine washable, we can use it. Here are some items you can consider:
When you first consider having a T-shirt quilt made, you might be tempted to choose a quilt maker based on price alone. But that's not the best approach, because in the T-shirt quilt making world, there are so many different factors that can influence the cost of a quilt.
What can you use in a T-shirt quilt?
Photo Quilt: Definition – a quilt that uses photographs transferred on to fabric as the focal point of quilt top. Although the definition of a photo quilt states that the photos should be the focal point, photographs can be used in T-shirt quilts in a supporting role. We have been using photo in our T-shirt quilts for years. We can make a true photo quilt or use photos as part of a broader story told in T-shirts.
Styles & Types of T-shirt Quilts
There are many different styles of T-shirt quilts. Each style can result in a different look and feel. And each style also comes with it's own issues. Here is a look at the types of T-shirt quilts. You can click on each style or read from top to bottom.