Styles & Types of T-shirt Quilts
A monochromatic T-shirt quilt is made from one color of T-shirts augmented with white, gray and/or black T-shirts. Your T-shirts might fall into this category. Typically these types of quilts are made from high school or college T-shirts or a quilt from a single sports team.
Making Your Own T-shirt Quilt | The Construction of a T-shirt Quilt
Question: What's the best interfacing to use in a T-shirt quilt? Answer: No interfacing! I made my first T-shirt quilt in 1992. At that time, the Internet was not what it is today. I wasn't able to Google: "How to make a T-shirt quilt." As a result, I just made it up as I went along.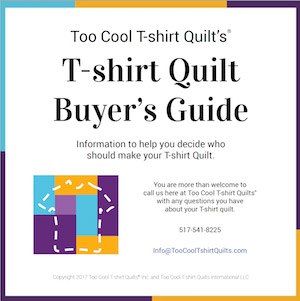 T-Shirt Quilt Buying Guide
If you are in the process of finding someone to make your T-shirt quilt, you may not have all the information you need to make an informed decision. Our T-shirt Quilt Buying Guide has the information you need to fill in any knowledge gaps.
If you are new to the world T-shirt quilts, it might seem that one T-shirt quilt is just same as another T-shirt quilt. You might think that anyone with a sewing machine can successfully make a T-shirt quilt. But, neither is true. There are so many ways to make T-shirt quilts. And not all are successful! There are a lot of ways I have seen T-shirt quilts screwed up. Here are the 3 major problems any T-shirt quilt must solve.
We get this question a lot! Yes they can. They can be mixed in with any other type of material that is machine washable. When the quilt is finished, it is difficult to know if a block was from a T-shirt or a sweatshirt.
Here's a quick video to keep you up to date on what we're doing and what's happening at each of our locations. We are still making quilts. As always, please call before shipping your box of T-shirts to us.
Here's the situation: you want your quilt larger than your T-shirts will make. For example, you want a queen size quilt for your bed, but only have enough T-shirts to make a quilt that is between a twin and a full size. What are your options?