What can you use in a T-shirt quilt?
Photo Quilt: Definition – a quilt that uses photographs transferred on to fabric as the focal point of quilt top. Although the definition of a photo quilt states that the photos should be the focal point, photographs can be used in T-shirt quilts in a supporting role. We have been using photo in our T-shirt quilts for years. We can make a true photo quilt or use photos as part of a broader story told in T-shirts.
Styles & Types of T-shirt Quilts
There are many different styles of T-shirt quilts. Each style can result in a different look and feel. And each style also comes with it's own issues. Here is a look at the types of T-shirt quilts. You can click on each style or read from top to bottom.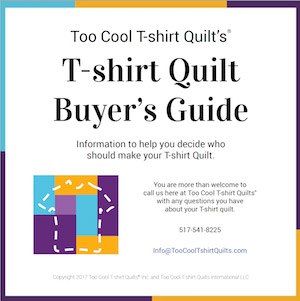 T-Shirt Quilt Buying Guide
If you are in the process of finding someone to make your T-shirt quilt, you may not have all the information you need to make an informed decision. Our T-shirt Quilt Buying Guide has the information you need to fill in any knowledge gaps.
T-shirt Quilt Details | The Construction of a T-shirt Quilt
There are a 1000's and 1000's of T-shirt quilt makers. How do you find one that will make you an awesome quilt from your T-shirts? Begin by looking at a lot of photographs of T-shirt quilts. Compare the different quilts by looking at a few key details in the design of the quilt, the construction of the quilt top, the quilting and how the quilt is bound.
Making Your Own T-shirt Quilt | The Construction of a T-shirt Quilt
Question: What's the best interfacing to use in a T-shirt quilt? Answer: No interfacing! In 1992, I made my first T-shirt quilt. At that time the Internet was not what it is today. I wasn't able to Google: "How to make a T-shirt quilt." As a result, I just had to make it up as I went along. There were a lot of things I didn't know about making T-shirt quilts. Such as:
"What can possibly go wrong?" Ah, that infamous question that gets so many of us in trouble. I would rather ask, "What is the worst that could happen?" This way I can be prepared for the worst thing that could happen if I did XYZ. If I can live with the worst, then I go for it. So, what are the worst things that could happen when you have a quilt made from your T-shirts? Here are 8 bad things that could happen. Included in each description are things you can do to help prevent these things happening to your quilt! You can click on any of the 8 links below to be taken to that bad thing or read them in order.
undefined We are frequently asked what the difference is between a binding and a border on a T-shirt quilt. If you are unfamiliar with quilts and quilting terms, this might be a question you have asked.