Styles & Types of T-shirt Quilts
If you are in the military or have been in the military, you have T-shirts! And uniforms, flight suits, caps, sweatshirts, coats and just about every other type of clothing items that relates to your military service. And you probably have more of them than you need. So...you need to have a T-shirt quilt made! Here are some ideas about types of quilts you could have made with your military gear and when you might have them made.
Making a T-shirt quilt sounds so easy. You simply cut your T-shirts and sew them together. What's so difficult about that? You just need a pair of scissors and a sewing machine. Well there's a little more to it! If you want to make your own quilt, read on! It takes more tools than a pair of scissor and a sewing machine! Here are some of the tools that we use to create our T-shirt quilts.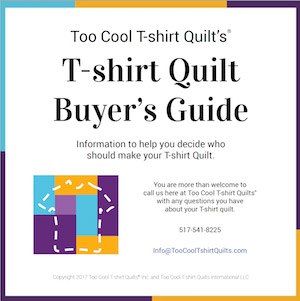 T-Shirt Quilt Buying Guide
If you are in the process of finding someone to make your T-shirt quilt, you may not have all the information you need to make an informed decision. Our T-shirt Quilt Buying Guide has the information you need to fill in any knowledge gaps.
Why you might want to remove a block from a T-shirt Quilt The main reason you might want to remove a block from a quilt is that the T-shirt should have never been used in the quilt to begin with. This does this happen?
Do you have T-shirts you want made into a quilt? Are you looking for a quilt that is more than a few steps above ho-hum? Below are five factors that go into making a T-shirt quilt that is so much better than ho-hum.
Comparing T-shirt Quilts | The Construction of a T-shirt Quilt
The Dark Ages of T-shirt Quilt Making Before 1992, most T-shirt quilts were made one way.
Materials Used In T-shirt Quilts | Q & A About T-shirt Quilts
We love displaying our T-shirt Quilts various events such as marathon expos. We enjoy visiting with current customers and future customers. People walking by our booth often comment to us about how cool our T-shirt quilts are. It's a lot of fun.