Are you ready to have a quilt made from your T-shirts? Excellent. Here is a step-by-step check list of what you need to do to have a quilt made from your T-shirts.
There are many different styles of T-shirt quilts. Each style can result in a different look and feel.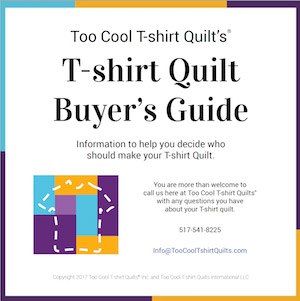 T-Shirt Quilt Buying Guide
If you are in the process of finding someone to make your T-shirt quilt, you may not have all the information you need to make an informed decision. Our T-shirt Quilt Buying Guide has the information you need to fill in any knowledge gaps.
Did you find a great deal for a T-shirt quilt on Groupon or some other coupon site? Perhaps a quilt for under $150? Cool. Right? Perhaps. Perhaps not. There are cheap T-shirt quilts and blankets and there are expensive T-shirt quilts. What's the difference? Here are 5 differences that will let you know if you got one of the cheap ones or one of the good ones. Here's how these differences can make your quilt a lot less expensive and what you gave up for the cost savings.
This is a Goldilocks story about finding the quilt that is the perfect size for you. A quilt that is not too big nor too small: a quilt that is just the right size! So how do you go about figuring this out? Read on, we will walk your through a number of different options to use. First, we will look at what determines the size of a T-shirt quilt. Second, we will look at 6 methods you can use to determine the size quilt you want.
T-shirt Quilt Remakes | The Construction of a T-shirt Quilt
Did someone make your T-shirts into a crappy T-shirt quilt? Do you look at it and just want to cry? Or worse, leave it folded up in the drawer?
Do you have T-shirts you want made into a T-shirt quilt? Are you looking for a quilt that is more than a few steps above ho-hum? Below are five factors that go into making a T-shirt quilt that is so much better than ho-hum.