Most Americans will admit that we all have too much stuff! We will also admit that it is hard to let go of this same stuff. One of these things we have too many of is T-shirts. So, how many do you need to have to wear?
Here are some of our favorite T-shirt quilt from 2016 and why we like them. They are in no particular order.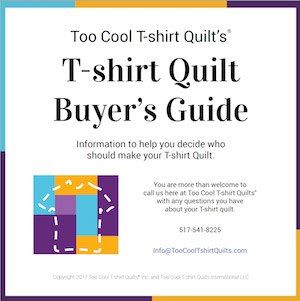 T-Shirt Quilt Buying Guide
If you are in the process of finding someone to make your T-shirt quilt, you may not have all the information you need to make an informed decision. Our T-shirt Quilt Buying Guide has the information you need to fill in any knowledge gaps.
Planning a T-shirt Quilt | The Construction of a T-shirt Quilt
There are 1000's of color combination you could choose for your T-shirt Quilt. How do you pick the best one for your quilt? Here's a place to start.
Harley-Davidson T-shirt Quilts | theme quilts
Like motorcycles, there are many different styles of T-shirt quilts. And like bikes, some are plain and boring while others are awesome.
T-shirt Pillows | baby clothes
One of the coolest products we make here at Too cool is a baby cloths pillow. We take your child's bibs, onesies, hats and other baby paraphernalia and turn them into a pillow.
Styles & Types of T-shirt Quilts | theme quilts
Why do firefighters have so many T-shirts? Rick Gorski, a volunteer firefighter from Cleveland Ohio area puts it this way: The biggest reason is because of the large amount of "traded" T-shirts. Firemen are famous for collecting T-shirts from other departments. Most T-shirts warn by firemen are not from the city that they protect.