Can a T-shirt be removed from a completed T-shirt quilt? The Short Answer: No. It would ruin the quilt.
Remember back to middle school when you told your 6th grade science teacher that your dog ate your homework but in reality you forgot it at home? No, maybe that was just me. But dogs really do eat things other than middle school homework; sometimes they take chunks out of beautiful T-shirt quilts! You wouldn't believe some of the calls we've gotten about dogs and repairing quilts.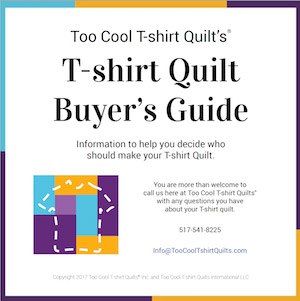 T-Shirt Quilt Buying Guide
If you are in the process of finding someone to make your T-shirt quilt, you may not have all the information you need to make an informed decision. Our T-shirt Quilt Buying Guide has the information you need to fill in any knowledge gaps.
Over the years, we have been asked to take T-shirt quilts made by other T-shirt quilt companies and retro fit it into a Too Cool T-shirt Quilt. A few weeks ago we received this e-mail with the accompanying photo:
I have seen so many T-shirt quilts since I began making them in 1992. Some are cool while others are just ho-hum. But the Pottery Barn's Burton Brand "Tee Shirt" quilt is by far the most offensive!
As a leading maker of T-shirt quilts, I like to keep up on what is happening in the world of T-shirt quilts. So this week I reviewed various websites of other T-shirt quilt makers. What I found; poor Qulity, same old, same old and copiers. Poor Quality - There are some horrendously dreadful T-shirt quilts being made. Basically they are quickly made with poor quality materials and not worth your money. If someone wants to charge you less than $200 for a quilt, either your aunt is making it for you, or you will get a very wretched "quilt" back.