T-shirt Quilt Remakes | The Construction of a T-shirt Quilt
Did someone make your T-shirts into a crappy T-shirt quilt? Do you look at it and just want to cry? Or worse, leave it folded up in the drawer?
Comparing T-shirt Quilts | Making Your Own T-shirt Quilt | T-shirt Quilt Remakes | The Construction of a T-shirt Quilt
Caution! Do you spend a lot of time on Pinterest? I know I do. Every day I see tons of cool "Do it Yourself" or DIY ideas. I always think "Oh! I could make that, it looks easy!". Yet my stuff never seems to come out as good as the pictures. Most of the time my project goes straight in the trash.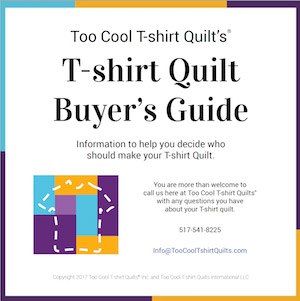 T-Shirt Quilt Buying Guide
If you are in the process of finding someone to make your T-shirt quilt, you may not have all the information you need to make an informed decision. Our T-shirt Quilt Buying Guide has the information you need to fill in any knowledge gaps.
Can a T-shirt be removed from a completed T-shirt quilt? The Short Answer: No. It would ruin the quilt.
Remember back to middle school when you told your 6th grade science teacher that your dog ate your homework but in reality you forgot it at home? No, maybe that was just me. But dogs really do eat things other than middle school homework; sometimes they take chunks out of beautiful T-shirt quilts! You wouldn't believe some of the calls we've gotten about dogs and repairing quilts.
Over the years, we have been asked to take T-shirt quilts made by other T-shirt quilt companies and retro fit it into a Too Cool T-shirt Quilt. A few weeks ago we received this e-mail with the accompanying photo: