Comparing T-shirt Quilts | Styles & Types of T-shirt Quilts | The Construction of a T-shirt Quilt
Are you getting ready to have a quilt made from your T-shirts? If so, you know there are a lot of choices you will need to make about your quilt. And the quilting style? It's an important one. It will influence the look and life of your quilt.
Styles & Types of T-shirt Quilts
Here is a great gift idea for that T-shirt junkie in your life – a T-shirt of the Month Club! Each month the recipient received a new T-shirt. Some clubs send a particular shirt to its members and other clubs let you choose your T-shirt. It may be a little safer to choose your own T-shirt, but more interesting just to have one sent to you.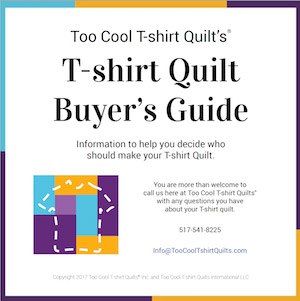 T-Shirt Quilt Buying Guide
If you are in the process of finding someone to make your T-shirt quilt, you may not have all the information you need to make an informed decision. Our T-shirt Quilt Buying Guide has the information you need to fill in any knowledge gaps.
Styles & Types of T-shirt Quilts | theme quilts
Why do firefighters have so many T-shirts? Rick Gorski, a volunteer firefighter from Cleveland Ohio area puts it this way: The biggest reason is because of the large amount of "traded" T-shirts. Firemen are famous for collecting T-shirts from other departments. Most T-shirts warn by firemen are not from the city that they protect.
Styles & Types of T-shirt Quilts | What can you use in a T-shirt quilt?
In 1992 the first T-shirt quilt I made was for my sister who is runner. Since that first quilt, I have discovered that you can use much more than just T-shirts in a quilt. Here are a number of other items that can be used in your quilt. As long as it's machine washable, we can use it.
Styles & Types of T-shirt Quilts
There are many different styles of T-shirt quilts. Each style can result in a different look and feel. And each style also comes with it's own issues. Here is a look at the types of T-shirt quilts. You can click on each style or read from top to bottom.
Styles & Types of T-shirt Quilts
Post College Your college days are behind you, yet you still have a huge pile of T-shirts from your sorority life. You can't bear to part with them, yet you don't wear them anymore. After all, a sorority T-shirt looks funny under a business suit! So, you are stuck with a huge pile of T-shirts. A T-shirt quilt will let you get rid of that pile of T-shirts, yet retain all the images that trigger memories.