Athletic Quilts | Planning a T-shirt Quilt
Runners have many problems: Stinky Shoes Shin Splints Ear Buds Falling Out Heat Waves and Cold Spells Runner's Runs Blisters And Too Many T-shirts! Why do you have too many T-shirts? Because you love to race. Racing lets you challenge yourself. You can race for the gold. You can race as a training goal. Some runners race for the T-shirts!
Athletic Quilts | Planning a T-shirt Quilt
Every T-shirt quilt tells a story. An athlete who participated in team sports has a unique element to their story. You know, all those numbers on their jerseys! How many numbers should you include in the quilt?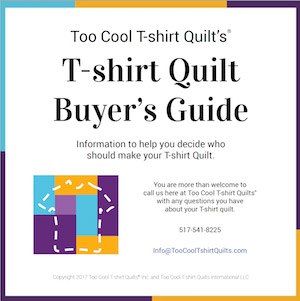 T-Shirt Quilt Buying Guide
If you are in the process of finding someone to make your T-shirt quilt, you may not have all the information you need to make an informed decision. Our T-shirt Quilt Buying Guide has the information you need to fill in any knowledge gaps.
Hockey – you either love it, hate it or just don't care. If you have found this article, you are in the "love it" camp. And you, or someone you love, probably played hockey.
Athletic Quilts | What can you use in a T-shirt quilt?
How many baseball caps you do have in your house? If you are like my family, you have more than you can wear and more than you need. Yet, have you ever noticed that you don't have one when you need one? And then you end up having to buy another one. They are useful when it's bright and sunny out. Or when you have a hairless spouse.
Athletic Quilts | Styles & Types of T-shirt Quilts
Sitting through the 1000 at my daughter's swimming meet the other day was torture. My daughter Milie is a sprinter and in 4 events, she only swam 300 yards. I had to keep myself entertained while I sat through the long events to make it to the sprint events.
Athletic Quilts | Styles & Types of T-shirt Quilts
Despite baseball no longer being an Olympic sport, baseball is still being played. My nephew Isaac just finished his last years playing Little League. He was disappointed that team did not make the Little League World Series. But then again, most Little League players are disappointed that their teams did not make the World Series.