Athletic Quilts | What can you use in a T-shirt quilt?
How many baseball caps you do have in your house? If you are like my family, you have more than you can wear and more than you need. Yet, have you ever noticed that you never seem to have one when you need it? And then you end up having to buy another one.
Planning a T-shirt Quilt | T-shirt Quilt Details | What can you use in a T-shirt quilt?
Neon has a purpose and that is to stand out. That's why safety equipment is colored neon.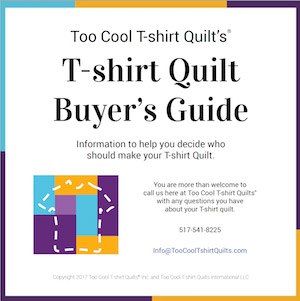 T-Shirt Quilt Buying Guide
If you are in the process of finding someone to make your T-shirt quilt, you may not have all the information you need to make an informed decision. Our T-shirt Quilt Buying Guide has the information you need to fill in any knowledge gaps.
What can you use in a T-shirt quilt?
Should a homemade T-shirt be included in a T-shirt quilt? There are no right or wrong answers to that question. It's your quilt and you get to decide what to put into it. Here are a number of things to take into consideration when making your decision.
What can you use in a T-shirt quilt?
Can you use karate belts in a T-shirt quilt? Yes! Karate is a sport filled with advancements. The more you practice and grow, the further up the karate ladder you move. With each move comes a new belt that replaces your old belt – a very visual advancement system.
What can you use in a T-shirt quilt?
Although the definition of a photo quilt states that the photos should be the focal point, photographs can be used in T-shirt quilts in a supporting role. We have been using photo in our T-shirt quilts for years. We can make a true photo quilt or use photos as part of a broader story told in T-shirts.
What can you use in a T-shirt quilt?
This story was update January 2015. Yes you can, and should! Ripps and other lived-in imperfections that are in our clothing are part of your story. Here's my story about rips. I married a bicyclist. My husband David is a bicycler and loves all things bicycling. He races, he tours and he collects bikes. It took some learning to become a bicyclist myself. I have grown to like biking, as long as I don't have to steer. As long as I am on the back of a tandem, I can deal with it. I am not always happy while biking, but I do enjoy the athletic high I get after I get off the bike. What I don't like is crashing. Crashed scares me. They say that there are two types of bikers – those who have crashed and those who will crash. Not very good odds!