Styles & Types of T-shirt Quilts | What can you use in a T-shirt quilt?
In 1992 the first T-shirt quilt I made was for my sister who is runner. Since that first quilt, I have discovered that you can use much more than just T-shirts in a quilt. Here are a number of other items that can be used in your quilt. As long as it's machine washable, we can use it.
What can you use in a T-shirt quilt?
Photo Quilt: Definition – a quilt that uses photographs transferred on to fabric as the focal point of quilt top. Although the definition of a photo quilt states that the photos should be the focal point, photographs can be used in T-shirt quilts in a supporting role. We have been using photo in our T-shirt quilts for years. We can make a true photo quilt or use photos as part of a broader story told in T-shirts.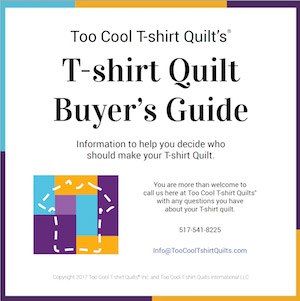 T-Shirt Quilt Buying Guide
If you are in the process of finding someone to make your T-shirt quilt, you may not have all the information you need to make an informed decision. Our T-shirt Quilt Buying Guide has the information you need to fill in any knowledge gaps.
What can you use in a T-shirt quilt?
Despite the word T-shirt being in our name, we make quilts from all types of clothing and textiles. Each type is unique and fun. We have compiled a number of different types of quilts we can make here. If you don't see what you are looking for, let us know! We would love any challenge.
Athletic Quilts | What can you use in a T-shirt quilt?
What Do I Do With All These Old Hockey jerseys? Most Hockey players have to purchase two jerseys: a white one for home games and a colored one for away games. Season after season, these jerseys accumulate and take on a life of their own. Put those jerseys to work in a T-shirt quilt!
What can you use in a T-shirt quilt?
Can you use karate belts in a T-shirt quilt? Yes! Karate is a sport filled with advancements. The more you practice and grow, the further up the karate ladder you move. With each move comes a new belt that replaces your old belt – a very visual advancement system.
What can you use in a T-shirt quilt?
This story was update January 2015. Yes you can, and should! Ripps and other lived-in imperfections that are in our clothing are part of your story. Here's my story about rips. I married a bicyclist. My husband David is a bicycler and loves all things bicycling. He races, he tours and he collects bikes. It took some learning to become a bicyclist myself. I have grown to like biking, as long as I don't have to steer. As long as I am on the back of a tandem, I can deal with it. I am not always happy while biking, but I do enjoy the athletic high I get after I get off the bike. What I don't like is crashing. Crashed scares me. They say that there are two types of bikers – those who have crashed and those who will crash. Not very good odds!