Finding a T-shirt Quilt Maker | Materials Used In T-shirt Quilts
Quilters call the fabric that is on the back of a quilt, "the backing." Some quilters consider the back of a quilt as important as the front, while other quilters only care about the front. This difference manifests itself in the choice of material that is chosen for the back of a quilt. What are some choices available to T-shirt quilter makers? Like anything, everyone has a different opinion about what fabric makes the best back to a quilt. During my 45+ years of quilt making, I have used most of the fabrics listed below. Each fabric has its positive and negative features.
Materials Used In T-shirt Quilts | The Construction of a T-shirt Quilt
Many T-shirt quilt companies offer their T-shirt quilts with polar fleece on the back of the quilt. They describe the merits of fleece as: •Warm •Light Weight •Soft •Won't shrink •Won't unravel •The dye won't run •Cozy •Stretchy •Easy to care for •Won't pill •Won't ball up •Durable •Breathable These attributes of fleece might seem wonderful, but here is why you might not want to go that direction. First, we will present some esthetical and practical reason you would want to avoid fleece, second, why a quilt maker would choose to use fleece and third, I will address each of the attributes from the list above.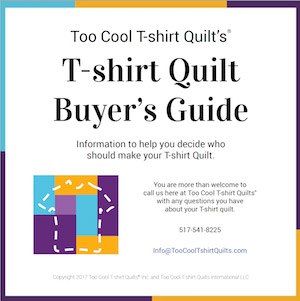 T-Shirt Quilt Buying Guide
If you are in the process of finding someone to make your T-shirt quilt, you may not have all the information you need to make an informed decision. Our T-shirt Quilt Buying Guide has the information you need to fill in any knowledge gaps.