Fun Ways to Use Your Socks in a Quilt
November 19th, 2018
By Andrea Funk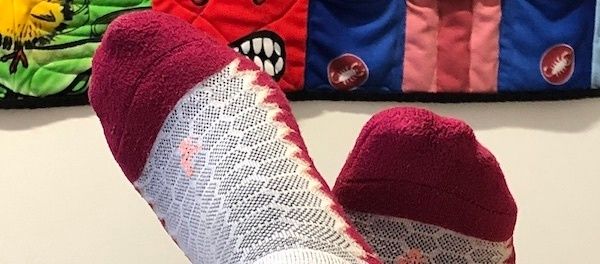 A T-shirt quilt tells a story. Sometimes that story takes more than just T-shirts to tell. The great thing about T-shirt quilts – they can encompass more than just their namesakes. You can use any washable fabric in your quilt. This includes socks.
Ah Socks!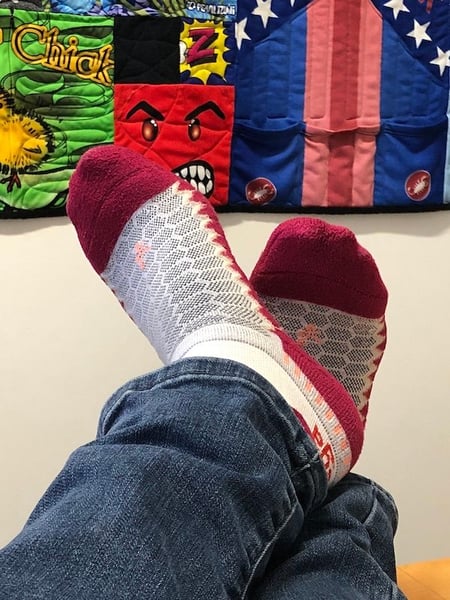 I wear socks 98% of the time. What can I say? My feet get cold. I love socks and will wear up to 3 different pairs a day. It's not that hard to do – one pair to sleep in, one pair to work in and one pair to exercise in. As such, I have a large fun array of socks. Some women buy shoes, I buy socks.
My daughter is my polar opposite: she only wears socks about 5% of the time and only when she has to. She has few socks and they are always miss-matched.
My husband only has two different socks. White socks and black socks. He will buy 12 pairs of each style because that will save him from having to sort and pair them. The white socks go in one stack and the black ones in the other.
As with any clothing item, how, when and why we wear socks is very personal and reflects our personality. When it comes to telling our story, if we are big sock wearers, then they might need to be reflected in a quilt we have made.
How Socks Can Be Used in a T-shirt Quilt
We have a number of different approaches to using socks in our T-shirt quilts. Here is a brief description of a few of the different methods we have used.
Sport Socks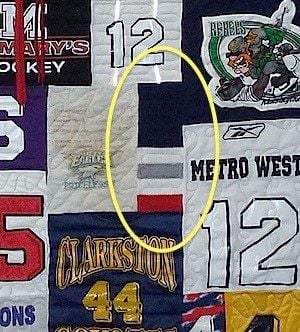 Sports like hockey, soccer and baseball tend to have large socks that are important to the uniform look of a team. Some of these socks will be stripped while others are woven with the team name or logo. When you are making such sports quilt, and if there are socks that go with the jerseys and pants the athlete wore, then the socks should go into the quilt.
There are two issues with athletic socks. First, they might be stained – especially in the heel and foot area. This keeps us from wanting to appliqué this type of sock onto a block because it just looks poor. Second, these types of socks are thick. Again, making appliqué impractical.
So, for this type of sock, we will cut the foot off and open up the sock from then heel to the top. Then we will cut a block from this piece of material. By the time the quilt is finished, it's very difficult to see from a photo that one particular block was cut from a sock.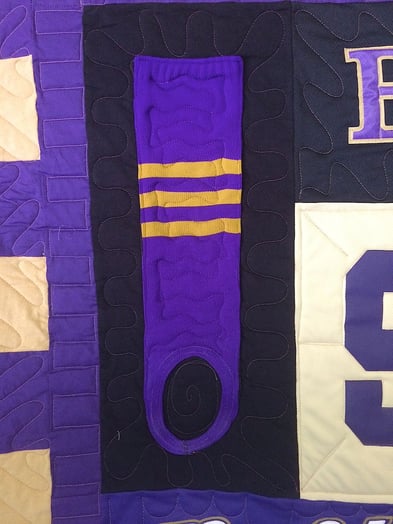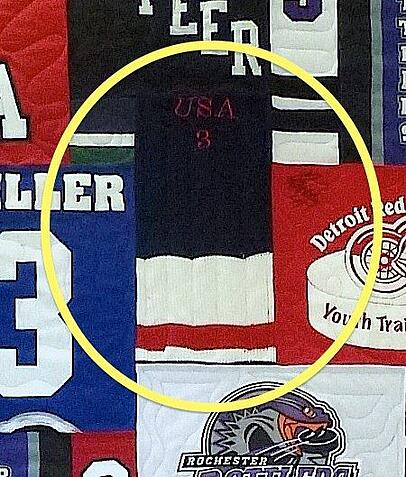 Baby Socks
Quilts made from baby clothing are so cute because we can use so many different types of items in such a quilt. One of the items that is frequently used are baby socks and baby booties. They are tiny, clean and cute. We typically will appliqué the socks right onto a piece of fabric. If we can, we will leave the sock open so you can put your finger into the sock.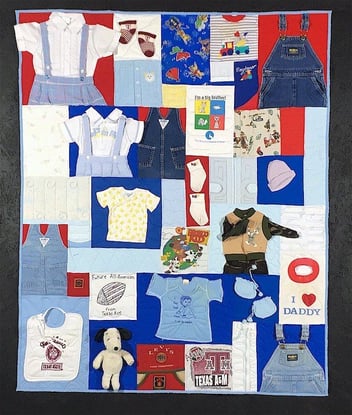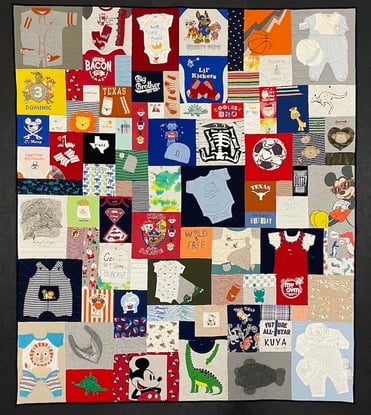 Socks in Memorial Quilts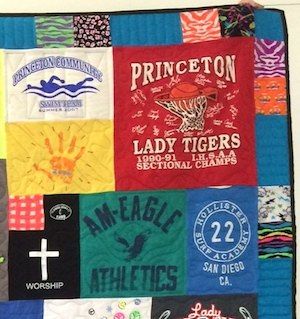 We tend to see socks most frequently in memorial quilts because as you go through a loved one's wardrobe, you can choose from everything. When you are making a quilt from your own items, you may not even think to consider using socks.
In the quilt here, the pieced border was made alternating socks and cotton fabric. It's difficult to see from the photo that the colorful blocks were actually cut from socks. But if you were to hold this quilt in your hands, you would be able to see and feel the different textures.
The family who commissioned us to make this quilt had lost their daughter shortly after high school. This young woman loved to wear her socks. Her Mom told us that she only wore her socks mismatched. So, we mismatch them in the border of the quilt. It was a perfect way to honor and remember her daughter's love of silly, mismatched socks.
If you are planning a T-shirt quilt, consider using socks in the quilt.
---
Planning a T-shirt quilt?
Here are step-by-step directions for ordering your Too Cool T-shirt quilt.
---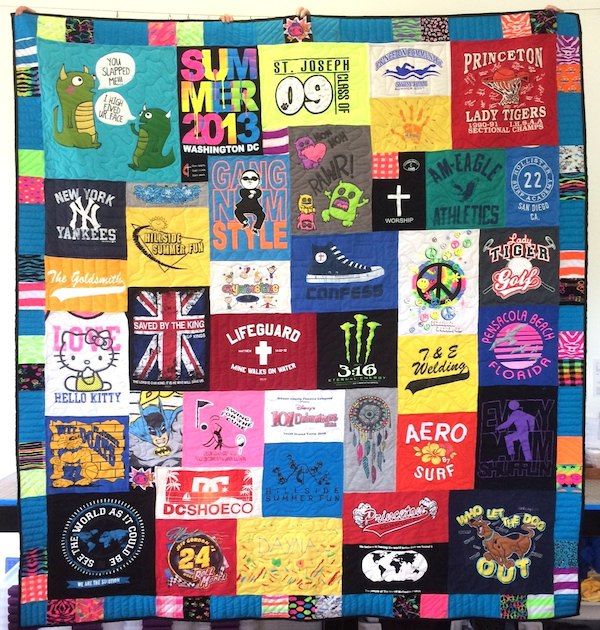 Andrea Funk is the inventor of T-shirt quilts made with multiple blocks sizes. The modern method of making T-shirt quilts. In 1992 she founded Too Cool T-shirt Quilts. Her life has been immersed in T-shirt quilts ever since.