Can I Use Jersey Material In my T-shirt Quilt? Yes!
April 12th, 2021
By Andrea Funk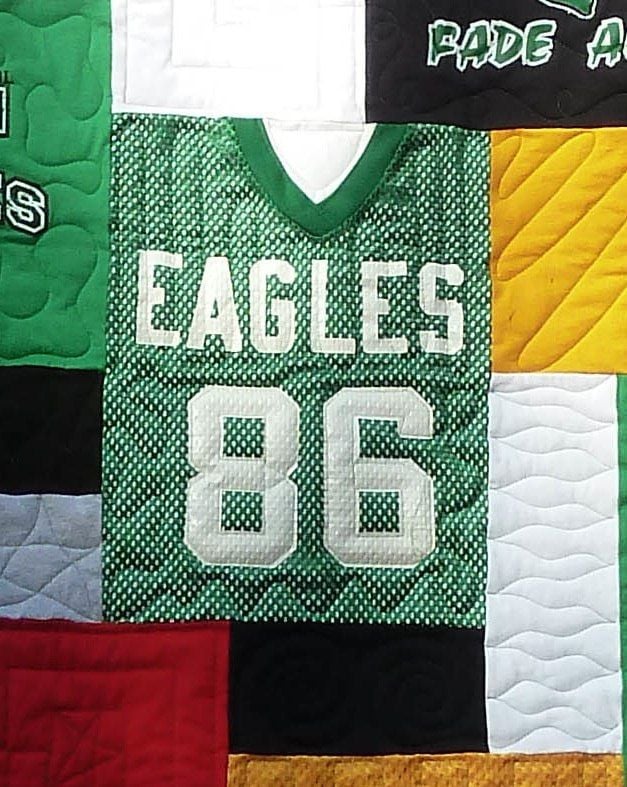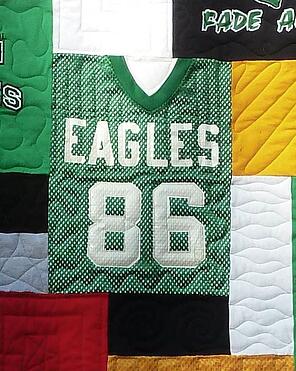 This is one of the most frequent questions we are asked about T-shirt quilts. Since it's called a T-shirt quilt, many people think that you can only use T-shirts in such a quilt. A T-shirt quilt is much more than just T-shirts.
A T-shirt quilt can be made with any machine washable fabric. Here are some of the items you may consider putting in your quilt.
Jersey Material
Jersey material is a type of fabric that is used to make football and other types of jerseys. Jersey material is typically nylon and it is full of holes. All the little holes help to make the material lighter weight and help keep the athlete cool.

It's all these little holes that concern people when they think about using it in a T-shirt quilt. If this fabric is backed by another piece of material there are no issue. An inexperienced T-shirt quilt maker may not know to back jersey material. That becomes a problem because the batting can be seen through the holes and it will eventually work its way out of the holes.

If you have a skilled T-shirt quilt maker, using jersey material in your quilt is not an issue.
What else can you use in your T-shirt quilt?
Technical Fabrics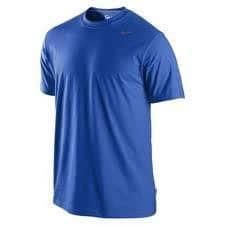 Technical fabric, or high-tech fabric, is material that is woven from nylon. It is very soft and non-chafing for the person wearing the garment. This fabric is sweat wicking and sometimes smells bad if it's not washed properly. Read more about technical fabric here.

Using technical fabric in a T-shirt quilt is not an issue for most T-shirt quilt makers. The exception is for those T-shirt quilt makers who iron backing onto their T-shirts to make them stiff and easier to work with.
Technical fabrics tend to melt when ironed. If a quilt maker tells you they cannot use technical fabrics, ask why not. If it is because they use iron-on backing, you may want to consider a quilt maker who does not use iron-on backing. Read more about avoiding iron-on backing here.
Sweatshirts and Sweatpants

Sweatshirts and sweatpants are made from a heavier weight material than a T-shirt. Yet to a quilt maker, they are just like a T-shirt.
Once sweatshirt material is in a quilt it is very difficult to pick it out. It just doesn't make any difference to the quilt. You can include sweatshirt in your quilt.
Nylon Jackets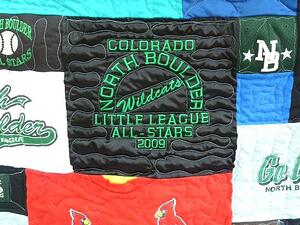 Many athletes are given a nylon jacket as part of their uniform. The jacket can have the team's name, its logo and the athletes name printed or embroidered on it. It becomes part of the story and should be used in a quilt. For most experienced quilters, this is not an issue. But it has the same issue as technical fabric. It will melt if it's ironed. It has an added issue in that it's difficult to work with. If you have a nylon jacket that you want used in your quilt, be sure the quilter you choose has experience sewing nylon to T-shirt material. It can be very tricky.
Athletic Bags
Many athletes have a gear bag that is embroidered or printed with his or her name and a team name or logo. Using an athletic bag is similar to using a nylon jacket. It's just more difficult to cut out. If you want a bag used in your quilt, again, make sure your quilter has experience doing this.
What Else?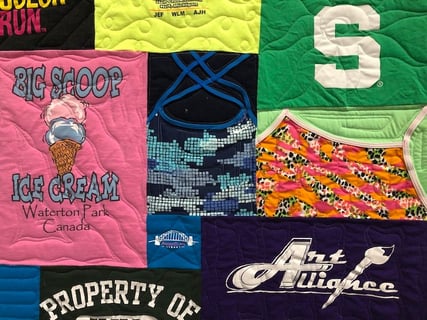 Here are a few other items you can use in your quilt and links to more information about each:
Here's how to have Too Cool T-shirt Quilts make your quilt.
---
Discover more about having a quilt made with your T-shirts. Consider downloading our T-shirt Quilt Buyers Guide.
It's will help you know what you want your quilt to look like and what to look for in a quilt maker.
---
Back to: What can you use in a T-shirt quilt?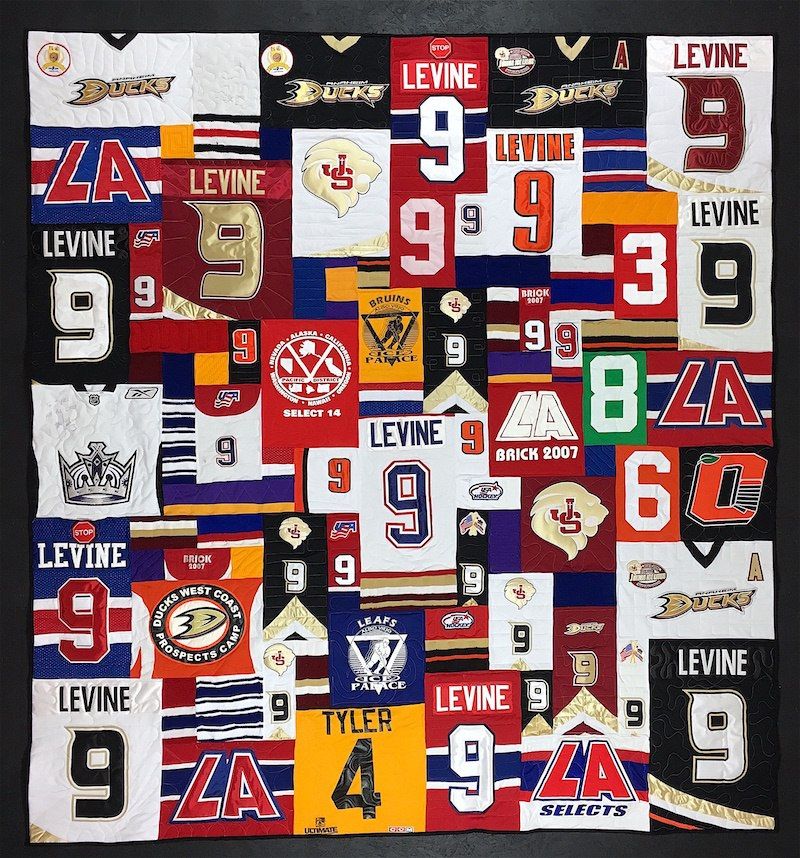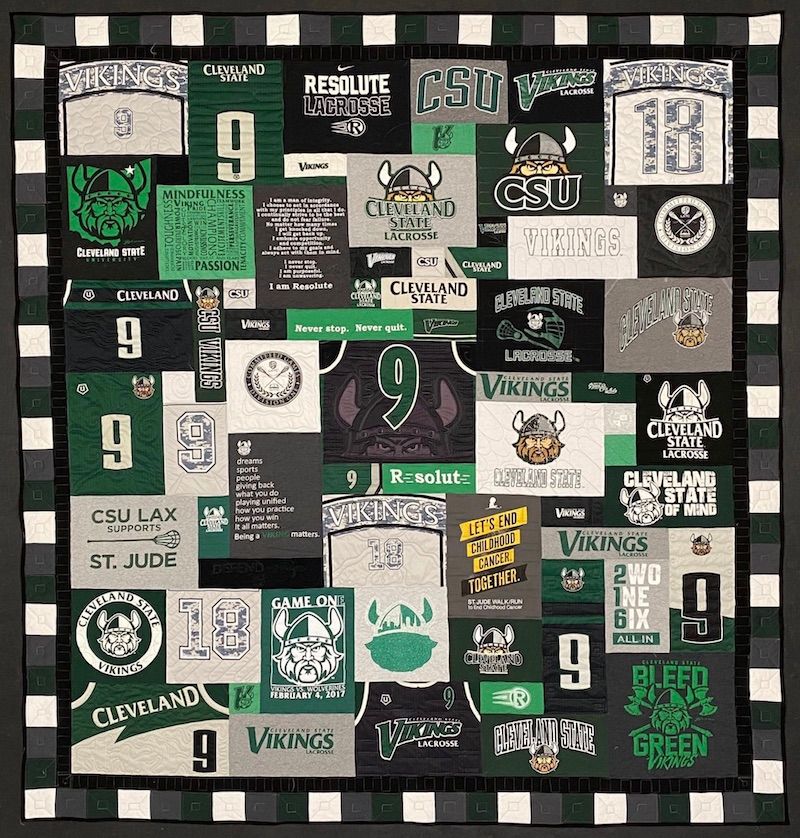 Andrea Funk is the inventor of T-shirt quilts made with multiple blocks sizes. The modern method of making T-shirt quilts. In 1992 she founded Too Cool T-shirt Quilts. Her life has been immersed in T-shirt quilts ever since.