How to Use Homemade T-shirts in a T-shirt Quilt
July 1st, 2019
By Andrea Funk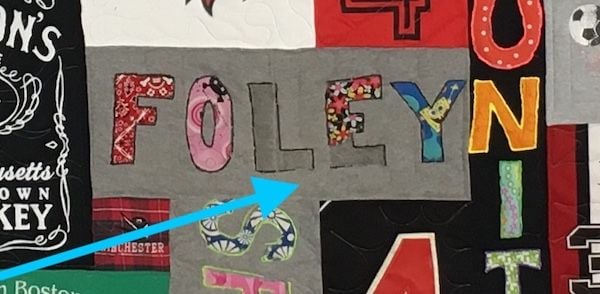 Should a homemade T-shirt be included in a T-shirt quilt? There are no right or wrong answers to that question. It's your quilt and you get to decide what to put into it. Here are a number of things to take into consideration when making your decision.
How many Homemade T-shirts?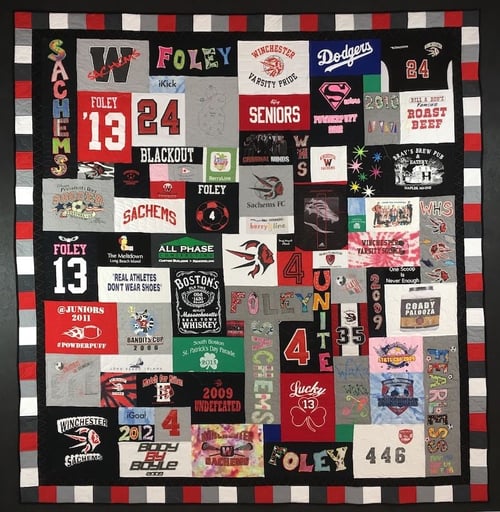 The more homemade T-shirts you have, the more balanced they will feel throughout the quilt. If there is only one homemade T-shirt, you need to decide if it would look out of place with the rest of the T-shirts you are using. To help decide this, scatter the T-shirts around on the floor and then put the one homemade T-shirt into the mix. Does it stand out like a sore thumb or does it blend well?
The quilt here has 14 blocks from homemade sweatshirts and sweatpants. They are mix in throughout the quilt and look great.
The Importance of the T-shirt(s)?
How important is the homemade T-shirt(s) to the story your T-shirts are telling? If the homemade T-shirt is vital to the story, then use it. If it is just another T-shirt in the stack and it does not look great, then perhaps you might want to leave it out.
Back to this quilt. These blocks were more important than any other blocks in the quilt. They had to be in the quilt. These blocks told more of a story than all the other blocks together. As someone uninvolved in the life of this woman, we don't get it. We don't understand the story. But that's ok. It's not our story.
What Size Block Would the T-shirt Make?
We have found that homemade T-shirts tend to make larger blocks than commercially printed T-shirts. If you have these huge blocks, it will have two effects on your quilt. First, these blocks will typically be place in one of the outside corners of the quilt. Second, the size of the block will make it stand out from the other blocks. This is when you need to go back and answer some of the other questions above.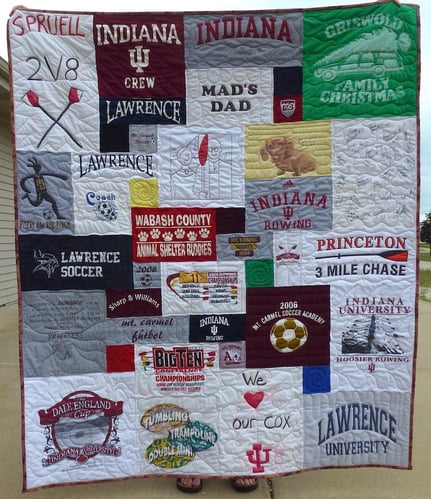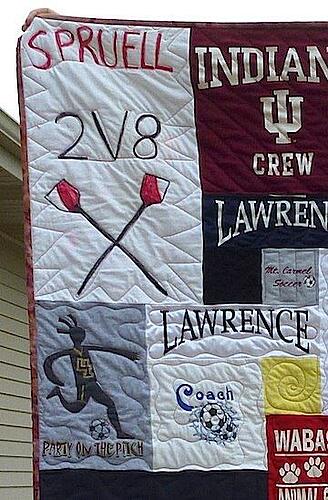 What else is in the Quilt?
If you were using many homemade T-shirts (like shirts with photos transferred onto them and other memory type items), the homemade T-shirts would fit in nicely. If all your T-shirts are of one style, of one type or theme, your homemade T-shirt might stick out.
---
Planning a T-shirt quilt?
Here are step-by-step directions for ordering your Too Cool T-shirt quilt.
---
What Kind of Ink or Paint Was Used on the T-shirt?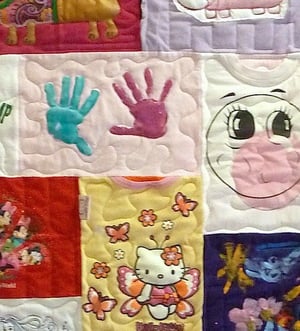 Markers – Some markers are more permanent than others. If the writing is fading now, it will continue to fade in the future. Eventually the T-shirt might end up very faded. If the marker is still clear now and the T-shirt has been washed a number of times, then you might expect the writing to be more enduring.
Soft Paint – This type of paint has remained soft and usually has been incorporated into the fibers of the T-shirt as opposed to being on top of the T-shirt. If the paint is soft and embedded into the fibers of the T-shirt, you should be fine using the T-shirt.
Hard Paint – This type of paint is on top of the fibers and can be picked off. When the paint dries, many times it will crack. The paint in many instances can be very stiff and when cracked, the paint can be sharp. This paint is hard on our sewing machines and does occasionally cause a needle to break. You can use these T-shirts but beware that we cannot always quilt the block as closely as we would like.
Is it a Homemade Tie-Dyed T-shirt?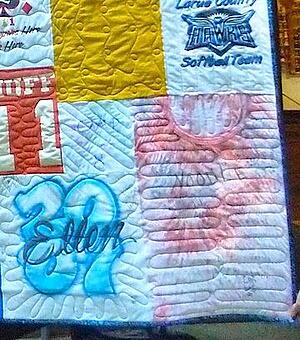 Homemade tie-dyed T-shirts tend to be muddy and the dye fades over subsequent washing. So a homemade tie-dyed T-shirt will continue to fade and bleed when it is in your quilt.
If the T-shirt does not have any other writing on it, you might consider using just a small piece of this T-shirt in your quilt. You can block out with blue painter tape the size block you are considering using. Again, ask yourself questions about the importance of the T-shirt when deciding if you want to use it or not.
What Is Sew or Glued onto the T-shirt?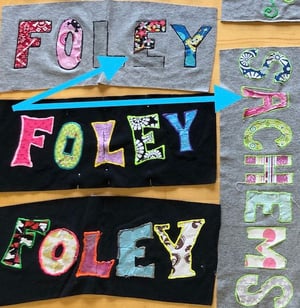 Many times homemade T-shirts have items sewn or glued onto them. This does not preclude the use of the T-shirts. But if something is falling off now, it will continue to fall off after the quilt is made. We can do some fixes. But if something is unglued or falling off when you send the item in, don't expect the T-shirt to look differently in the final quilt.
See the two photos here. The first shows the lettering coming off when the blocks were cut. The second photo shows that same block used in a quilt.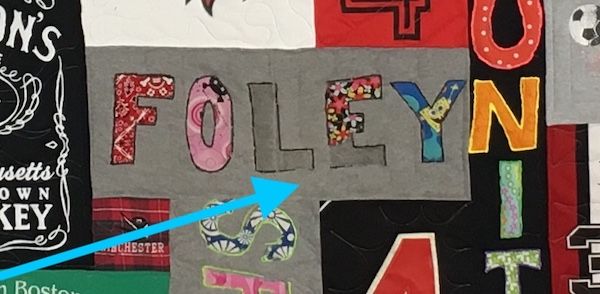 Conclusion
We hope this information helps you with your decisions to include or exclude homemade T-shirts from your T-shirt quilt. We are happy to discuss with you any other concerns you have about homemade T-shirts. Email us at: info@toocooltshirtquilts.com
---
Want to learn more about T-shirt quilts? Visit our Learning Center.
We have over 200 articles about all aspects of T-shirt quilts.
---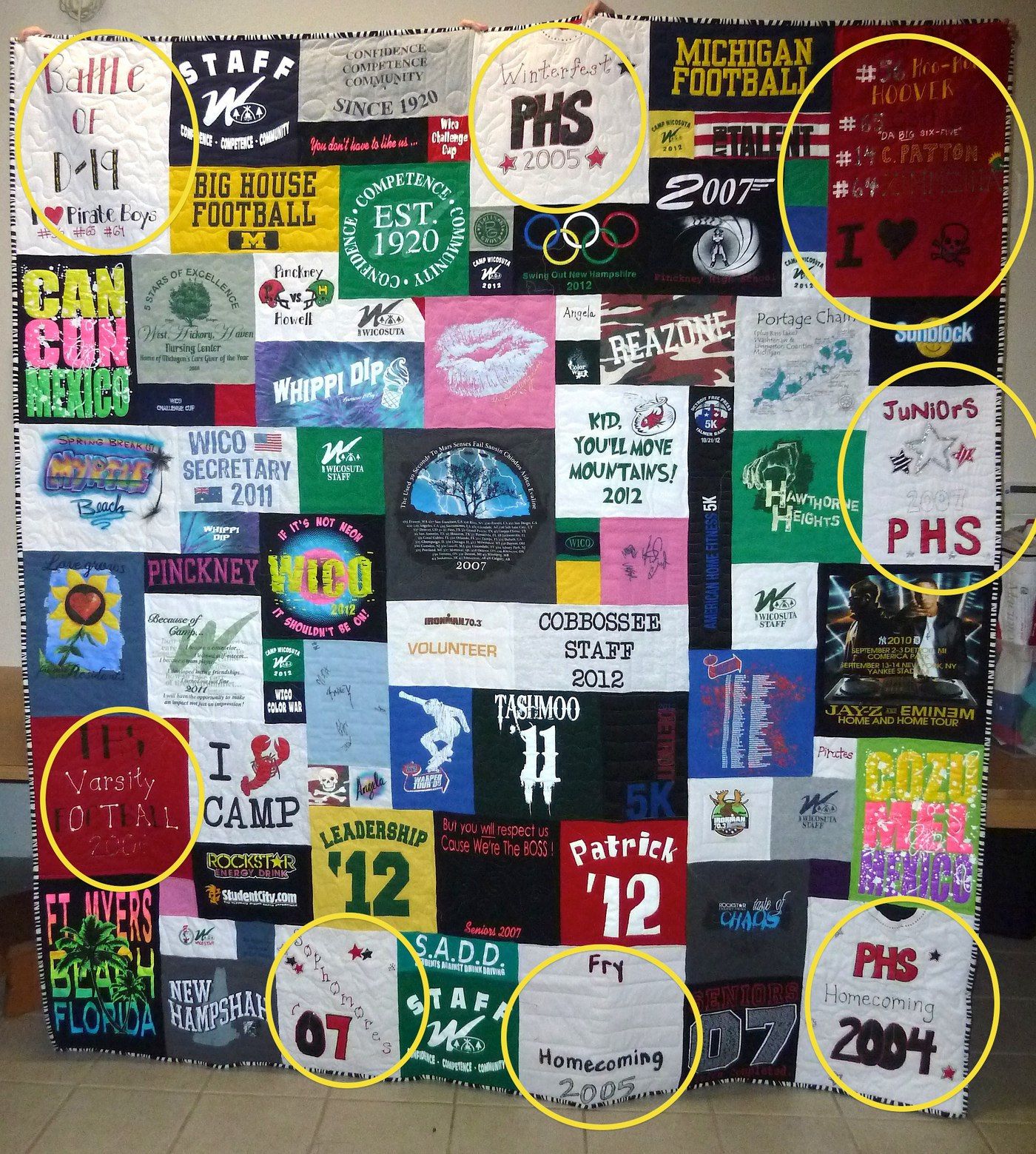 Andrea Funk is the inventor of T-shirt quilts made with multiple blocks sizes. The modern method of making T-shirt quilts. In 1992 she founded Too Cool T-shirt Quilts. Her life has been immersed in T-shirt quilts ever since.