Everything You Need to Know About Hockey Jersey Quilts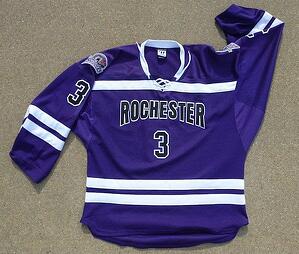 Hockey – you either love it, hate it or just don't care. If you have found this article, you are in the "love it" camp. And you, or someone you love, probably played hockey.
You have a lot of money invested in the jerseys. You can't bring yourself to throw them away. Excellent!
Too Cool T-shirt Quilts is your solution. We make quilts with T-shirts – sure. But we also make them with jersey and mesh materials. And this means that we make quilts from hockey jerseys.
We can mix jerseys with regular T-shirt or sweatshirt materials. So, if you have a few jerseys and other items, we can make you a great quilt.
What can you use in a Hockey Jersey Quilt?
Hockey jerseys either solid or mesh.
T-shirts
Sweatshirts
Bags
Hats
The logo from a ball cap
Socks
Jackets
And anything else you can wash in a washing machine.
What can't we use in a Hockey Jersey Quilt?
Hockey Sticks
Pucks
Skates
Trophies & Awards
Helmets
Pads
Cups

🤢

Teeth
Unique Issues in planning Hockey Jersey Quilts
Below are 9 things you need to know to plan your hockey quilt.
1. How Many Jerseys for a Quilt?
Jerseys are large because they have to go over all the pads hockey players wear. This leaves a lot room for the team's name, logo, player's name and number. And most of the time, this real estate gets fully used.
Are you planning on using the front, back and arms of your jerseys? If so, you will need fewer of them than you would for a standard T-shirt quilt.
Do you have a lot of jerseys and don't want a king size quilt? If so, consider how much of each jersey to use. How many times do you need the player's name and number? You might consider using one side of each jersey to help keep the size down.
What do you do if you don't have a lot of jerseys and want a large quilt? In this case, you could choose to use everything.
Get specifics on how many T-shirts or jerseys on our website.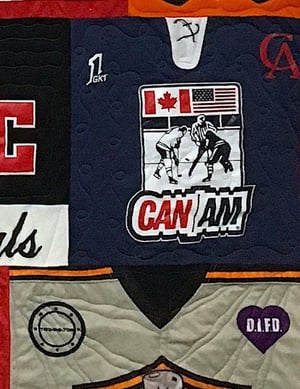 2. Necklines
Many jerseys have designs that extend into the shoulder area. In order to use the entire design, the neckline will be part of the block. If you don't want to see the neckline, you can note that on your order form. But, if a design extends above the neckline that graphic would get cut off.
3. The Mesh Fabric
Most of your jerseys are either all or partly mesh fabric. Make sure the quilter you chose to make your quilt can use mesh in their quilts. Because of how some quilters work, mesh fabric is unusable. We use mesh without issue.
4. The Weight of a Hockey Jersey Quilt
Your hockey jersey quilt will be heavier than the average T-shirt quilt. This is because we put a second layer of material behind mesh jerseys. We have to "fill in" the holes somehow! Also, jersey material is heavy.
---
To learn more about the different types, styles and qualities of T-shirts, download our T-shirt Quilt Buyer's Guide.
It's a great place to begin your journey to finding a quilt maker.
---
5. Travel vs. Home Jerseys
Many times, hockey players have two identical jerseys. One for home and one for away games. The home jerseys are typically white and the away jerseys colored. Two different colored jerseys with the same graphics create another decision. What to include or exclude.
If you have too many jerseys, we would suggest using the colorful jersey. This will make the quilt more colorful. If you do use both jerseys, we will try to space them out evenly. This way they are not right next to one another.
6. Numbers
Chances are that your jerseys have numbers on them. Do you want to use every number? Probably not if you have a lot of hockey jerseys. We suggest you use one or two of each number you played under. More than that, your quilt is more about the numbers and not the teams.
We can separate the name and the number from one another. This way you can use the name without the number. Read about using numbers in your quilt here.
7. A Player's Name
If your name is on your jersey, you should use your name. The question becomes one like the numbers question. How many times do you need your name on your quilt?
Perhaps only once, if your quilt is larger than you want. By removing duplicate names and numbers, we can decrease the size of your quilt. If size isn't an issue, you can use it as many times as you want.
If you have a lot of pieces with the player's name, we can play with their placement. For example, we can run your name across the top and bottom of the quilt. This would act as a "header & footer" on your quilt.
8. Sleeves and Shoulders
Some hockey jerseys have graphics and numbers on the shoulder. Jerseys are large and have a lot of excess real estate!
We would suggest using some of these in your quilt. Mixing in some of these smaller graphics will make your quilt more interesting. Without little blocks, your jerseys would line up in columns. To avoid this, we will add small blank blocks of colored material into the quilt. This way we have a mix of large and small blocks. Sometimes we use the stripes on the jerseys for these fillers.
9. Special Items
You might have other items left over from a hockey career that we can include in your quilt.
Letters
We can use magnetic snap on letters such as a captain "C." We sew the back of the letter to the backside of the that jersey. This lets you snap the letter on and off the quilt. It also allows you to remove the letter for washing.
Pins
We remove any pins from jerseys or other items before we make the quilt. You can choose to pin them back on after the quilt is complete.
Socks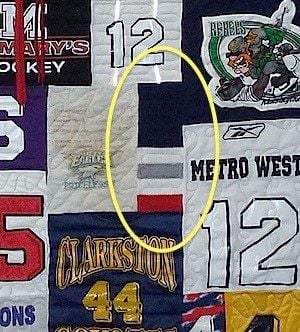 Yes, we can use pieces from socks in your quilt. We won't use the entire sock, but we will use a piece from the calf area. We try to highlight a logo or stripes.
Gear Bags
Hockey is a gear intensive sport. To tote around the gear, most hockey players have a very large bag or two. A bag has a screen-printed or embroidered emblem, we can use it in your quilt.
Stocking Hats
Hockey is a winter sport. Because of this, many hockey players end up with logo wear stocking hats. We can use the logo from any of those stocking hats.
Ball Caps
Any athlete can end up with ball caps. We can include the logos from those caps in your quilt. We add a per cap/hat charge to the cost of a quilt.
Why Have Too Cool T-shirt Quilts Make Your Hockey Jersey Quilt?
Experience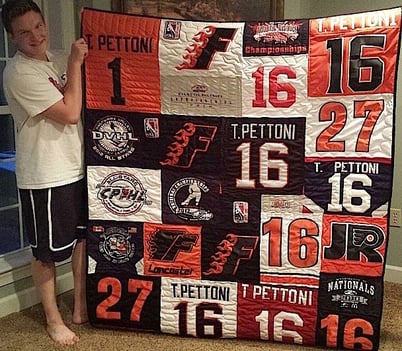 We have been making hockey jersey quilts since 2000 and T-shirt quilts since 1992. With this experience comes the knowledge. We know how to transform hockey jerseys into a quilt.
Hockey Jersey Quilt Design
Traditional style T-shirt quilts have one size block. What happens if that one size is smaller than the designs on your jersey? That graphic on your jersey gets cropped. That can be a heart breaker!
A Too Cool T-shirt Quilt uses many different block sizes. We don't have an upper size limit. No matter how large a design on your jersey, we are able to use the entire design without cutting any part of it off.
The style of quilt you choose will have a huge impact on your quilt. We suggest you understand this before you have your quilt made. Read here about the different styles of T-shirt quilts.
Mix and Match Fabrics
We can use your hockey jerseys with any other fabrics that you may have. We can use graphics off T-shirts, sweatshirts, bags, stocking hats, socks and jackets. They can be mixed in with your jerseys. We can't use your hockey stick, puck or skates. But those won't make for a comfy quilt anyway!
Mesh Fabrics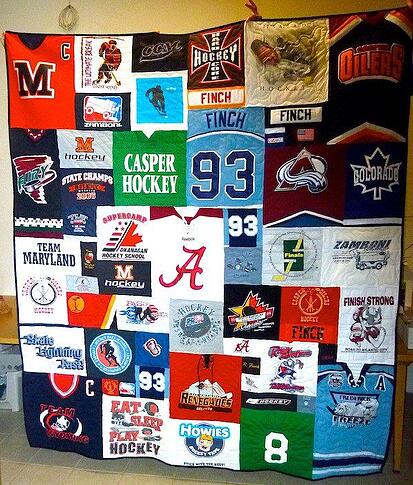 Many traditional quilters will shy away from mesh material. It's difficult to work with. Many quilt makers will iron on a stiffener to T-shirt materials. This makes the fabric easy to work with. They can't iron on interfacing to nylon because it will melt the nylon.
Other quilt makers ignore the fact that the mesh is full of holes. Something has to go behind the fabric. We have seen mesh fabric in quilts where you can see the batting through the holes in the block. This is a huge no-no.
Here at Too Cool T-shirt Quilts, we enjoy using mesh material. We know how to work with it. And we love how the nylon adds a nice feel to the quilt.
We can work with you to make an awesome hockey jersey quilt. A quilt that you can use. A quilt that will become an heirloom.
Back to: Athletic T-shirt Quilts
---
To learn more about the different types, styles and qualities of T-shirts, download our T-shirt Quilt Buyer's Guide.
It's a great place to begin your journey to finding a quilt maker.
---