A dance costume quilt is a quilt that is made from a dancer's collection of dance costumes. These can include performance costumes, practice outfits and T-shirts and sweatshirts from dance competitions.
What can you do with a Crown Royal bag? So many things! Some items are great. Others, not so much! Face Masks ✔️ Pillows ✔️ Corn Hole Bags ✔️ A Dress ✖️ Pants ✖️ Slippers ✖️ Dog Clothing ✖️ Golf Club Covers ✔️ Drink Coasters ✔️ Baby Clothes ✖️ Lamp Shade Covers ✖️ A Coat ✖️ Apron ✔️ Purse ✔️ Boot Cover for Stick Shift ✔️ Bikini Bathing Suit ✖️✖️✖️ Mittons ✖️ Gun Case ✔️ A Quilt!! Of Course! ✔️✔️✔️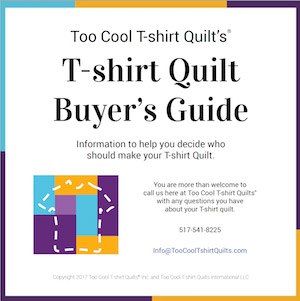 T-Shirt Quilt Buying Guide
If you are in the process of finding someone to make your T-shirt quilt, you may not have all the information you need to make an informed decision. Our T-shirt Quilt Buying Guide has the information you need to fill in any knowledge gaps.
A Brief History of Advertising Feed Sacks The history of feed sacks is the story of the transportation of consumer goods. Consumer goods had been transported in wood barrels and boxes for centuries.
We have used neckties as part of T-shirt quilt, but we had never made an entire quilt with neckties. So when we had a customer ask us to make a quilt from neckties, I was intrigued with the challenge and excited with what my team and I could come up with.
What do you do with all those hankies that you inherited from you great aunt? They are pretty, but what do you do with them? We recently came across a group of hankies that we found at a garage sale that we decided to transform into a quilt.
Beyond the T-shirt | baby clothes
When my daughter Milie was a baby, we went through four to five bibs a day. She was a typical baby – a very messy eater! We had both everyday and special occasion bibs. We were given bibs for gifts and at holidays. Who knew one baby needed so many bibs!