Did you grow up playing with dolls? I did! I loved my Sasha dolls. They were beautiful 16" dolls first produced in Germany in the late 1960's. Read more about Sasha dolls here. I probably played with my dolls later in childhood than most girls because I loved making clothes for my doll. My mom made clothing for the family and I imitated by making doll clothes. Honestly, it is where my love of sewing came from.
A Brief History of the Doily The historical use of doilies and our cultural changes in grooming habits has a shared history. During the Victorian era, homes were being decorated with more stuffed furniture and decorative wooden tables. During this time period, our methods of cleaning were much different than they are today. This was in the time before vacuum cleaners.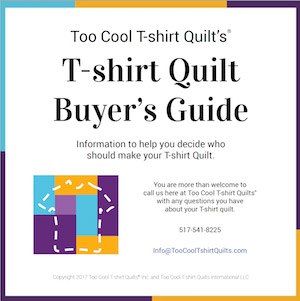 T-Shirt Quilt Buying Guide
If you are in the process of finding someone to make your T-shirt quilt, you may not have all the information you need to make an informed decision. Our T-shirt Quilt Buying Guide has the information you need to fill in any knowledge gaps.
Plaid Shirts There are some of us out there that just love our plaid shirts. Whether they are flannel, heavy cotton or dress shirts, if they are plaid, they are what we wear. When the old shirts start to wear out, we get new ones. Yet we never get rid of the old ones. After a while, we are over run with plaid shirts. What now?
Here at Too Cool T-shirt Quilts we love to do special projects. We have quilting skills that go beyond just making T-shirt quilts. Our experience combining fabrics with different stretchiness makes what we can do unique.
Beyond the T-shirt | Materials Used In T-shirt Quilts | The Best of
Each year we make a number of quilts using the Too Cool method that end up different. In most of them, you can see our underlying methodology. But the end result is different than a normal Too Cool T-shirt Quilt. We are sharing those quilts from 2018 that are different here.