Finding a T-shirt Quilt Maker | Planning a T-shirt Quilt
When you are planning a T-shirt quilt, your first step is to learn everything you can about T-shirt quilts. Here's a link to our learning center. Our learning center has 100's of articles about everything T-shirt quilts. Your second step is to find a quilt maker. Here's an article about finding a quilt maker. When you think that you have found the right person, take time to either interview them and/or get the answers to these questions from their website.
I hear over and over from some people that they are looking for someone local to make their T-shirt quilt. When asked why, I am told that they fear mailing their T-shirts to someone they don't know. I feel that these are minor issues compared to settling for a quilt maker just because they are local.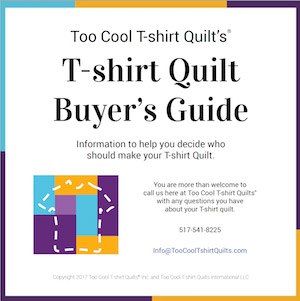 T-Shirt Quilt Buying Guide
If you are in the process of finding someone to make your T-shirt quilt, you may not have all the information you need to make an informed decision. Our T-shirt Quilt Buying Guide has the information you need to fill in any knowledge gaps.
There are so many people making T-shirt Quilts, how do you find the right one to transform your T-shirts into an incredible quilt? One measure is how well the quilt is designed and laid out.
When it comes to purchasing a T-shirt quilt, a lot of considerations come to mind: style, quality, what shirts to put in, and of course how much it's all going to cost.
Are you considering making your own T-shirt quilt? With the right directions, skills, time, experience and tool, you probably can make your own quilt. But before you begin, you need to know if you have what it takes to complete the project. We have rescued many "would-be" T-shirt quilt makers who found themselves over their heads with the project. But the final quilt ended up costing more than it would have if a professional quilt maker had made the quilt from the get-go.
Are you in the process of looking for someone to make your T-shirt quilt? Before you go any further, ask yourself the following 6 questions. These questions will help you focus your search and can make eliminating quilters that don't meet your requirements easier.