Comparing T-shirt Quilts | Finding a T-shirt Quilt Maker | Planning a T-shirt Quilt
Not all T-shirt quilt makers fall into the world of T-shirt quilts the same way. But they are all making T-shirt quilts and T-shirt blankets. Which type of quilt maker should you find to make your quilt? Here is an explanation of each type of T-shirt quilt maker. This explanation includes how they came into the T-shirt quilt world and what you could expect if you ask them to make a T-shirt quilt for you.
If you are looking to save money on a T-shirt quilt, choose a T-shirt quilt company or maker who chooses the cheapest materials and does not handle them correctly. Below is explanation of how the quality and type of materials used and how they are used can cut the cost of a T-shirt quilt. To help you understand the trade-offs between these cost saving measures and how a quilt looks, feels and wears, there is also an explanation of how these cost savings will effect your quilt.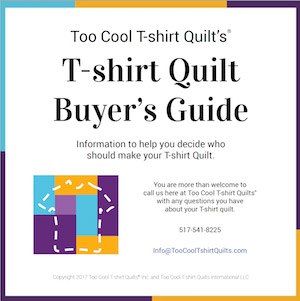 T-Shirt Quilt Buying Guide
If you are in the process of finding someone to make your T-shirt quilt, you may not have all the information you need to make an informed decision. Our T-shirt Quilt Buying Guide has the information you need to fill in any knowledge gaps.
Finding a T-shirt Quilt Maker | Making Your Own T-shirt Quilt
Are you considering making your own T-shirt quilt? With the right directions, skills, time, experience and tool, you probably can make your own quilt. But before you begin, you need to know if you have what it takes to complete the project.
Are you ready to have a quilt made from your T-shirts? Excellent. Here is a step-by-step check list of what you need to do to have a quilt made from your T-shirts.
Did you find a great deal for a T-shirt quilt on Groupon or some other coupon site? Perhaps a quilt for under $150? Cool. Right? Perhaps. Perhaps not. There are cheap T-shirt quilts and blankets and there are expensive T-shirt quilts. What's the difference? Here are 5 differences that will let you know if you got one of the cheap ones or one of the good ones. Here's how these differences can make your quilt a lot less expensive and what you gave up for the cost savings.
Do you have T-shirts you want made into a T-shirt quilt? Are you looking for a quilt that is more than a few steps above ho-hum? Below are five factors that go into making a T-shirt quilt that is so much better than ho-hum.