What is a T-shirt Quilt Do-over and how can I get one?
October 19th, 2020
By Andrea Funk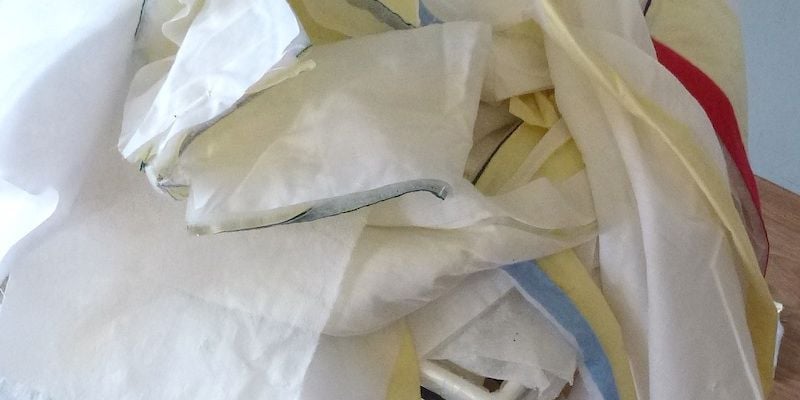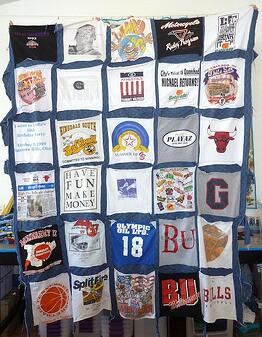 Did someone make your T-shirts into a crappy T-shirt quilt? Do you look at it and just want to cry? Or worse, leave it folded up in the drawer?
Perhaps you didn't know that there were other options out there for a cool T-shirt quilt. Perhaps you were given the quilt as a gift. Perhaps you attempted the project on your own. Whatever the reason, you hate your quilt and want a do-over.
Normally, I say that you only have one chance to have a T-shirt quilt made right. But with that said, we have reconstructed a number of very poorly made quilts into much better ones.
A Great Example
We wanted to thank all of you so much for the amazing job you did re-doing our T-shirt quilt we sent you!

We were so sad after the quilt was originally done (by someone else) because of how oversized it was. We thought we were stuck with it! (Before 10' x 10' after 5' x 6')

I had seen your company online and decided to call and see if there was anything you could do to salvage the situation.
Thank you for working with us on getting the size we wanted as well as the graphics and patches how we wanted them. Thank you for your professionalism. We will definitely be a return customer for any other quilts we would like to get done.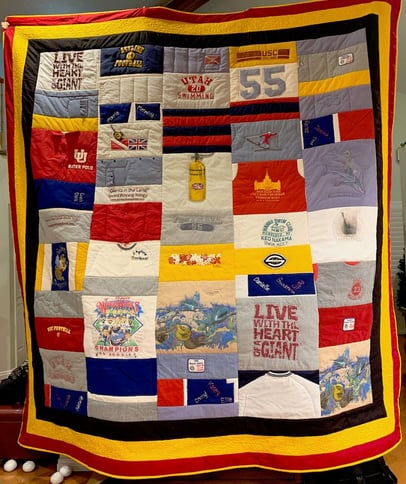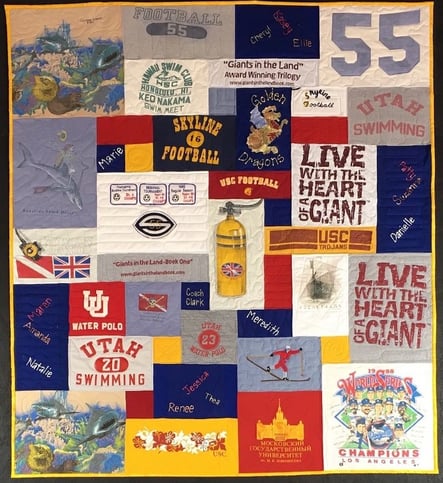 The Perfect Candidates for a Makeover
The best quilts to remake are ones that don't have any quilting. These would be blankets like they make at Project Repat. The blocks are sewn to each other and not quilted to a batting or backing material. Read more about the difference between a T-shirt quilt and a T-shirt blanket here.


We can also remake quilts that were made with minimal quilting. Quilts from Campus Quilts are sparsely quilted and the quilting stitches are very long. These quilts are very easy to unstitch, take apart, and be transformed into a Too Cool quilt.


Quilts that have been tied. Tying is a finishing method that uses embroidery floss or yarn to make knots that are evenly spaced over the quilt.


We can also take apart an un-quilted quilt top and remake that in a Too Cool style quilt.
If you are unsure if the quilt or blanket you are unhappy with would be a good candidate for a makeover, send us a photo of your quilt and we will let you know.
What Will Be Fixed
Uniform size blocks can be re-cut into a number of different block sizes. This will especially help with small graphics that were left hanging in too much white space.


The quilt will be redesigned with multiple block sizes that are puzzled together.


The backing fabric will be changed to 100% cotton fabric in the color of your choice.


The batting will be replaced with Hobbs 80% cotton/20% poly. This is the industry standard quilting batting.


The quilt will be long arm machine quilted by an artist.


Finally, the binding will be a true binding made from 100% cotton fabric.
What Can't Be Fixed
If an image has been cropped off to fit a standard block size, we are not going be to able to make that image whole again. Sorry.


Any needle or tie hole will not be able to be fixed. We will make them so they don't increase in size and not show any batting through the hole.
How to Improve the Quilt
You can add additional T-shirts that have not yet been cut. This will help improve your quilt because you can add in T-shirts with larger blocks. These new T-shirts won't have parts of them cut off.
You can also remove blocks that you did not want in the quilt. In the photo above that has the wide yellow sashing, look in the upper left hand corner. That block is X'd off with blue painter's tape. This block was not put in the new quilt.
Conclusion
I have seen so many truly awful T-shirt quilts since I began making them in 1992. I see them every day on social media – "Oh look at my beautiful quilt that so and so made." So I look at the photo and say to myself, "are you kidding me? That's awful!"
The only reason an awful quilt can look great to someone is because it's made with his or her T-shirts. But it's still an awful quilt.
The true test of how great a T-shirt quilt is if someone else looks at it and says, "If you don't want it, I'll take it."
If you would like to see if we can rescue and save your T-shirt quilt, please e-mail us. Send us a few photographs so we can tell you if it can be saved. Be sure to send a close up of the back, the binding and parts of the front. After we evaluate the work that would be involved, we will estimate the extra charges for taking the quilt apart and fixing the blocks for a Too Cool style T-shirt quilt.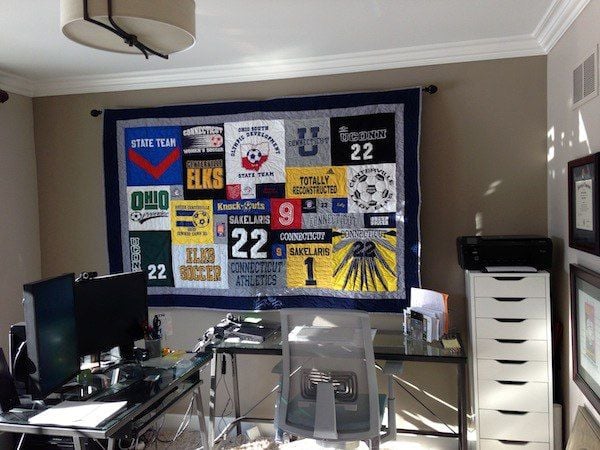 Andrea Funk is the inventor of T-shirt quilts made with multiple blocks sizes. The modern method of making T-shirt quilts. In 1992 she founded Too Cool T-shirt Quilts. Her life has been immersed in T-shirt quilts ever since.