Examples of T-shirt Quilts Made with Different Size Blocks
October 9th, 2023
By Andrea Funk
In our collection of 10 stunning T-shirt quilts, we proudly present a diverse range of genres and styles that exemplify our expertise in quilt-making. After meticulously reviewing over 5000 photographs of our creations, we have carefully selected quilts that truly showcase and give you a feeling about the different subtypes of quilts we make.
We hope enjoy these awesome quilts!
All-White T-shirt Quilt
Size: 56 x 68
Border: None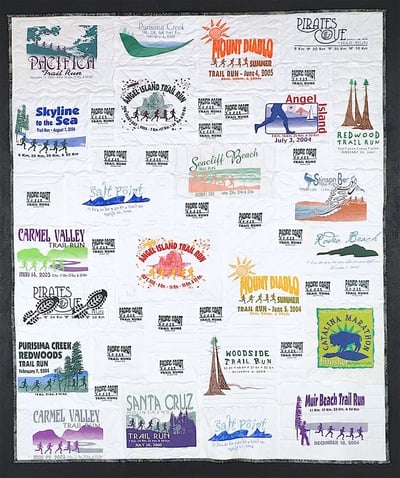 We made this quilt for a runner. They choose only to include their white T-shirts. The result is a quilt more colorful than you might have expected. The colors come from the graphics on the T-shirts. The white of the T-shirts just fades into the background. Like a white piece of paper.
All these T-shirts are from a series of races call the Pacific Coast Trail Runs. "Go on a Trail Run."
The quilt would not have been nearly as interesting if they had included a few colorful T-shirts. It works because all the T-shirts were white.
Read more about T-shirt quilts made from all white T-shirts here.
---
Travel T-shirt Quilt
Size: 64 x 76
Border: 2" inner + 4" pieced outer border

This travel T-shirt quilt chronicles our customer's adventures around the United States. She chose some really cool colors from her T-shirts to use for the border. Her choice really tied the quilt together.
We learned that it is never too early to start thinking about your quilt and how you want it to look. As you embark on your next adventure think about the color of the T-shirts you buy. Consider how they will mesh with your past souvenirs. If this is your goal, remember to avoid purchasing white T-shirts.
To learn more about travel quilts click here.
---
TriWay High School
Size: 84 x 92
Border: None

We like this quilt because it's purple. But, it's not just purple; it's a monochromatic color scheme. It uses purple with black, white, and grey. It makes for a very cohesive quilt.
This is a great example of a quilt that doesn't have a border.
This is a celebration of the students high school years. As such, only high school T-shirts are in the quilt. You can also include T-shirts from early childhood and middle school.
Using your school colors plus black, white and grey lets a graduation quilt reflect the experience of "the best years of your life".


---
Planning a T-shirt quilt?
Here are step-by-step directions for ordering your Too Cool T-shirt quilt.
---
---
Virginia Tech
Size: 76 x 88
Border: 4" pieced

Every year we have a Virginia Tech quilt in our best of the year line up. Why do we like them so much? Virginia Tech does an amazing job keeping their color, logo and mascot on brand.
We always love the celebration of Virginia Tech without extraneous distractions. None of us here have been to Virginia Tech; we should probably go visit some day. Send us your recommendations!
Read more about VT quilts here
---
Hard Rock Café
Size: 72 x 84
Border: 2" solid + 4" pieced + 2" Solid

Fun story about this quilt: Andrea was at the Rock 'n Roll marathon expo in Nashville. A woman said, "Good you're here! I'll be back with my T-shirts." She went home and came back with a bag of T-shirts for us. Ok then!
We had no idea that this quilt was going to be as spectacular as it is!
We've made many of Hard Rock Café T-shirt quilts before. This one stands out among the rest because of how colorful it is. Many Hard Rock Café T-shirts quilts are typically more black and white.
Read more about Hard Rock T-shirt quilts here.
---
Tommy Bahamas
Size: 68 x 80
Border: 2" solid + 4" pieced + 2" Solid

Who'd have thought that one of our favorite T-shirt quilts would be made out of Resort wear linen shirts? This is a memorial quilt that celebrated a husband and father's love of Tommy Bahama.
We added the rust color into the quilt's border to tie in the back of the quilt. His favorite color was rust.
We hope this memorial quilt embodies and brings back great memories of their loved.
Read more about memorial quilts here
---
Army Ten Miler
Size: 48 x 60
Border: 4" pieced

This quilt was a Christmas gift for a solider who was serving oversea. The soldier's wife had us make this from his favorite run – The Army Ten Miler.
The inside of this quilt is all white, so the graphics become the color you see. If you look closely at the border, you'll notice it's made from his BDUs. We included his name, pockets and an American flag. The border helps explain the interior of the quilt.
Thank you for your service, we hope you enjoy your epic quilt.
Read more about Military quilts here.



---
Kliban's Cats
Size: 52 x 60
Border: None

MEOW! This is a theme quilt highlighting the artwork of famed cat artist Bernard "Hap" Kliban.
This quilt has a lot of "front and back" T-shirts. On the front of the T-shirt you see the front of the cat. On the back of the T-shirt, you see the same cat from the back. I am sure you have seen these T-shirts before. When making quilts with T-shirts like these, the artist needs to carefully separate the two parts of the T-shirt. How many "Front/Back" T-shirts can you find in this quilt?
The back of this quilt is just as cool as the front because of all the intricate and detailed tracings our quilter did.
Read more about theme quilts here.
---
Old Timers Reunion
Size: 64 x 76
Border: None

Old Timers Reunion is a group that brings together spelunkers. For those of you who don't know, a spelunker is a cave explorer. The Old Timers have been around for over 50 years. Some of the T-shirts in this quilt dated back to the 1980s.

We like it because the colors and the story are great. Besides, how often do you get to learn about spelunking?
---
Class of 2018
Size: 72 x 84
Border: 4" pieced + 2" solid

This high school graduation quilt that tells a story that goes beyond just high school. It's it a, "This is your life" quilt. The T-shirts are from different school activities and personal T-shirts as well.
Unlike the purple quilt above, this quilt is more the story of her life, rather than a story just of her high school years.
Here's a link to our high school graduation recourse page.
---
Want to learn more about T-shirt quilts? Visit our Learning Center.
We have over 200 articles about all aspects of T-shirt quilts.
---
Andrea Funk is the inventor of T-shirt quilts made with multiple blocks sizes. The modern method of making T-shirt quilts. In 1992 she founded Too Cool T-shirt Quilts. Her life has been immersed in T-shirt quilts ever since.