Virginia Tech T-shirt Quilt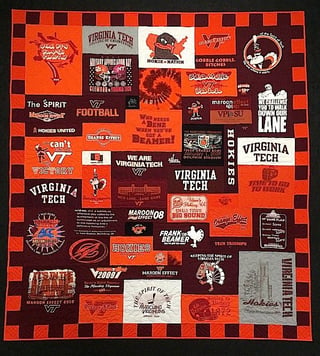 I have never been to Blacksburg, Virginia. I have never visited Virginia Tech.
But Virginia Tech fans have found Too Cool T-shirt Quilts! Over the past couple years we have made over 10 orange and maroon VT T-shirt quilts! Throughout this article and at the bottom you will find photographs of some of the VT T-shirt quilts we have made.
And every time we worked on a VT quilt, we would invariably ask: "What's a Hokie?"
After making two VT quilts in one week, I figured it was time to learn. So if you don't know, a Hokie, was originally a made up word. You see, before Virginia Tech was Virginia Tech, it was Virginia Agricultural and Mechanical College. Then in 1896 it changed names to Virginia Polytechnic Institute aka:Virginia Tech.
When they changed names, the college needed a new cheer. So they held a contest. The winning cheer, written by O.M. Stull, used the made-up word "Hokie." Mr. Stull is quolted saying that Hokie is a made-up word that he used as an attention-getter. Over 120 years later, the cheer is still being used.
"Old Hokie" Cheer

Hokie, Hokie, Hokie, Hy!

Tech, Tech, VPI

Sol-a-rex, Sol-a-rah

Poly Tech Vir-gin-ia

Ray rah VPI

Team! Team! Team!
What's the official definition of a Hokie? It's a loyal Virginia Tech fan.
A Quick Look at Virginia Tech
Location: Blacksburg, Virginia
Bachelor programs: Over 90 degree programs
Advanced programs: Over 150 graduate programs
Student Body: 31,000 full-time students
Student-faculty ratio: 16:1
Primary Campus: 2600 acres, more than 135 buildings + an airport!
Rank: 38th in university research in the US
School Colors: Maroon and orange
---
If you are ready to order your T-shirt quilt, here's how:
---