What Interfacing is Best for a T-shirt Quilt?
September 18th, 2023
By Andrea Funk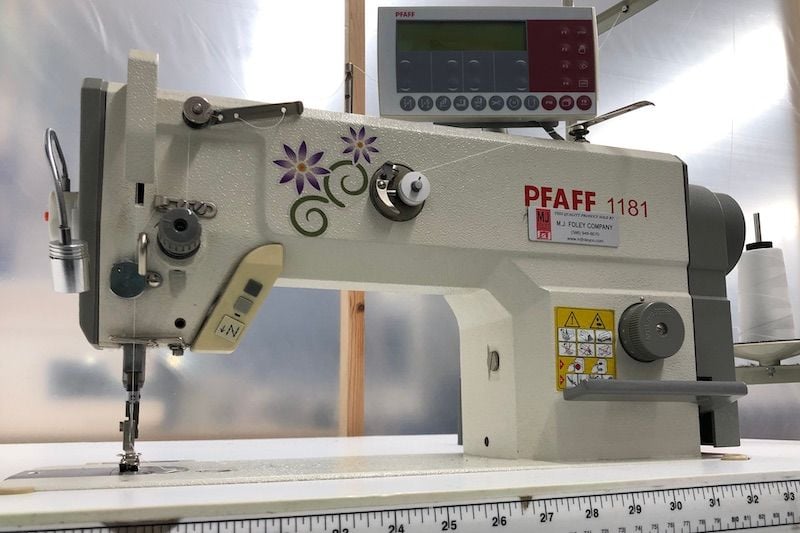 Do T-shirt Quilts Need Interfacing?
No. New styles of T-shirts quilts and advancements in sewing machine technology has made the use of interfacing or iron-on backing obsolete and unnecessary.
Question: What's the best interfacing to use in a T-shirt quilt?
Answer: No interfacing!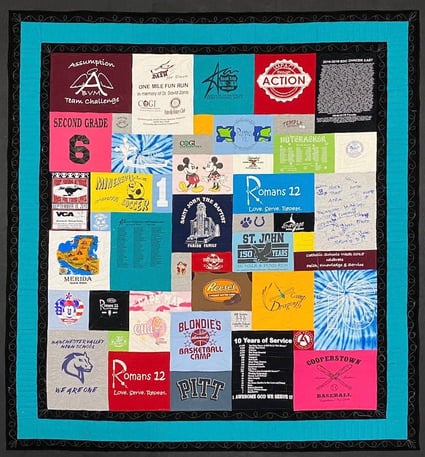 I made my first T-shirt quilt in 1992. At that time, the Internet was not what it is today. I wasn't able to Google: "How to make a T-shirt quilt." As a result, I just made it up as I went along.
There were a lot of "rules" I didn't know about making T-shirt quilts. Such as:
Iron-on interfacing should be ironed onto each T-shirt before it's cut to its final size.
All the blocks need to be the same size.
The blocks should be laid out in rows and columns.
These rows and columns need to be separated by cotton sashing.
I broke all the rules!
Looking at the T-shirts for my first quilt, I saw the graphics were different sizes. To me, this meant that I needed to cut the blocks different sizes. With different size blocks, my layout would not be in rows and columns.
Before I cut any of the T-shirts, I first cut out some small pieces of T-shirt fabric to experiment sewing them together. I just sewed the T-shirt to the T-shirts. I had no problems what so ever!
At that time, I did not realize that I had missed the most important step in the process: the iron-on backing. The industry standard was to iron interfacing onto the back of the T-shirts.
What is interfacing and iron-on backing?

Interfacing is a material used on the backside of a fabric to make it more rigid. Interfacing stiffens or adds bulk to materials. It can keep knit fabrics from stretching out of shape.
Interfacing is also known as iron-on backing because many types of interfacing can be ironed directly onto fabric. This type of interfacing has one side coated with a heat-activated glue. When ironed on to another piece of material, the interfacing fuses the two fabric.
There are many different types of interfacing. Some are very heavy and will stiffen fabric dramatically. Others are lighter and more flexible and don't add as much rigidity to fabric. Even the lightest weight interfacing will stiffen the fabric they are ironed to – it's their purpose.
---
If you are planning on making your own T-shirt quilt,
be sure to check out my book, videos and tools that are available to help.
---
Why T-shirt Quilts Were Initially Made With Interfacing?
This has to do with the timing of early T-shirt quilts. During the late 1980's and early 1990's, we, as a society, began acquiring an excessive number of T-shirts. The price of T-shirts and silk screening were decreasing while the number of events where T-shirts were given out increased. T-shirts just became what to wear. We were all wearing blue jeans and T-shirts.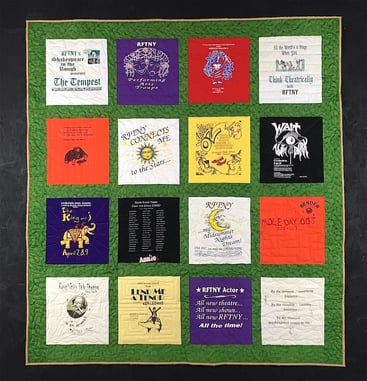 During this same time period, quilt making experienced a resurgence. When crafters began picking up quilt making, many began with a project called a sampler quilt. As the name indicates, quilters would make sample blocks from many different quilting block patterns. These sample blocks were then put together into a quilt in rows and columns separated by sashing.
Sashing is the material used to separate the rows and columns. Sashing can be very narrow – for example just one inch wide, or very wide – for example three or four inches wide.
When a quilter was given a pile of T-shirts to make into a quilt, this sampler method of making a quilt was foremost in their minds. So, quilters cut the T-shirts and made the quilt in the sampler method.
Thus, the convergence of quilt making and T-shirts resulted in traditional style T-shirt quilts. A traditional style T-shirt quilt is characterized by uniform size blocks lined up in rows and columns separated with sashing.
***Note - Too Cool T-shirt Quilts does not make traditional style T-shirt quilts like the one you see here.***
There Was a Problem
Early on, quilters ran into a issue – they were unable to easily sew T-shirt material to the traditional cotton quilting fabric they were using for the sashing. When they tried sewing a stretchy piece of T-shirt material to non-stretchy cotton, the T-shirt material stretched during the sewing process and ended up longer than the cotton.
The sewing machine technology at that time and experience working with T-shirt material was just not there.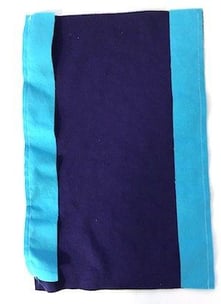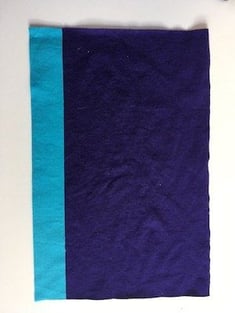 The photos here show a piece of cotton (teal) sashing ready to be sewn onto a purple piece of T-shirt material.
In the second photo, the left side shows what happens without skill and the right sewing machine. The purple T-shirt material is stretched long than the teal sashing that did not stretch.
The strip on the right side is sewn with the correct sewing machine by an experienced quilt maker. This shows that stretchy T-shirt fabric can be sewn to non stretchy cotton without an issue.
The Original Solution
The solution was to use iron-on interfacing to stiffen and keep T-shirt material from stretching out of shape. It worked and it became the solution quilters used and an industry standard. Except I didn't get the memo!
A New Solution
I didn't use iron-on interfacing because I just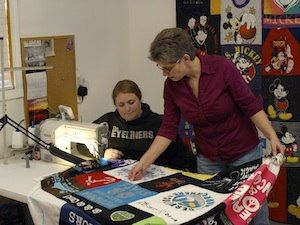 didn't know. I am thankful every day for that 'mistake'. If I had just been able to Google "how to make a T-shirt quilt", I would have made that first T-shirt quilt just like everyone else was making them.
That new solution was simple: just don't use interfacing.
This solution worked because I had developed a new way to make a T-shirt quilt that did not use cotton sashing. And without cotton sashing, I was just sewing T-shirt material to T-shirt material.
Another Solution - The Evolution of the Sewing Machine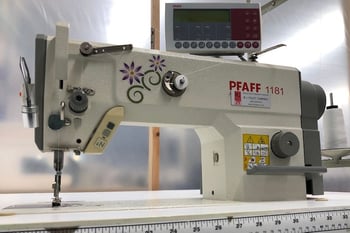 Sewing machine technology has evolved so much in the past 30 to 40 years. Yes, you can sew with a 50-year-old sewing machine just fine. But those machines were designed for traditional fabrics – cotton, wool and denim. They were not designed for sewing two disparate types of fabrics together.
But a modern sewing machine is. With computer technology and dual walking feet, a new sewing machine can sew together cotton and T-shirt material without a problem. We do it all the time when we make quilts with borders. You just have to know how to do it.
And if you want to know how to do it, you will need to practice a lot and figure it out. Or you can get the directions in my book, How to Make a Too Cool T-shirt Quilt.
Why Would a T-shirt Quilt Maker Still Want or Need to Use Interfacing?
The advent of better sewing machines,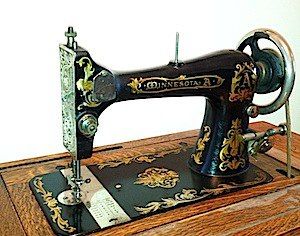 experience sewing with T-shirt material and new styles of T-shirt quilts have eliminated the need for interfacing. So why would a T-shirt quilt maker still use it?
Old sewing machine
If a quilt maker is using an old sewing machine, that machine might not be able to sew T-shirt and cotton materials together.
Inexperience
Experience is important. There are tricks and methods for sewing cotton to T-shirt material. But you also just have to practice.
Habit
Not all quilt makers, like the stereotype suggests, are old. But the older you are, the more ingrained your habits. The ease of doing something you know how to do is much easier than learning something new.
Lack of Knowledge
For quilt makers not keeping up with current technology and methods, they might not know how to make a T-shirt quilt any other way.
Unwillingness to Try a New Method
Even after all these years making T-shirt quilts without iron-on interfacing, I am still asked how it can work without it. You might have been asking this question yourself. My answer is, "have you tried it?"
Why Doesn't a T-shirt Quilt Need Interfacing?
New sewing machine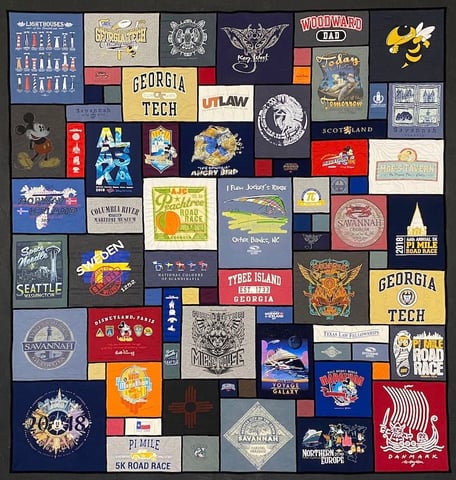 technology has made it possible to sew T-shirt material to non-T-shirt material without problems. So even if a quilter is making traditional style T-shirt quilts, they don't have to use interfacing.
Modern styles of T-shirt quilts have also eliminated the need to add non-T-shirt materials to a quilt. T-shirt quilts can be made entirely from T-shirt material. Sewing two pieces of T-shirt material together is very easy.
Why You Should Avoid Having Interfacing Used in Your Quilt?
Interfacing will make your quilt stiffer and not as soft as one made without interfacing.
A quilter using interfacing is not up to date on the technology, methods, or is stuck on an old solution.
Interfacing will increase the cost of your quilt.
You won't be getting the best quilt.
It's just not necessary.
Conclusion
Using interfacing or iron-on backing is not necessary in the construction of T-shirt quilts. This is because sewing machine technology and modern T-shirt quilt designs have changed how T-shirt quilts can be and are made.
If you are a quilt maker, consider updating your skills, equipment and quilt style. Read more about that here.
If you are looking to have a quilt made from your T-shirts, find a quilt maker who does not use interfacing. Read more about how to find a quilt maker here.


---
Planning a T-shirt quilt?
Here are step-by-step directions for ordering your Too Cool T-shirt quilt.


---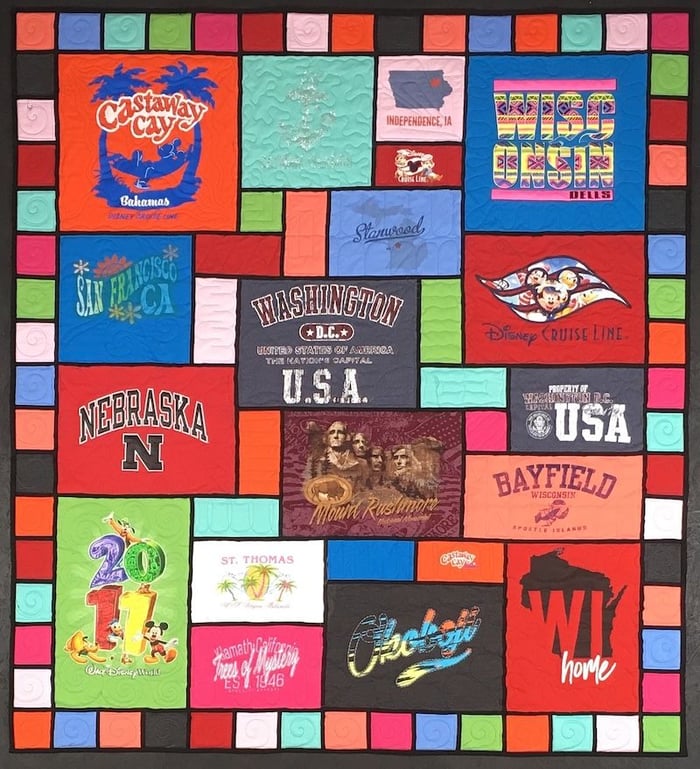 This is a stained-glass style T-shirt quilt. Learn more about this style here.
Andrea Funk is the inventor of T-shirt quilts made with multiple blocks sizes. The modern method of making T-shirt quilts. In 1992 she founded Too Cool T-shirt Quilts. Her life has been immersed in T-shirt quilts ever since.