The Modern Rules for Making a T-shirt Quilt
May 23rd, 2022
By Andrea Funk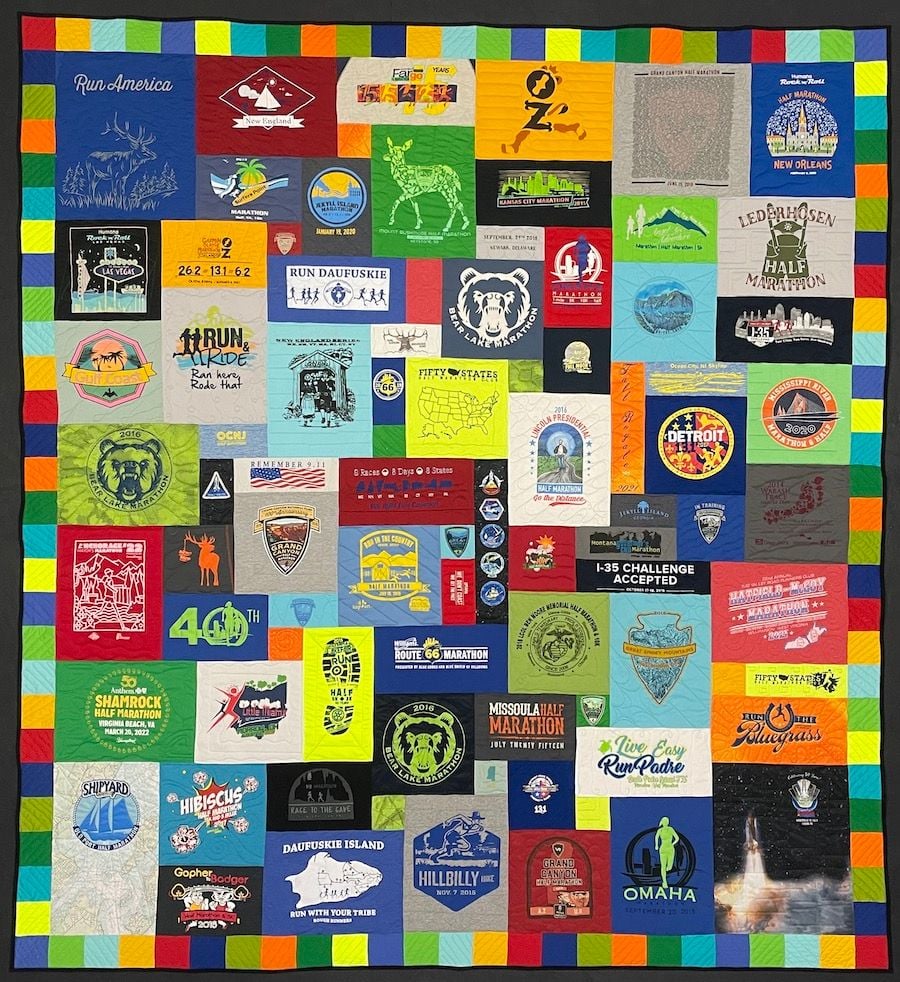 The New Rules for Making a T-shirt Quilt:
The blocks in a T-shirt quilt should be all sizes because graphics come in different sizes.
No sashing.
The block should be puzzled together so the quilt holds your attention.
No iron-on backing.
The Dark Ages of T-shirt Quilt Making
Before 1992, most T-shirt quilts were made one way, and one way only.
Quilters took what they knew – the sampler quilt – and exchanged the pieced-blocks for T-shirt blocks. A sampler quilt is made from many different pieced-block patterns. The blocks were all the same size and laid out in columns and rows separated by sashing.
The Problem:
Quilters ran into difficulties because the T-shirt fabric that replaced the pieced blocks in their sampler quilt was stretchy. This was a major issue because the sashing material they were using did not stretch. Sewing the stretchy T-shirt material to the non-stretchy cotton was, and still can be difficult.
To solve the stretch problem, quilters turned to iron on interfacing. Interfacing is used in garment sewing to make the fabric stiff – like in the collar of a dress shirt. Ironing on interfacing to the back of the T-shirts before they are cut made the T-shirt material no longer stretchy. It was stiff. Then the T-shirt material could be sewn to cotton material of the sashing. This is how traditional T-shirt quilts were and are made.
Rules for making a traditional T-shirt quilt:
Use iron-on backing to make T-shirt material stiff and compatible with cotton.
Cut all the blocks one standard size.
Use sashing between the rows and columns of uniform sized T-shirt blocks.


---
Planning a T-shirt quilt?
Here are step-by-step directions for ordering your Too Cool T-shirt quilt.
---
The Modern Era of T-shirt Quilt Making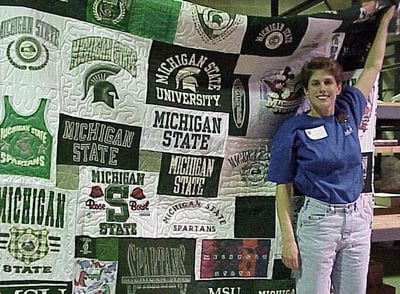 In 1992, I threw out those rules. Actually, I didn't know what the rules were! That's me in the photo, it was taken in the mid 1990s.
I just needed to make a T-shirt quilt for my sister. I just made a quilt how I thought it would work. The result was a quilt that was very different than traditional T-shirt quilts.
Modern Rules for Making a T-shirt quilt:
The Blocks for a T-shirt Quilt Should Be All Different Sizes
This is because the designs on T-shirts come in all different sizes. This keeps the small designs on a T-shirt from having too much blank T-shirt around them and it keeps large designs from being cut off.


No Sashing
When all the blocks are line up in columns and rows divided by sashing, the quilt looks static and uninteresting.


The Block Should Be Puzzled Together So the Quilt Holds Your Attention.
Who want's a boring quilt? And if you do, choose a traditional T-shirt quilt style.
No Iron-on Backing or Interfacing
Since I did not use cotton sashing or mix other cotton fabric into the quilt, having to make the block stiff was not necessary. I didn't know that stretchy fabric "was difficult to work with". Without that preconception, sewing was not an issue.
Taking It One Step Further
I developed my T-shirt quilt method into a business because once people saw my T-shirt quilts, they knew there was a more interesting way to have a T-shirt quilt made. Since 1992, I have developed other guidelines I use to help make Too Cool T-shirt Quilts even cooler.
Use a Solid Color Backing Material
This is so you can see the quilting. You can't see quilting on a printed fabric.


Quilt Each Block With its Own Unique Design
Each block is a story and deserves to have its own look. An overall quilting design (one design repeated over the entire quilt) on a quilt is static and uninteresting.


Trace the Designs on Blocks with Interesting Graphics.
See the photograph here. It adds a level of fun that you never will get with an overall quilting pattern.


Use High Quality Materials – Fabric, Batting, and Thread
You know the saying, "you get out what you put in". When we use high quality materials, the quilts we make will last a lifetime. They become an heirloom your family will cherish for lifetimes.


Make the Highest Quality Quilt Possible.
This means looking at the quilt while it is being made. First, cut the blocks out right. Then make sure that the seams are sewn accurately without puckers and the precise size. Do a great job quilting and make sure the binding is professional. This all means taking your time. Rushing does not make for a good quilt.
Conclusion
Choosing the right style for you and your T-shirts is important. What style T-shirt quilt you choose is up to you. Go with what you like. If you don't know what you like, take the time before you have your quilt made to learn about the different options open to you. No matter what style you choose, make sure you do the research and demand the highest quality quilt possible.
---
Want to learn more about T-shirt quilts? Visit our Learning Center.
We have over 200 articles about all aspects of T-shirt quilts.


---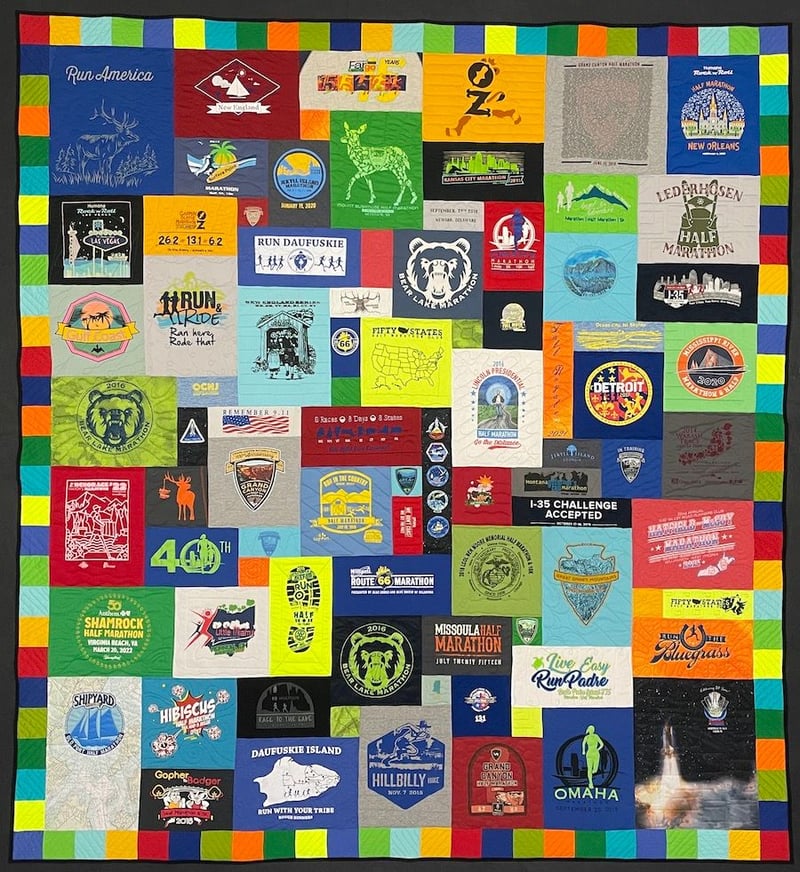 Andrea Funk is the inventor of T-shirt quilts made with multiple blocks sizes. The modern method of making T-shirt quilts. In 1992 she founded Too Cool T-shirt Quilts. Her life has been immersed in T-shirt quilts ever since.