Why are there blank blocks in my quilt?
August 13th, 2018
By Andrea Funk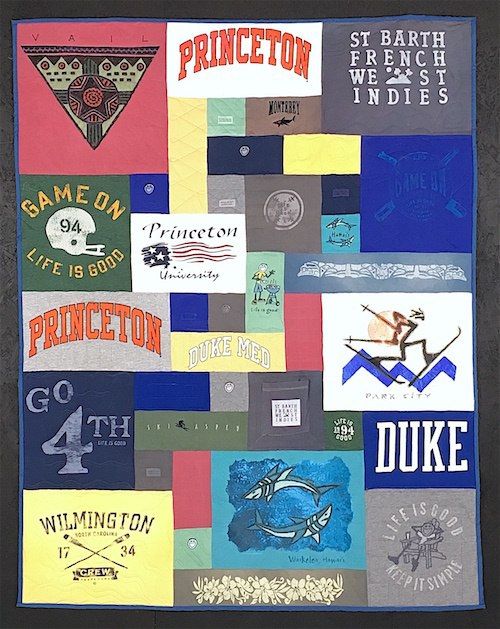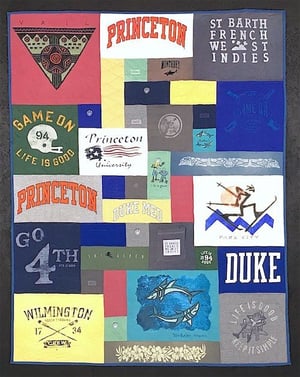 Have you noticed T-shirt quilts with blank blocks? Have you wondered why some T-shirt quilts have blank blocks? In this article I will explain:
What a blank block is.
Why some quilts have blank blocks.
What blank blocks are made from.
How we use blank blocks.
How we decide where to put blank blocks.
How we decide what color to make the blank blocks.
What is a blank block?
Let's break down a quilt top. We cut out each design on a T-shirt. This then becomes a block in a T-shirt quilt. The quilt top is comprised of these blocks. Blocks in a quilt top without a graphic or design are blank blocks or filler blocks.
Why do some quilts have blank blocks?
When we design a T-shirt quilt, it is first a mathematical process. For example, a quilt that is 60" wide by 72" long has 4,320 square inches of area that has to be filled. If your T-shirts only make 4,256 square inches of blocks, you will be short 64 square inches. You have to fill in those blank spots with something. That something are blank blocks.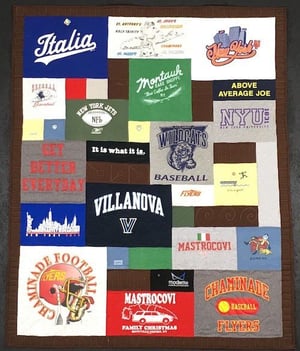 What are blank blocks made from?
Blank blocks are generally made from scraps of your T-shirts that we save. As we cut your T-shirts, we save the bottoms of T-shirts that are colorful. We especially save the colors that are unique. For example, if you have one neon yellow T-shirt, we definitely will save that color.
We can also use the fabric from the border of your quilt for the blank blocks. We do this if you want a border color that is not a color in your quilt.
For example, say that you love pink. You want a pink border added to your quilt. Why? Well, because you just love pink! There is just one problem. None of your T-shirts are pink. If we only added a pink border to your quilt, it would look odd. Just not right.
The solution is to add a number of pink blank blocks to the body of your quilt. Now the inside of your quilt has pink. The result? The pink border will look awesome.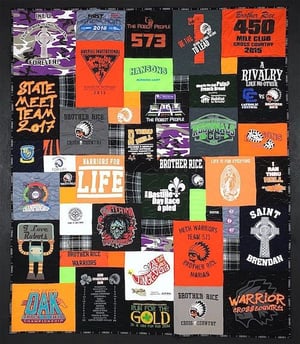 The photo here show how we added brown to this T-shirt quilt. Once we had brown in the body of a quilt, adding a brown border worked great.
We also can make blank blocks from other non-T-shirt fabric you might send. For example, in a graduation T-shirt quilt for a young woman graduating from a Catholic HS, we can add blank blocks cut from her uniform skirts.
The second photo here shows an example of using pieces from the skirt for filler blocks. We also used the skirt for the binding. It was a great way to tie together the entire quilt.
---
To learn more about the different types, styles and qualities of T-shirts, download our T-shirt Quilt Buyer's Guide.
It's a great place to begin your journey to finding a quilt maker.
---
How we use blank blocks.
There are three typical reasons for blank blocks.
First and foremost, blank blocks are used to fill in empty spots in your quilt. Remember, these empty spots are because your T-shirt blocks didn't fill in the area completely. If there are not any empty spots, there won't be any fillers. FYI – 98% of the quilts we make have 1 or more fillers. 



We can use blank blocks as a design element. For example, you can add a color to your quilt that is not in the colors of your T-shirts.


We can use blank blocks to purposely increase the size of a quilt. Say you want a queen size quilt but only have enough blocks for a full-size quilt. We can add blank blocks to fill to increase the quilt size to a queen size.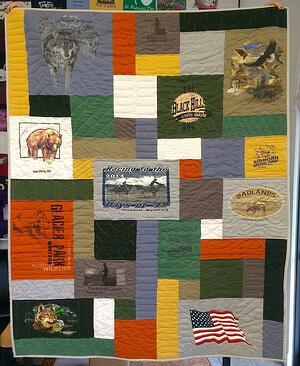 How we decide where to put blank blocks.
We add blank blocks to the map of a quilt last. Once all the T-shirt blocks accounted for, we then fill in the blank areas with blank blocks. We want to make sure we spread them out evenly throughout the quilt. If all the blank blocks end up in one area, we will redesign the quilt until we have them evenly spread out.
Some of the blocks we use are just a small square. Sometimes we will make the blank block a rectangle. This shaped block can help us eliminate 4 corners coming together in a quilt. We try very hard never to have 4 block corners come together. We like our quilts to look as random as possible.
How we decide what color to make blank blocks.
This is one area where the artistry of our quilts comes into play. We like to balance the colors of the blocks throughout the quilt. Say you have one block of a very bright color, such as neon yellow. We need to have other blocks of neon yellow in the quilt.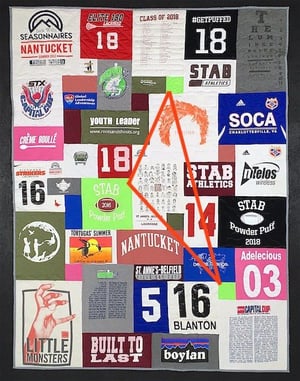 This is why. If there is only one neon block in your quilt, your eye will go to that block. Every time you look at the quilt, your eye first goes to that one block. To eliminate that, we will add other blank blocks of that neon to the quilt.
Adding additional blocks of neon will make that single neon block less important. One bright block screams look at me! Look at me! Three bright blocks take away the power of that one bright block.
This is a subtle effect. You might dislike neon. You might also wish that those neon blank blocks weren't in the quilt. Yet because they are in the quilt, the neon block with a graphic becomes less important. It won't dominate the entire quilt. Yeah, you may hate neon and not want those fillers. But one neon block will scream, whereas, three are less noticeable.
If you hate neon, don't send us a neon T-shirt to put in your quilt. When one block is so much brighter than all the other blocks in your quilt, we will attempt to balance that bright block so it doesn't dominate the quilt.
Can I tell you what colors I want for fillers?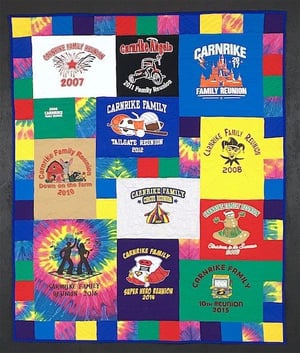 No. Our quilts are works of art. They are not paint-by-numbers. We need the artistic freedom to create a balanced quilt. We might not be the right quilt maker for you and your T-shirts if you want to decide where each block goes.
That said, you can tell us what colors you like. If we can use more of that color, we will.
We like to work with customers to make great quilts. We have made 1000's of quilts. We know what works and look great. We also know what doesn't work and will make your quilt look awful. You are going to have to trust us on this.
---
To learn more about the different types, styles and qualities of T-shirts, download our T-shirt Quilt Buyer's Guide.
It's a great place to begin your journey to finding a quilt maker.
---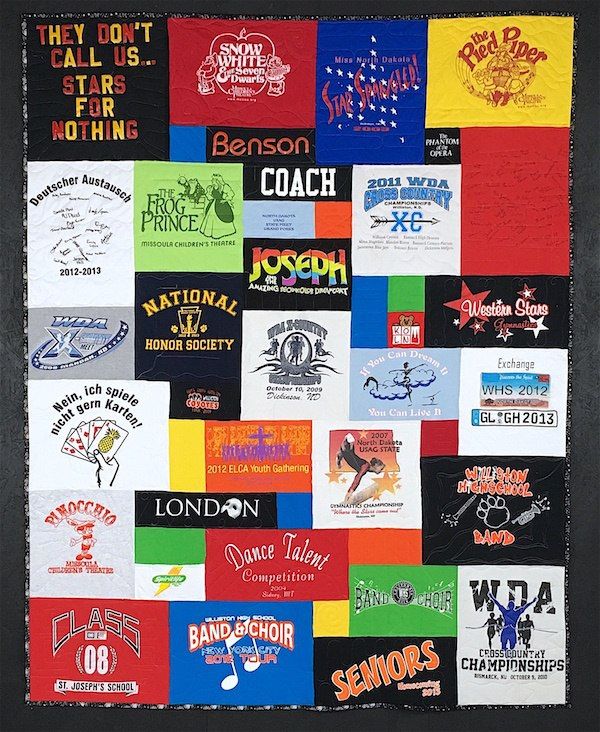 Andrea Funk is the inventor of T-shirt quilts made with multiple blocks sizes. The modern method of making T-shirt quilts. In 1992 she founded Too Cool T-shirt Quilts. Her life has been immersed in T-shirt quilts ever since.