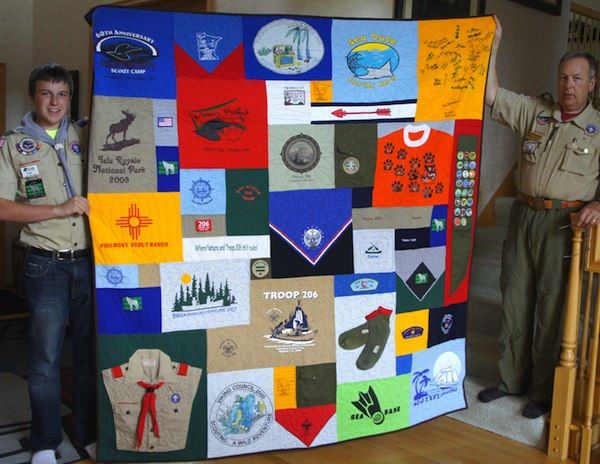 If you have a scout, be it Girl Scout, Boy Scout or any other type of scout, you will probably have accumulated all sorts of scouting related items that are just a little too important to donate or pass onto another scout.
If your son or daughter stayed with scouting until high school graduation, they probably will have accumulated even more items. So, what can you do with these items?
Here are three options to consider based on how many items you have saved.
Quilt
If your son or daughter has a great deal of items and felt that scouting was a great influence on their life, an all scouting quilt would be a great option. You can use T-shirts, uniforms, patches, scarves, pillowcases and whatever else you may have collected over the years. You can use anything in this quilt that is machine washable.
For a quilt, you would typically need 15 or more items. The more items, the larger the quilt can be. We also have the ability of taking any number of items and making your quilt larger or smaller by the amount we use from each item. For example, if you have 40 items and want a small quilt, we would only use small pieces from each item. But that same 40 items can be made into a much larger quilt by using large blocks from each item and/or more than one block from each item.