Which T-shirt Should I Use In My Quilt?
Styles & Types of T-shirt Quilts
Choosing which T-shirts to put into your T-shirt quilt will impact what your quilt will look like. So it's important to think about which shirts you choose for a number of reasons:
Once a T-shirt is in your quilt, it's not coming out!


Some T-shirts might not belong with the rest of the T-shirts.


If you are making a quilt for someone else, there may be a T-shirt in the group of T-shirts she may hate.
Here are a number of items to think about when choosing T-shirts for your T-shirts:
Color of T-shirts
There are two instances when the color of your T-shirts needs to be thought about.
When all the T-shirts but one or two are the same color. For instance we worked on a quilt last week where all the T-shirts were navy except one. It was black. Despite all the T-shirts begin dark, the black shirt stuck out. It was so bad that I asked the customer if we could remove it.


If you were making a Monochromatic quilt and you have one T-shirt that is not in the color scheme. This will also stick out.
Topic
Every quilt has a topic, even if it is just "my life." Other quilts have a very specific topic and any T-shirt which is not that topic, should be removed.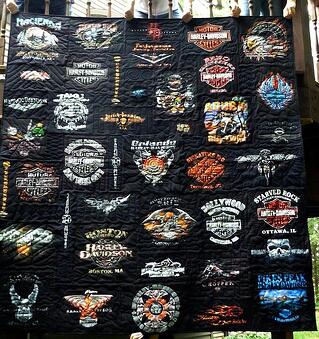 For example if you are making a Harley Davidson T-shirt Quilt and have one Hard Rock Café T-shirt, you need to think carefully about that one T-shirt. Mostly it will lower the value of the Harley Davidson quilt for future owners.
Story
T-shirt quilts tell a story. Look at your T-shirts and make sure that they all are part of that story. If a T-shirt is not part of the story, you should consider removing it from the pile of T-shirts for your quilt.
For example, if you have T-shirts from your child's life and in that stack of T-shirts is a shirt that belongs to someone else in the family, this shirt should be removed. Always double check that the T-shirts you plan to have a quilt made to see if all the T-shirts belong to the story and the character of the story.
Types of Event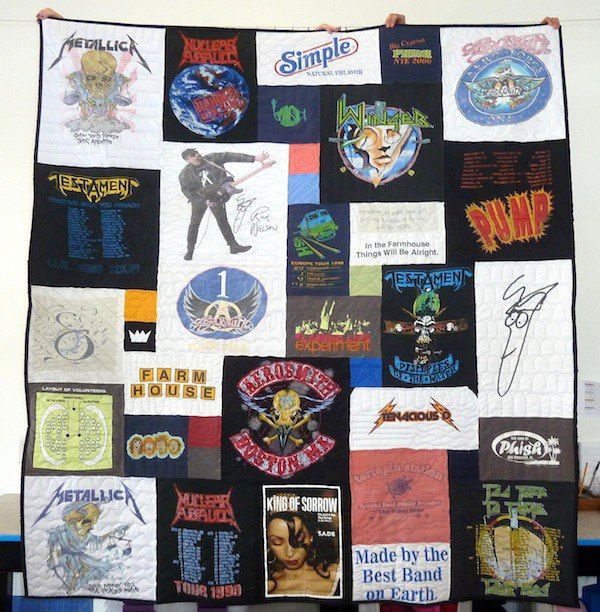 If you are a runner and want a T-shirt quilt made from your running T-shirts, make sure that all the T-shirts are from running events. If you have 30 T-shirts from 5ks and one from a baseball team, the T-shirt from the baseball team just doesn't belong and should be removed from that grouping of T-shirts.
T-shirt Age
If all of your T-shirts are from 80 rock and roll bands except for one T-shirt that is from a 2005 folk fest, you might want to pull out that folk fest T-shirt because it just does not belong.
Note: we can use very old T-shirts - so don't let the actual age of a T-shirts keep you from using it in your quilt.
Non T-shirt Items
Not all your T-shirts need to be T-shirts. Things that can be used in a T-shirt quilt are anything that can be washed in a washing machine. For examples, sweatshirts, jerserys and nylon coats. Again, any item you choose should further the story the quilt tells!
If you have any questions about the T-shirts you have slated for your quilt, please give us a call. We have made 1000's T-shirts quilts and have experience to help you make good choices. 517-541-8225 or e-mail Info@toocooltshirtquilts.com
Are you ready to have Too Cool T-shirt Quilts make a quilt for you? Here's how:
This article was origianlly posted November 12, 2012. It was updated in January 2017.