When Should You Have a Memorial Quilt Made?
December 9th, 2019
By Andrea Funk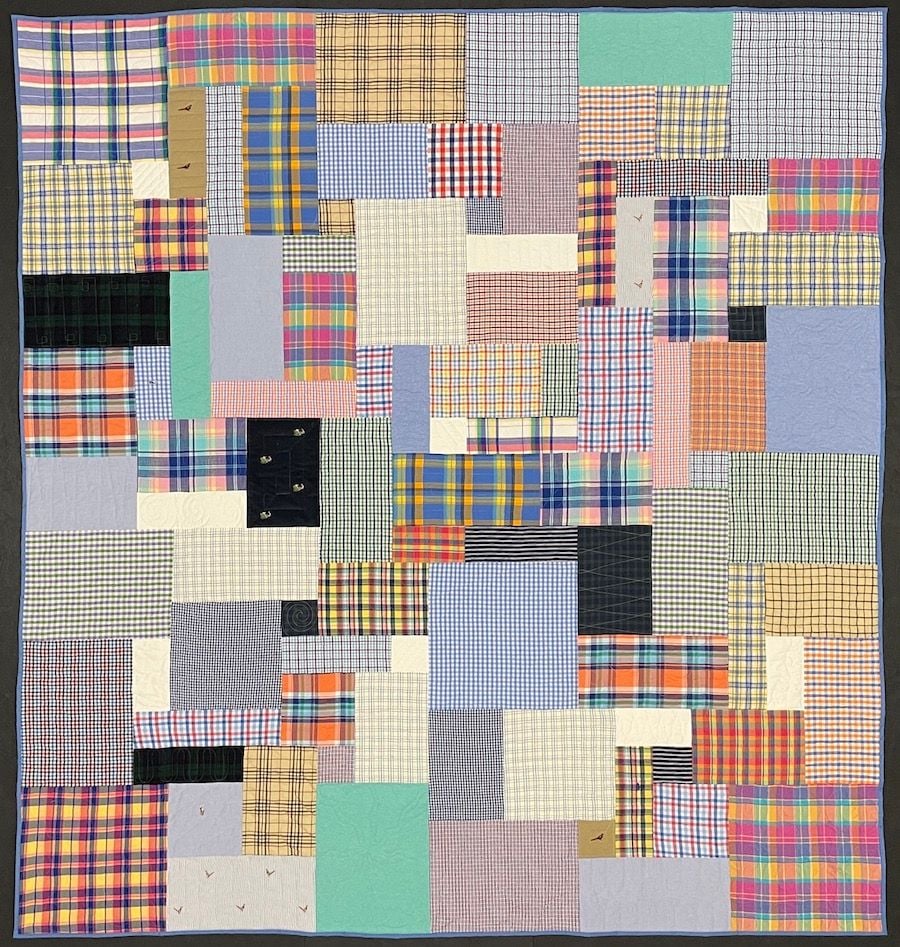 When you should have a memorial quilt made from your loved one's clothing?
If you need to ask, it's probably too soon. Here's when it's too soon and why you should wait.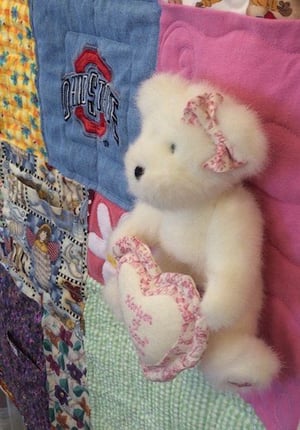 We know grief is different for everyone. Some people work through the grief of losing a loved one in a matter of months. While other people never do. Grief is universal, but very personal.
We have made 1000s of memorial quilts. This has taught us so much about how people deal with their grief. We've also learned how they deal with and feel about the clothing of the person they lost.
Our main take away is in the timing of making a memorial quilt(s). Below I will share our experience of making a quilt too soon after the death of a loved one. I will go into the issues of making a quilt too soon and why you should wait.
Way Too Soon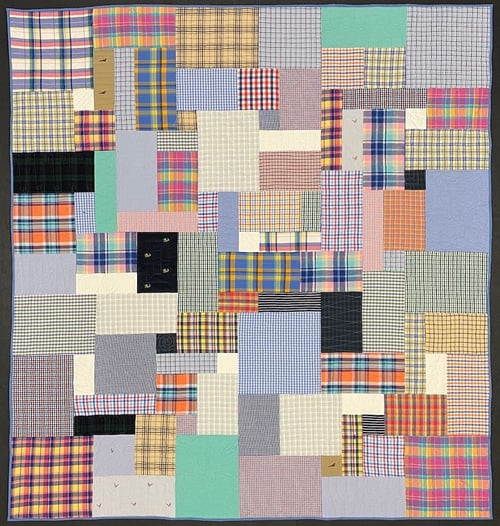 Recently we made 3 quilts for a woman, we will call Karen. While Karen was dropping off her husband's clothing, we learned she had lost her husband just two weeks before. Two weeks!
We knew as soon as she left that we were in trouble. It was way too soon for us to have accepted her clothing. And we were right.
Now if you're thinking, it's none of our business how soon after someone dies they send us their T-shirts or clothing. And you would be right. That is, until it is our business. When we are blamed for decisions they make, and when they refuse to pay, it then becomes our business.
(None of the photos in this article are of Karen's quilts.)
Issues with Making a Quilt So Soon
There are a number of issues with having a T-shirt/memory quilt made so soon after someone dies.
1. Your Brain Is Not Working Well Enough to Make Decisions
When someone you love dies, part of your brain dies too. When my husband Larry died, my head buzzed for the first month. I was there, but not there. Slowly, over a number of weeks and months, my brain settled down and I was able to start thinking again.
Making important decision in this time period should be avoided.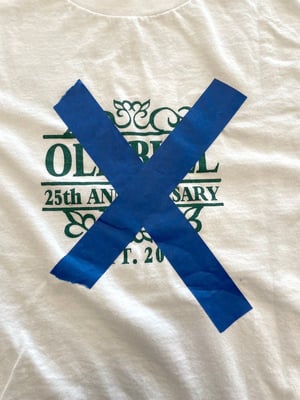 When Karen came in, she had to make a number of decision. Here are some of those decisions and how they effected the outcome of her quilts.
When Karen arrived, she had not separated the clothing and T-shirts into three groupings – one for each of the quilts we were going to make. She had also not decided what to include and exclude from each individual T-shirt.

The result? A block she did not want, was included in a quilt. This particular graphic had not been marked to be excluded. She is very angry at us for having included this block.

Unless you mark what you don't want on your T-shirts, we use everything. We can't read your mind. This is why it's very important you look at all your T-shirts including the back, front and arms. Read about how to mark your T-shirts here.


When Karen was here she said she wanted blue for the binding. And that is the color we used. When Karen came to pick up the quilts, she claimed that she had told us to use black. She hates blue.
We showed her the order form and our emails to her showing she had indeed asked us to use blue. Again, she is angry about this.
Before you decide to have a quilt made, make sure you are okay with the decisions you need to make. If your brain is not functioning, step back and wait.
2. All the Clothing Items Might Not Have Been Found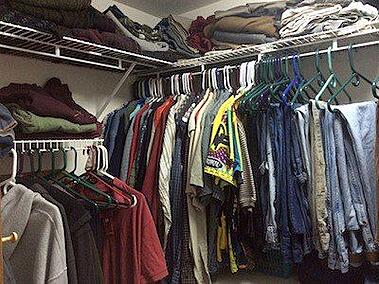 When you go to collect all the clothing from one person who died, you might miss an item or two. It might take time to find everything. It's amazing how spread out we are in our homes. Here's an article about sorting out your loved one's clothing.
Two weeks after Karen dropped off her clothing, she came across two more T-shirts she wanted to include in her quilt. We told her that it was too late. We were too far into the quilt too include additional items. Again, she was angry with us.
Give yourself time to go through everything and find all the clothing you want to include.
3. Your Financial Situation Might Not Be Completely Understood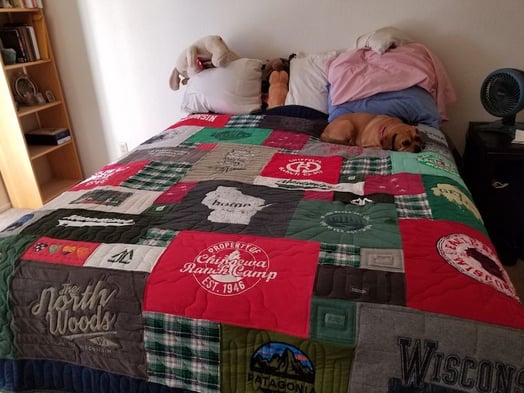 When someone you love dies, there are a lot of financial items to get figured out. What monthly income will you have? What expenses have to get paid now? For example, medical bills or funeral expenses. You might not have a clear picture about how much disposable income you will have available for some time.
Don't commit to having a number of quilts made until you know if you can afford them. This happens more often than you might think!
We believe that this was Karen's main issue. Ultimately, we think she just doesn't have the money to pay for the quilts. I am sure when she began the process, she thought she would have the resources to pay.
Her anger directed at us feels like a ploy at getting us to reduce the cost of the quilts.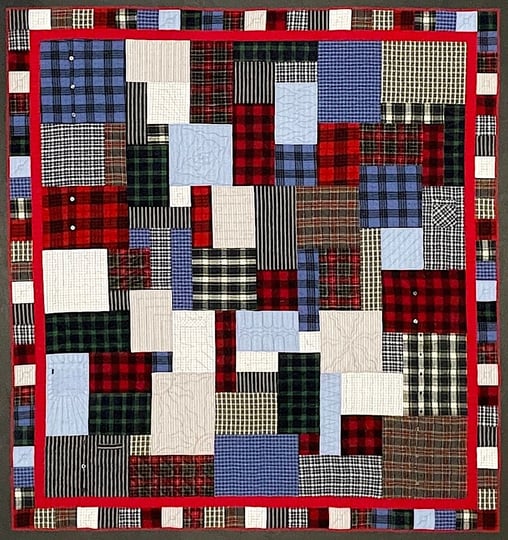 We have found this to be a typical response to not begin able to afford a quilt. "If I complain enough about the product, they will give me a discount."
Many times it's an implied threat that if you don't reduce the price of my quilt, I will talk bad about you. This is an awful thing to do to any business. It's selfish. Our pricing is up front. You will know exactly how much your quilt will be before we begin making the quilt.
Businesses know which customers use this ploy. We all have a list of bad customers that we keep so we know not to do business with them again.
While we sympathize with Karen and are sorry for her loss, we cannot give our quilts away. As a small business, we are proud to support fifteen families. They rely on us like we rely on them.
We went above and beyond for Karen. We wanted her to be comfortable with us and know that her T-shirts were in the good hands. We wrote everything down and kept copies of every conversation we had. In the end, nothing we did, or could do, made her happy. It was just too soon for her to handle the emotional and financial stress of such a large project.
---
Planning a memorial quilt or pillow?
Here are step-by-step directions for ordering your Too Cool quilt or pillow.
---
Waiting - Your Best Option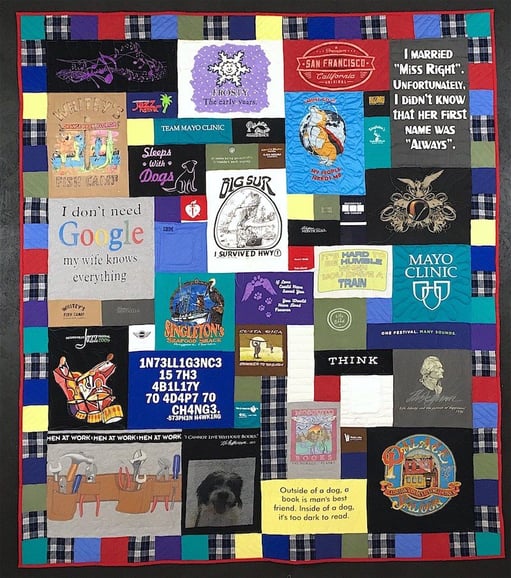 We want you to have a good experience having a quilt made. We know that it will be difficult no matter how long ago your loved one died.
Based on over 30 years of experience, here are our suggestion on having a memory quilt made.
1. Wait for 3 Months or More
We would suggest you wait a minimum of three months before you begin the process of having a quilt made. This is the earliest that we will work with you. We know from experience that any sooner is a recipe for heartache.
2. Know Your Financial Situation
Don't begin a memorial quilt project until you know you can afford to have the quilt(s) made. It may take many months to figuring out your new reality.
3. Spend Time Preparing the Clothing
Be sure you have all the clothing items collected. Double check the coat closet, the back of the car, in the camper, in the gym locker. All those weird places you might not have thought about right away.


Take the time to wash all the items.


Store the items you plan to use in one area. Until you are ready to have your quilt made, place all the clothing items in one spot. They can be out of sight, but ready to go when you are.


Go through each item at least once to make sure you want to include it in your quilt. If you are making more than one quilt, here's an article about how to divide your items for multiple quilts or pillows.


Go through the items and the process with a friend or child. This will be like having a backup brain. People feel helpless when a friend loses a loved one. This is a great way to let them help you.


Think carefully about color decision you make for your quilts. Once the quilt has been quilted, there is no changing colors.
Conclusion
If you are wondering if it is too soon to have a memorial quilt made, it probably is. Take your time! We will be here when you are ready.
---
To learn more about memorial quilts and pillows, visit our Learning Center.
We have over 200 articles about all aspects of memorial and T-shirt quilts.
---

Andrea Funk is the inventor of T-shirt quilts made with multiple blocks sizes. The modern method of making T-shirt quilts. In 1992 she founded Too Cool T-shirt Quilts. Her life has been immersed in T-shirt quilts ever since.