Memory Quilt Ideas - Made from Your Loved One's Clothing
July 9th, 2018
By Andrea Funk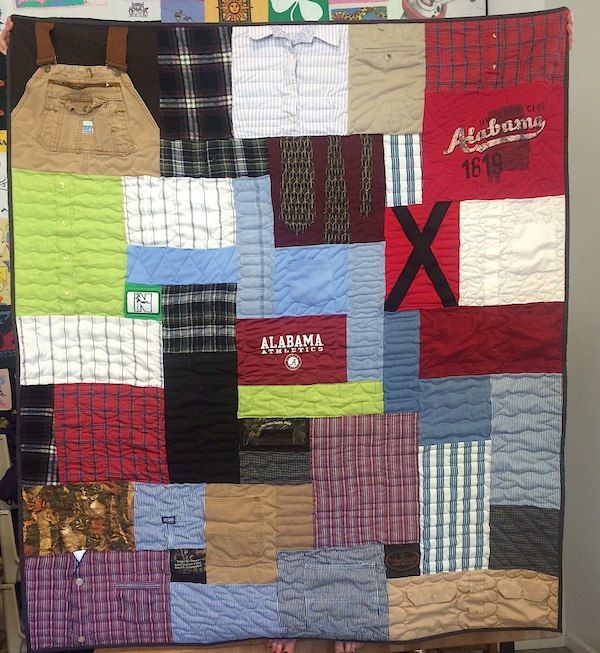 When someone you love dies, your world gets turned upside-down and inside-out. Then you have to pick up the pieces of your life and go on.
Basically, it sucks. There is nothing anyone can do or say to make things how they were. Things will never be how they were. But there are a few ways you can make the getting on with your life a little less awful.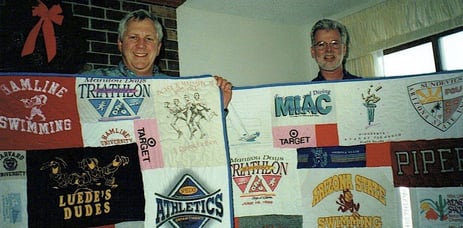 As a quilt maker and a woman who has lost her husband, I have been there and done that. The one thing I knew I could do to help myself and Larry's friends were to make quilts. A memorial quilt can help ease the pain a little.
A memorial quilt is made from the clothing of your loved one. Clothing triggers memories. If we see a shirt our loved one wore all the time, that shirt will trigger memories.
That is the premise of a memorial quilt. Make a quilt from clothing items our loved one wore. When we see, and hold the quilt, we wrap ourselves in the memories those pieces of clothing hold.
Below are a number of ideas to help you decide what to do with the clothing of a loved one who has died.
Types of Memorial Quilts
There are different types of quilts you could make with your loved one's clothing. Below are examples of different types we have made.
T-shirt Memorial Quilts
This is a quilt made from T-shirts. Some people just have tons of T-shirts. They wear them all the time. It's who they are. This is the type of person who's clothing will fit nicely into a T-shirt quilt. If you are looking for a T-shirt quilt, we have a lot of information. Here's a great place to learn more about a typical T-shirt quilt.
Clothing Memorial Quilts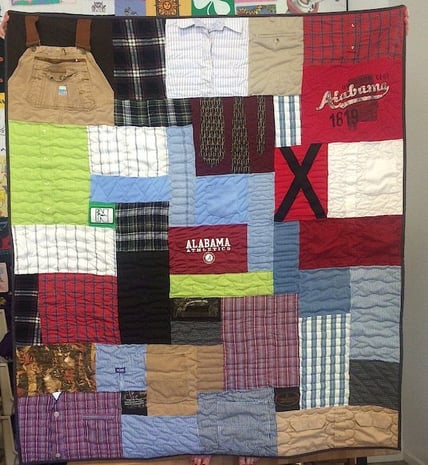 This is a quilt that is made from clothing. This can be just about any type of clothing. Pants, shirts, socks, gloves, hats, coats, pajama and any other clothing. The type of quilt is great for someone who might not be a big T-shirt person.
For example, if Grandpa has died, you can use his entire wardrobe for a quilt. We cut different size blocks from each clothing item. These pieces get puzzled into a quilt.
The awesome thing about clothing quilts is that they can be interactive. We leave pockets open so they are useable. We include zippers so that you can zip and unzip them in the quilt. We include collars so you know that it was a dress shirt. We leave buttons can so you can unbutton them in the quilt. An interactive quilt takes a quilt to the next level of fun.
One caution about clothing quilts. If one item is dry-clean only, the entire quilt is then dry-clean only too. Consider the implication of this. You might be ok remembering to have the quilt dry-cleaned. But will your grandchildren remember to do so? We are happy to talk with you about this consideration. Just drop us an email.
---
Planning a memorial quilt or pillow?
Here are step-by-step directions for ordering your Too Cool quilt or pillow.
---
Blue Jean Memorial Quilts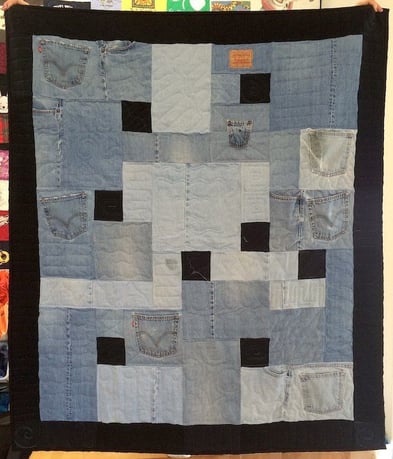 A blue jean quilt is made from many different pairs of jeans. The more the jeans vary in color or "wash", the more interesting the quilt. We love to include defining elements of the pants. For example, we might include a back or front pocket. We will include interesting stitching. We try to preserve this type of feature to make the quilt more interesting. We also like to include pieces with holes. We put another piece of fabric behinds the holes that helps emphasize the hole.
We like to add one colored item to an all jean quilt. For example, a shirt or jacket that is a different color than the jeans. This pop of color gives your eyes a visual resting place. It makes the quilt dynamic and less a flat looking. 


Blue jeans aren't the only pants you can include in a quilt. You can make a pant quilt that includes jeans, kaki's, work pants and dress pants. Pants do tell a story by themselves.
Scrub Memorial Quilts
If your loved one was a medical professional, they have a wardrobe of scrubs. We have made quilts entirely from scrubs. These tend to be on the busy side if the scrubs were made from printed fabrics. We like to include a few solid scrubs in the quilt to help make the quilt less busy. The solid fabric gives the eyes a resting place.
We can make up to 4 medium size quilts from a good stack of scrubs (20 to 30). We would cut one or two pieces for each quilt from each scrub as well.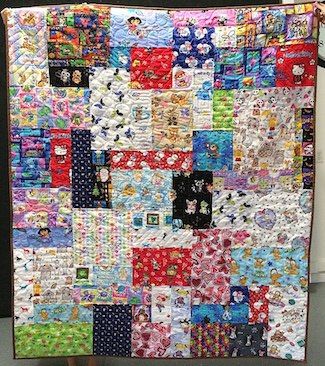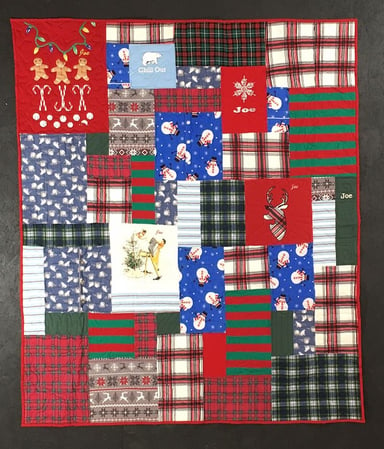 Pajama Memorial Quilts
If your loved one was a PJ's person, then a pajama quilt is one way to go. We would cut a number of pieces from each item for the quilt. We include items from the pajamas such as embellishments and pockets. Lounge pants are part of a pajama wardrobe. Example photo at the bottom.
Memorial Uniform Quilts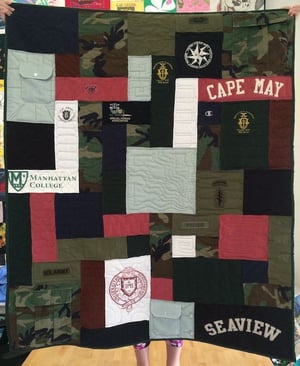 Some people wear a uniform to work each day. Such as firefighters, police officers and those in the military.
We can make a quilt exclusively from their uniforms. We include pieces from the uniforms that tell a story. These include pockets, name tags, patches, necklines and other interesting parts of the clothing.
Photo Quilt Made with Photographs of the Person Who Died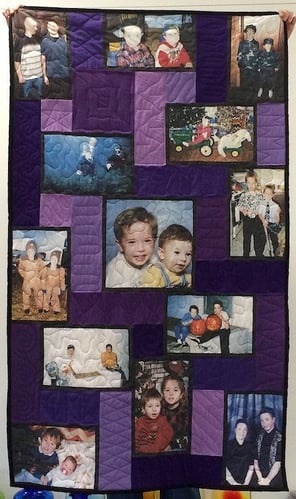 We have made many memorial quilts that are from photographs. These photos celebrate the lives of those who have died. Example photo at the bottom. Read more about photo quilts here.
You are not limited to these typical types of quilts. You can mix and match any type of fabrics to create your own unique quilt. We can make a quilt that includes T-shirts, pants, clothing, PJ's, scrubs, photos and uniforms.
Don't feel limited. Tell the story of your loved one with what you feel needs to be included. If something just won't work, we will let you know.
Memorial Pillows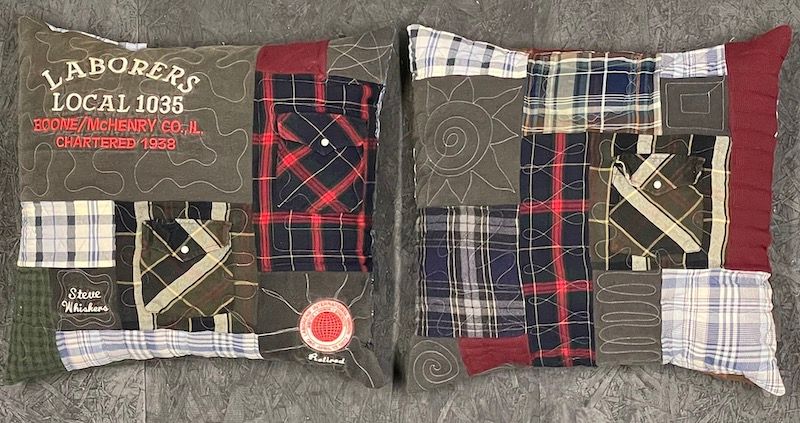 A memorial pillow is another way to remember a loved one.
Why a pillow over a quilt?
Quilts are expensive. 

A pillow is a less expensive option. Read more about pillows here.

Lack of material to work with. 

If you have just a few items to work with, a pillow would be the way to go. We can make a pillow with just one item. Typically, 10 is the maximum number of items used in a pillow.
Too many people need a memorial item.

There are times when someone dies and everyone wants or needs a quilt. For example, Grandmother has died and has 10 grandchildren. Each of the grandchildren needs something to remember Grandmother. A pillow is perfect for this type of situation. 

A small grouping of clothing items that are different than the rest of the clothing. 

For example, the person who has died had cancer. During treatment, she wore scarves to cover the loss of her hair. These scarves can be made into a stand-alone pillow.
Who Needs a Quilt or a Pillow?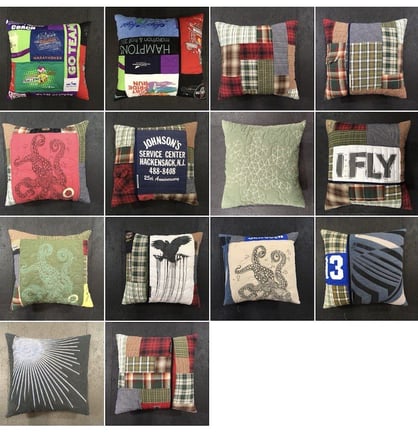 To determine this, start with those closest to the person who died.
Spouse/Partner

Children

Grandchildren

Siblings

Cousins

Aunts and Uncles
Friends
Next, determine your budget and how many clothing items you have to work with. The smaller your budget or a few clothing items will limit what you can do.
Spouse/Partner
If you are the spouse or partner, you should be first in line. Even if you have young children.
When Larry died, I made quilts for everyone except myself. It's a mistake to this day I am sad about. If you can't afford to have a quilt made for yourself now, save some items back. This way you can have one made down the line.
Children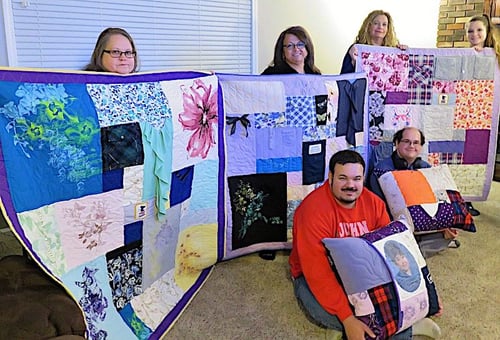 Young children should get a quilt or pillow. This helps them morn and remember a parent. Adult children should also get a quilt or a pillow. But the spouse or partner still should be first in line.
Grandchildren
Again, spouse or partner should be first. If there are a lot of grandchildren, you need to work with your family. Determine who feels they need something more – the children or grandchildren. This might be a case that a quilt is made for each child's family.
Siblings
If a child has died, it's important that the siblings get a quilt or pillow. But it is also important for the parents to get a quilt. You also need to consider what to do if the parents have divorced. This can all get messy. Do consider your family and try not to leave someone out.
Don't know? Not sure?
If you are not sure who needs a quilt, step back and wait. Having a quilt or pillow made doesn't need to be a rush decision. Wait 6 months or more. This may help you figure out who needs what. This may also help you get all the clothing items together. This way you know what you have and what you want memorialized.
How many items do you need for a clothing quilt?
For a Quilt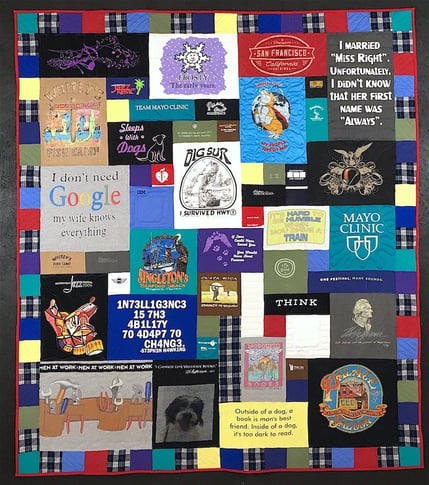 If you are planning a typical T-shirt quilt, here's how many items you will need.
If you are planning a clothing quilt, you have a lot of flexibility.
You can first determine what size quilt you would like. Then you can send us everything you want included. If you want a large quilt, we will cut the number and size of blocks based on the size quilt you want. If you want a smaller quilt, we can do the same.
If you have a small pile of items and want a large quilt, your quilt will have multiple large blocks from each item. If you have a large pile of items and want a small quilt, we would cut a small block from each item.
For a Pillow

We can make a pillow from one pieces of clothing or T-shirt. We add additional coordinating fabric to made the pillow interesting.
Typically, 10 items are about the most we will use in a pillow. More than that will result in a pillow made from a lot of very small pieces. We can do that, but this isn't reflected in our pricing. If you would like more information about this, please let us know.
How many quilts can be made from one pile of clothing?

Basically, the larger the stack of clothing, the more quilts we can make. If you have 40 items, we would easily be able to make 4 medium size quilts. If you have 20 items and would like 6 queen size quilts, that would be pushing it!
We are happy to work with you on your memorial quilt. First, figure out how many clothing items you have. Then, how many quilts or pillows you need. As well as the size of the quilts you want. We can help you figure out if you have what you need.
Here at Too Cool T-shirt Quilts, 1 out of 5 quilts we make are memorial quilts. We have the experience to help you make a quilt to remember your loved one.
---
To learn more about memorial quilts and pillows, visit our Learning Center.
We have over 200 articles about all aspects of memorial and T-shirt quilts.
---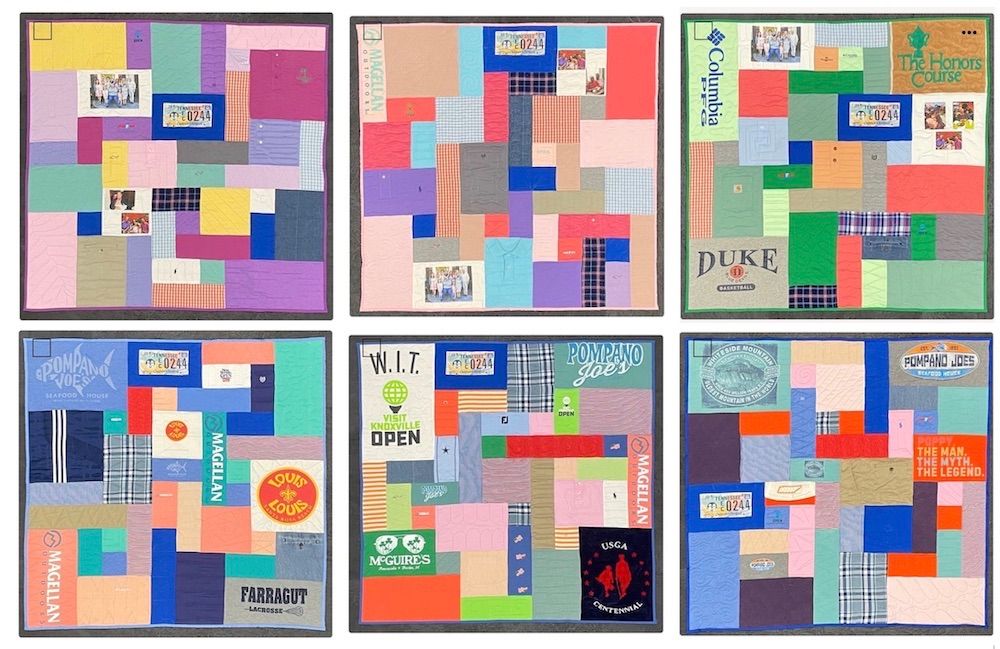 Andrea Funk is the inventor of T-shirt quilts made with multiple blocks sizes. The modern method of making T-shirt quilts. In 1992 she founded Too Cool T-shirt Quilts. Her life has been immersed in T-shirt quilts ever since.