Cost of a Double-Sided T-shirt Quilt
2021 Double-Sided T-shirt Quilt Pricing
A double-sided T-shirt quilt is two quilts in one, because your T-shirts are on both sides of the quilt. They are not fast or easy to make. Please note that there are limitations on a double-sided T-shirt quilt that you won't find on our singled-sided T-shirt quilts.
Links to order forms for Double-Sided T-shirt Quilts are at the bottom of this page.
Description
Lap
Large Lap
Multi Use
Twin
Full
Queen
King
Dimensions
48 x 48
52 x 64
60 x 72
60 x 84
84 x 92
92 x 100
100 x 112
Approx. No. of T-shirts for EACH SIDE
15 - 20
18 - 25
20 - 30
30 - 40
40 - 50
50 - 60
60 - 80
Standard - No Border
$697
$852
$1,046
$1,141
$1,439
$1,570
$1,752
*Prices effective until 7/1/2022
---
---
Number of T-shirts
You will need to double the number used on a single-sided quilt. Here is a link to the How Many T-shirts page for single-sided quilts.
Quilting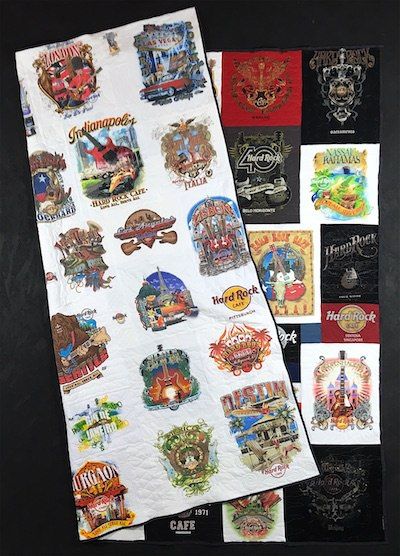 Your quilt will be long-armed machine quilted. Each block on the front side will be quilted in a unique pattern. These patterns may or may not line up with the block on the back of the quilt

Unlike our single-sided quilts, none of the images on the T-shirts will be traced. Read more about how we quilt our regular quilts here.
Borders
At this time, we are not offering borders on double-sided quilts because of the complexity they add to the project.
3D Items
3D items such as bows, stuffed animals, varsity letters, patches and anything else that is not flat will not be added to the double-sided quilt.
Baby Clothes

We do not make double-sided baby clothes quilts.
Quilt Size
The front and the back of your quilt have to be and will be the same size.
Dividing Up Your T-shirts
There are a number of different ways you can divide up your T-shirts.
You would send us one grouping of T-shirts and we would divide the T-shirts between the front and back based on content and color.

You can divide your T-shirts into two separate bags – one for the front and one for the back.

If the groupings end up different sizes, you have the following options –

You will need to be willing to move T-shirts from one side to the other to balance the size. You need to have these shirt(s) determined ahead of time so you can tell us which ones to move without us having to go through each block with you.


You will need to have a bag of extra T-shirts that can be used to balance out the smaller side with the larger side.

You can have us add blank blocks of T-shirt material to the small side to increase its size to be equal with the other side.
You can send us T-shirts and have us use the fronts on the front and backs on the back of the quilt. This method will most likely result in the front and back of the quilt being different sizes. This means you will need to have a plan to balance out the two sides. See a, b and c above for options.
Matching
We can put the fronts of your T-shirts on the front of your quilt and the backs on the back. But we will not attempt to match up every front to it's back so they are front to back on the quilt. This is because the fronts and backs of T-shirts are rarely the same size and matching becomes unmanageable.
Order Form
Double-sided quilts are being made at the Charlotte, Michigan and Austin, Texas locations.
If you live in Texas, Arkansas, Oklahoma or Louisiana, here's the order form for you to use - Double-sided Order Form Austin, TX.
Everyone else, please send your double-sided T-shirts to the Michigan location - Double-sided Order Form Michigan
If you send your T-shirts to another one of our locations requesting a double-sided quilt, you will be responsible for additional shipping cost to have your T-shirts sent to Michigan or Texas.
Questions: Charlotte@toocooltshirtquilts.com
517-541-8225