Planning Multiple Memorial Quilts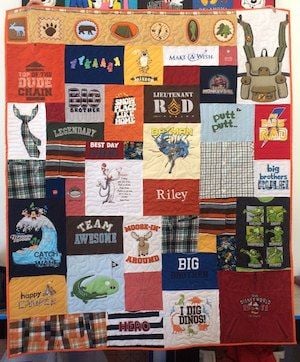 If you are looking for a special way to celebrate and remember someone you have lost, a quilt made from his or her T-shirts and/or clothing may be just the thing.
When the person who died was special to many people, one quilt may not be enough. We have had many occasions when a grandparent has died and we make quilts for each of his or her grandchildren. Other times, a young child has died and we have made quilts for her sister, mother and grandmother.
Planning a multiple memorial quilts takes a little more planning than one memorial quilt. Here's how.
Planning Step-by-step
1. Determine how many quilts.
The first step is to determine who all needs a quilt. At first glance, this might seem easy. But there are a number of consideration you need to think about when figuring out how many.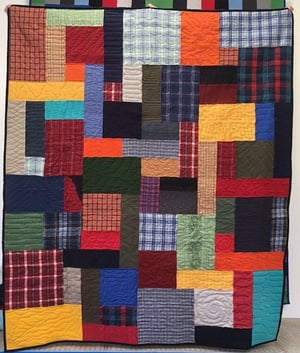 1. Think about who you are making the quilts for. Double check your list of people to make sure you are not missing someone because this might cause hurt feelings.
2. Your budget is another determining factor. A well made memorial quilt is not cheap. If you need 10 quilts and only have $1000 budget, you will not be able to afford 10 quilts. Click here to see how much a memorial quilt cost.
You will either need to make one or two right now and then need to make more over time. You could also ask for donations from the people you would like have a quilt made for. It might seem a little tacky, but many people want to do something to help after someone dies.
3. Consider how many T-shirts and/or clothing items you have. You might want to make 10 quilts but realistically only have enough items for 4 quilts. We can work with you to help figure this out.
4. Consider having pillows made if your budget is limited or your pool of people needing a quilt is large.
2. Divide up the items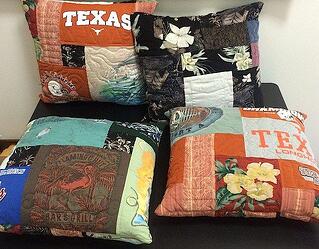 The simple way is to divide up the T-shirts/clothing items into one stack for each quilt you would like made. But, we all know that life is not simple. There are some items may need to go into each quilt. Other items may need to go into two quilts, but not, say, all four. So what do you do?
1. First set out a number of bags equal to the number of quilts you would like made.Either number or name each quilt. Place an order form in each bag with any special instructions you may have.
Then place the appropriate clothing items in each bag. If an item needs to be in more than one quilt, set it aside.
2. Next, set out a bag for the items which you would like to use a piece in each quilt or a part in two or three of your quilts. Stick a piece of blue painters tape on each clothing item listing the name or quilt number that gets a block from that item. If there is a T-shirt in this pile with a front and a back, tape the name or quilt number of the quilt that that particular side goes into.
How Too Cool T-shirt Quilts will work with your items:
We will set up a plastic storage box for each grouping or bag of items. Then, working one grouping at a time, we will cut the items from that bag. When all the individual groupings are cut, we line up the labeled plastic storage boxes and then work from the bag containing items that needs a piece to go into more than one quilt. As we cut that clothing item, we put a piece in each specified quilt's box.
We know how important your T-shirts and clothing items are to you and your memories of your loved one. We will treat them as if they were our loved one's item – with care and consideration.
Take you time planning your memorial quilts. They are too important to rush. We are more than welcome to call us here for more information. 517-541-8225.

---