How to Sort Out a Deceased Loved One's Clothing for a Quilt
Are you planning on having a quilt made from your deceased loved ones clothing? The first step, going through you loved one's clothing is very difficult. Here is a plan for sorting through their clothing that you can follow to make the job a little easier. Unfortunately, this knowledge has come from first hand experience. Hang in there, you can do this!
Clean and Put Away
First, make sure that all the clothing is clean and put away as it would have been if your loved one were sitting in the next room. This way you only have to go through this process once and you won't be surprised when something turns up in a week or a month.
Tools to Assist in the Sorting Process
A roll of plastic trash bag
Boxes or clothes baskets labeled with the name of the quilts or pillows you planning on having made.
Pen and paper for notes.
A roll of blue painters masking tape to mark of any parts of the items you don't want use.
The Actual Sorting
Set aside a block of time for the project. There may be times during this process that you will become sad and need to take a break. This is a difficult task and it might be helpful to have someone else help out and to tell stories to. Or you might want to do this by yourself so you can take all the time you want to contemplate and remember.
Consider breaking the sorting process down into smaller components so the job is not as overwhelming.
Closet
Pull out any item that you hated and hadn't seen your loved one in. Those are clearly the easy ones to set aside for donation or resale.
Go through the items one at a time and sort into your piles. Have a pile labeled for each quilt or pillow and one for donation. As you remove each item from its hanger, consider what quilt or pillow it should go into. Remember that if an item is "dry-clean only", the quilt you put it into will also be "dry-clean only."
Special items you might find in a closet:
Bathrobes –usable
Neckties – usable. But are dry-clean only. We can make an all necktie quilt. LINK
Suspenders – usable
Shoes and slipper – not usable. (They wouldn't be much fun to snuggle up with!)
Dresser Drawer
Open one drawer at a time. This will make the task less overwhelming.
First, pull out any thing that you hate and don't ever want to see again. Those are for donation.
Go through the items one at a time and sort into their respective boxes or baskets.
Special items you might find in a dresser:
Socks – we can use them in a number of different ways.
Bras & Underwear – consider if you really want to use them. We can use them if you want.
Scarfs and handkerchiefs – we can use these.
Coat Closet
Start with the hanging items. We can use pieces from coats and jackets. Keep in mind the care of the jacket.
Special items you might find in the closet:
Baseball cap – we can use the logo from the cap.
Gloves – can be used. The way they are cleaned is a consideration to think about.
Stocking hats & winter hats – can be used.
Boots and shoes – not usable.
Odds and Ends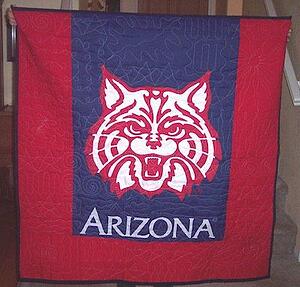 You might find other items of the deceased that you would like included in your quilt. Here are some items we can use in whole or use a piece of:
Flags and banners
Stuffed animals
Doilies
Towels – Kitchen, bath, swimming, golf, etc…
Table clothes
Blankets
Athletic gear that is cloth. For example, running shorts, bicycle jerseys and shorts, and swimming suits.
Click here to read about other items that can be a quilt.
A memorial quilt made from your loved one's clothing tells their story. We can mix and match just about any cloth item into your quilt. You are more than welcome to send us anything you would like in the quilt. If we are unable to use it, we will let you know and return it with your quilt.