UVA T-shirt Quilt - a Story of Love and Redemption
October 21st, 2019
By Andrea Funk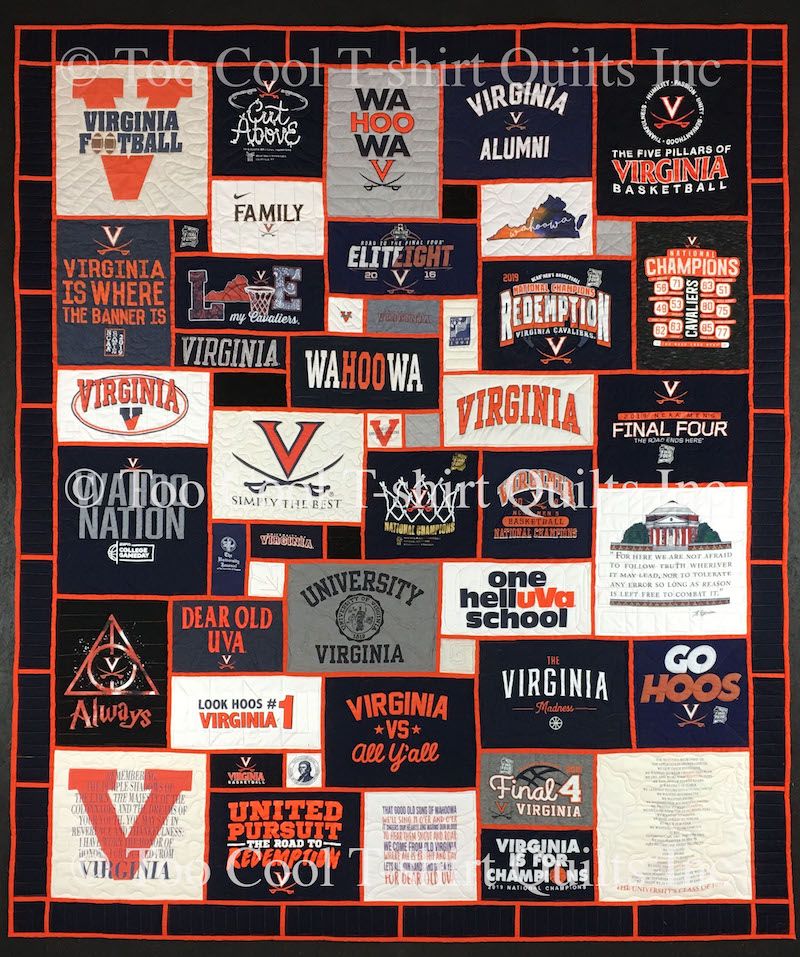 Take 10 minutes out of your day to read the story Carmen shared with us about her T-shirts and the quilt we made from them. We highly recommend it and it has a happy ending!
Carmen's T-shirt Quilt Story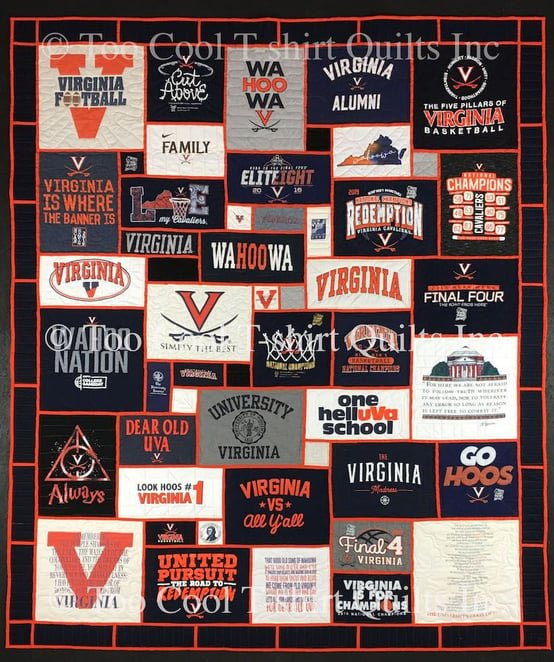 For as long as I can remember, I watched University of Virginia sports on TV with my dad. My Dad bled orange and blue. Despite the fact he had no ties to the University other than being from Virginia.
He did not have the opportunity to go to college. He didn't even graduate high school! He enlisted in the army and was fortunate to have been sent home just before Vietnam. But he and my mom always had expectations that I would go to college.
And there was only one option for me.
The University of Virginia.
My grandfather (my mom's father), a country doctor, graduated from medical school there. I'd be the first grandkid on my Mom's side to go to college, and the first person to even consider it an option on my Dad's side.
I devoted my childhood to getting into Virginia. I was an overachiever. Straight A's, did all the curricular activities like playing basketball and even cheerleading. All in preparation to attend the University of Virginia.
I filled out the application. I worked hard on the essays. I took the damned SAT's FOUR TIMES to get the scores I'd need to be considered.
Then I got waitlisted.
I cried. I reluctantly sent a deposit to the school that was my backup plan, hating the thought of going anywhere except UVA.
But we found local UVA alumni to send letters on my behalf. We prayed. A few weeks later, that prayer was answered. I received the letter that I had been accepted!
About University of Virginia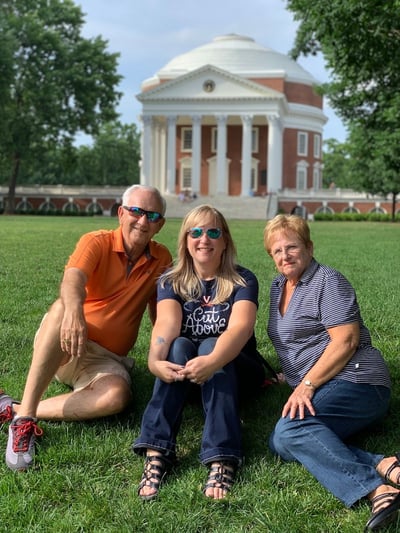 The University of Virginia in Charlottesville, VA is constantly rated as one of best public universities in the nation. It was founded by a founding father - Thomas Jefferson. Jefferson's Monticello home is on a hill nearby so he could look down on his University.
On his tombstone at Monticello, there's no mention of his Presidency, but rather the things he was most proud of. These were the writing the Declaration of Independence, the Virginia Statute of Religious Freedom, and being the Father of the University of Virginia.
UVA's centerpiece is "the Lawn" (we never call it a campus, it's the "Grounds") with the Rotunda at its core. It's a UNESCO World Heritage Site! Students follow an Honor Code, and once a Wahoo we are always Wahoos. It's one of those schools that engenders school spirit from the grave.
Our mascot is a Cavalier, and we're officially the Virginia Cavaliers. However, back in the 60's an 70's UVA got quite the reputation as a party school. We were on Playboy's top 10 party schools for many, many years. So we earned the nickname "Wahoos" because it's in our fight song AND a Wahoo is a fish that can drink twice its weight in water.
It's often called the "public Ivy." But when you care about academics, athletics become the bane of your college - and alumni - life. Other colleges are recruiting players for the NFL or NBA, but UVA requires our players to be student athletes.
UVA's Rivals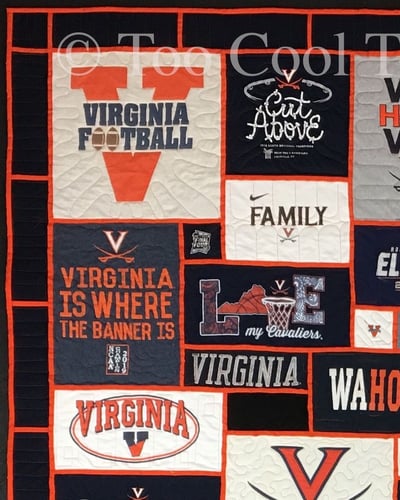 Our in-state rival is Virginia Tech - the Hokies. The Commonwealth Cup (currently sitting at UVA) is awarded each year as the two schools compete for points in athletic prowess. I'll be honest, only in recent years has it seen much time at UVA.
Our Atlantic Coast Conference ACC Rival has historically been the University of North Carolina. But the one school you never mention to a Wahoo is Duke. It's a dirty four letter word to a Wahoo!
What You Know About Charlottesville
You may think to yourself - Charlottesville. That sounds familiar.
Two years ago we made national news when a Unite the Right rally saw a bunch of really angry young white men descend on Charlottesville. They marched down MY Lawn and threatened students with torches and Nazi chants of "Blood and Soil!"
This same group inspired a terrorist attack as a Nazi sympathizer ran a car into a group of counter-protesters, killing a young girl named Heather Heyer. Several others were seriously injured.
I wasn't sure that we would ever heal.
Redemption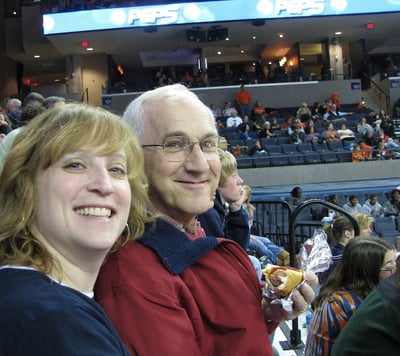 Then came the redemption story of the ages to bring us together and help us become a better community.
In the 1980's, UVA had a chance at a National Championship in men's basketball. Sadly, they only made it to the Final Four. That team and that season was the best that UVA had ever seen. Or would see again for many, many long years.
We'd go through each year's basketball season with high hopes and plenty of disappointment.
A New Coach
In 2010 UVA hired a new basketball coach named Tony Bennet. It was a controversial choice. He was young. There were bigger names available. And Coach Bennet played a style of basketball that no one liked. Slow and steady.
Commentators called UVA's style of basketball "boring." It was compared to watching paint dry. They were told it would never be successful at tournament time. And that it couldn't keep up with the fast-paced style of play Duke and UNC had.
And for a while, it seemed like they had a point. The team got better. Better than it had ever been, using Coach's five pillars of basketball - humility, passion, unity, servanthood and thankfulness. But Virginia couldn't make it deep into the tournament.
The 2018 Season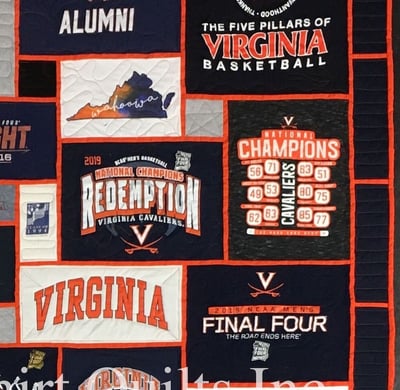 Then, 2018 came along. No one expected much from the team, so when they started winning, it was like a Cinderella story. Virginia found itself atop the AP poll as the #1 team in the nation. Virginia also earned the #1 seed in the March Madness NCAA Tournament, having won the ACC Championship.
Except there was one thing standing in our way. Ourselves. In the first game of the tournament, UVA played UMBC. A #1 seed playing a #16 seed. It should've been a cake walk. No #16 seed had ever beaten a #1 seed. Until that year. It was not a record that we wanted to break. A shining season came crashing down, and pundits decried us as a team that just couldn't win.
More Heart Break
The players were devastated. One opened up later about taking anti-anxiety meds because of it. Others followed with their stories of the pressures and mental health battles of such a season.
Coach Bennet told them a story about a TED talk. He spoke about how adversity gives you an option to dwell on it, or make it part of your story. Those kids took it to heart.
They set out on a season of redemption. This story is going to be a movie one day, mark my words! The team lost several of its big-name starters, but that didn't stop them from setting a goal.
How My Quilt Fits into the Story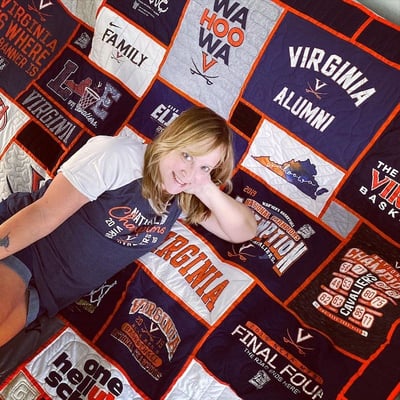 Now, as you can see at this point in the story, I'm a true alumni. My heart lies on Grounds, in Charlottesville, at UVA. It's "home" in a way no place else can be. I had kept all of my UVA shirts and have wanted to turn them into a quilt for probably 10 years.
My great aunt was a quilter, I have a bear claw pattern quilt that she made as one of my treasured family heirlooms. But I don't use it, because my Mom would kill me. So I said I'd make a UVA T-shirt quilt.
But I had to wait for one shirt before I did it. I wanted to go to the Final Four, and that T-shirt would be my center square.
I've been waiting a long time for that T-shirt, and you'll notice there are a couple of Final Four shirts in the mix. But I never in a million years saw it coming - that a National Championship T-shirt would be my center square.
And it wasn't easy getting there. It was a season of miracles.
National Championship
In our first game of the 2019 tournament, it looked like history might repeat itself. Again a #1 seed against a #16. The first half was a disaster for Virginia. But at halftime, Coach Bennet told them it was their time. They came out in the second half and changed their story with a comeback 23-3 run and a dunk by the #4 NBA draft pick De'Andre Hunter.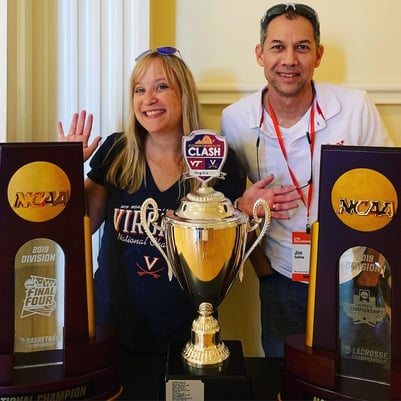 Not one game was easy. Most were wins with single-digit victories. In the Elite 8 game, Virginia was down by 2 points with 5.9 seconds left on the clock. Virginia player (and also NBA pick) Ty Jerome was on the free throw line. He missed (on purpose?) and the ball was tipped back to mid court. It was fielded by Virginia, long-passed to player Mamadi Diakite, who sank a bucket to take the game into overtime.
In the Final Four game against Auburn, UVA was down by two points and it was down to the wire. Kyle Guy (the third NBA draft pick on the team this year) got the ball as time ran out. He went up for a three pointer and MISSED! But he missed because he was fouled. No time left on the clock, Guy sank all three free-throws to send UVA to the National Championship final game.
That final game wasn't easy either. They don't call us the Cardiac Cavs for nothing. Texas Tech was a championship game worthy team. The two teams played point for point.
With 14 seconds left on the clock, we sent up a three-point shot to tie the game. But there was a second left on the clock.
It was Virginia's stifling defense that made the difference. Remember it was the defense that made people call their game "boring." The defense that held opponents to low-scoring games. That same defense also stopped Texas Tech from hitting a game-winning shot at the buzzer. It let the game go into overtime, and is what let UVA take the title home to Charlottesville.
There was no other way this team could've written their story. It had to be full of moments like these, moments that sent this fan into many heart "attacks" during the season.
This Quilt
So now, this quilt marks the culmination of so many years of being a part of the Wahoo Nation. The feeling of winning our first National Championship will never fade. They could do it again this year, or not. I think this won't be the only Championship this coach sees at Virginia. But it's the one that brought us all together. It was the first, and it will always, ALWAYS be the best.
That's why this quilt is special. It's not just a championship quilt, it's a story. My story. UVA's story. And now, you know the story, too. Take care of my shirts, I'll look forward to my memento of my UVA history.
- Carmen
---
To learn more about the different types, styles and qualities of T-shirts, download our T-shirt Quilt Buyer's Guide.
It's a great place to begin your journey to finding a quilt maker.

---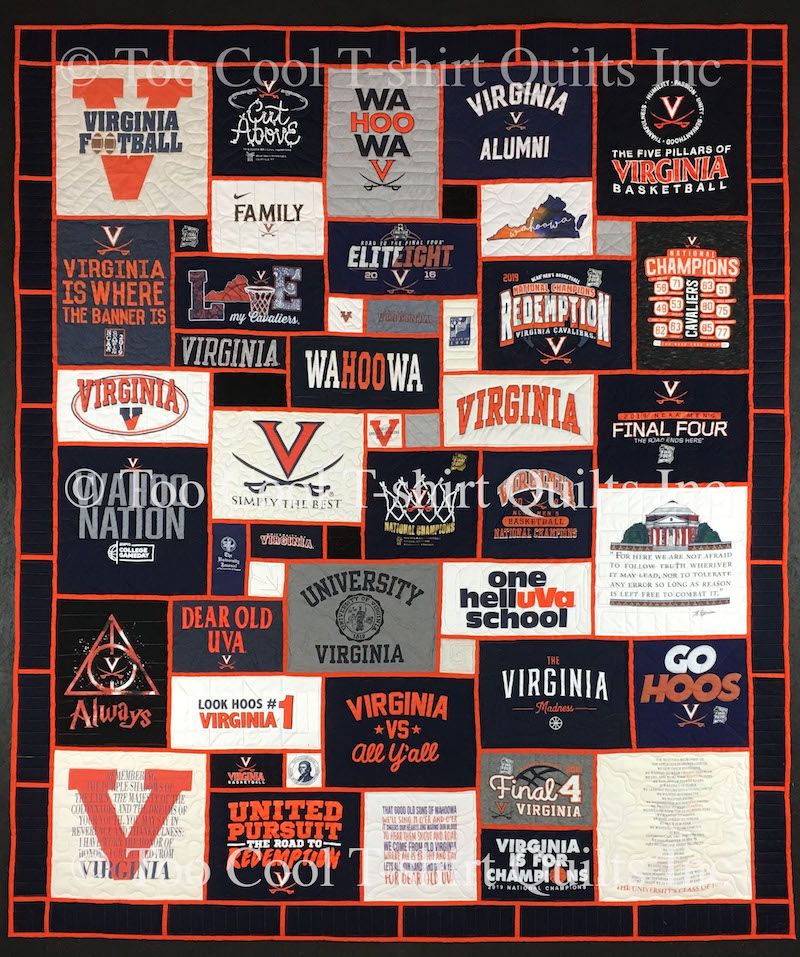 Andrea Funk is the inventor of T-shirt quilts made with multiple blocks sizes. The modern method of making T-shirt quilts. In 1992 she founded Too Cool T-shirt Quilts. Her life has been immersed in T-shirt quilts ever since.