The Best T-shirt Quilts of 2017
Here are some of our favorite T-shirt quilt from 2016 and why we like them. They are in no particular order.
A Dog's Life
Size 68" x 80"
Border: 4" Solid
This quilt was made in memory of a black lab named Kali who recently died. Kali's human mom transferred favorite photos of the dog and the family onto T-shirt material. We combined those photos with a T-shirt and a bone shaped toy to create this wonderful memory quilt.
Photographs transferred onto T-shirt material can be added to any T-shirt quilt. Or like this quilt, the main focus of the quilt can be photographs.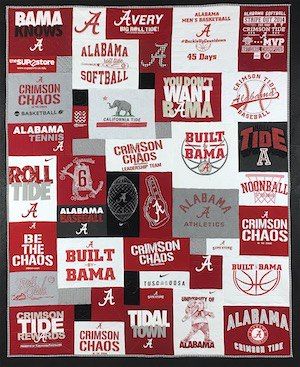 Alabama Crimson Tide
Size 68" x 84"
College and University themed quilts are always a favorite. Four colors and one topic make this quilt quickly recognizable. We even used black and white hounds tooth fabric for the binding. If you are unfamiliar with Alabama, this fabric is part of the school's tradition.
A T-shirt quilt with a color scheme and theme always make for an awesome quilt.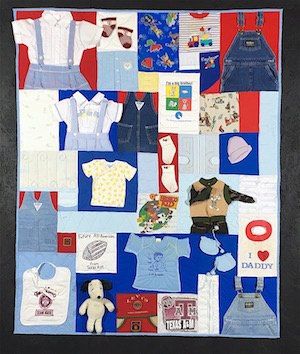 Baby Clothes Quilt
Size 52" x 64"
This is one of three baby clothes quilts we made for a mom with three sons.
This is a complex baby clothes quilts because we used many of the outfits and other baby items whole. This includes a stuffed dog that you see on the bottom row of the quilt.
We loved this quilt because it is so interactive. We also like that there are just three predominate colors in the quilt - baby blue, royal and red. Using a color scheme like this helps to make all the items work better together.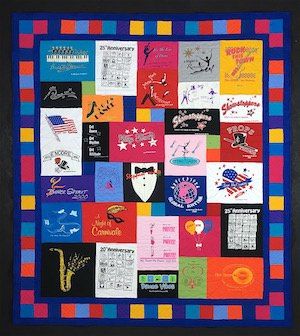 Dance!
Size 80 x 92
Border: 2" Solid + 4" Pieced + 2" Solid
This quilt celebrates the achievements of a dancer. All the T-shirts were from events this young woman attended. The shirts represent all types of dance, from tap to ballet.
The border is made from the unused pieces of the T-shirts. It sets the quilt off and unifies the different colored shirts.
Graduation
Size: 60" x 84"
We make 100's of graduation T-shirt quilts each year. They each tell the story of a graduate and are all wonderful.
This quilt just kept catching my eye every time I looked through our photos. The oranges and royal just jump off the quilt.
This graduate did not have enough T-shirts to make a twin-size quilt. But a twin-size quilt is what they wanted. We could have made this quilt larger with a border or with blank blocks. The customer decided to go with the blank blocks. This allowed us to add more of each color shirt into the quilt which helped the quilt feel more cohesive.

Life Is Good
Size 56" x 64"
Border: 4" Pieced
We have used 1000's of "Life Is Good" T-shirts in quilts over the past few years. There are typically three blocks we can take from a shirt - the main logo on the front, a small tag on the bottom left side of the shirts and the smiling guy on the back.
In this grouping of shirts, we sometimes found a forth piece to use - the inside back tag. Some of these tags tell the Life Is Good story. So, there is a choice to make - the story or the little guy on the back? We used a combination of them on this quilt.
The 4" pieced border is a combination of the smiling guy, the small tags and blank blocks of T-shirt material.
---
To learn more about having a quilt made from your T-shirts, download our free T-shirt Quilt Buyer's Guide.
It's a great place to learn about the different styles and quality of T-shirt quilts.

---
Navy
Size: 92" x 104"
This year we have made quilts for customers from all our military services. This is a quilt we finished in December and I just kept looking at it and enjoying the feel of the quilt.
I like the colors and the variety of block sizes in this quilt. I hope the recipient of this quilt likes it too!

Race Bibs
Size: 100" x 112"
This is a very unique quilt we made this year. This is made entirely from a runner's race bibs. This person has run a lot of races!
Race bibs are made from a Tyvek-like material and will not fall apart when washed. They are amazingly durable and fun to work with. The quilt does sound a little crinkly.
The quilt looks fantastic and it is a totally different use of race bibs.
Sorority
Size 84" x 96"
Border: 2" Solid
We make a lot of sorority T-shirt quilts. We love to make them because most are so much fun and so colorful.
I like this quilt because of the use of the Greek letters. Most women end up with so many shirts and sweatshirts with their sororities' letters on them. We had 12 of them to work with on this quilt. So rather than mixing them all into the body of the quilt, we lined them up on the top and bottom of the quilt. These made great anchors for the quilt and kept all the similar blocks from bunching up in the body of the quilt.
Superman
Size 72" x 80"
Superman's Mom brought all these T-shirts out to the shop here in Charlotte, Michigan. I knew right away that this would be an awesome quilt. It's partly because of the theme that we like it. But we also loved the center block.
This royal blue block was actually a Halloween costume. The chest part of this costume was molded into a typical chest pattern that no 7-year-old has. It also had a cape as part of the ensemble. We combined the cape and chest plate into a single block. The cape appears to be around the 3D block. Very cool.
Surf's Up
Size 72" x 76"
Border: 4" Pieced + 2" Solid
This is another one of those quilts that I kept coming back to as I looked through the photos we had taken over the year.
Although the colors in this quilt are cheerful, they are muted just a bit that gives it an old Miami feel to the quilt.
It's just a happy and fun quilt.
Harley-Davidson
Size 76" x 88"
Border: 4" + 2" Solid
This quilt was made entirely from black T-shirts. The color in the quilt comes from the color of the graphics on the shirts.
We also added an orange 2" solid inner border and a 4" solid black outer border. Combined with the orange binding, this border took the quilt to the next level. It feels more Harley-Davidson than it would have without the border.