The Best T-shirt Quilt I Ever Made
February 8th, 2021
By Andrea Funk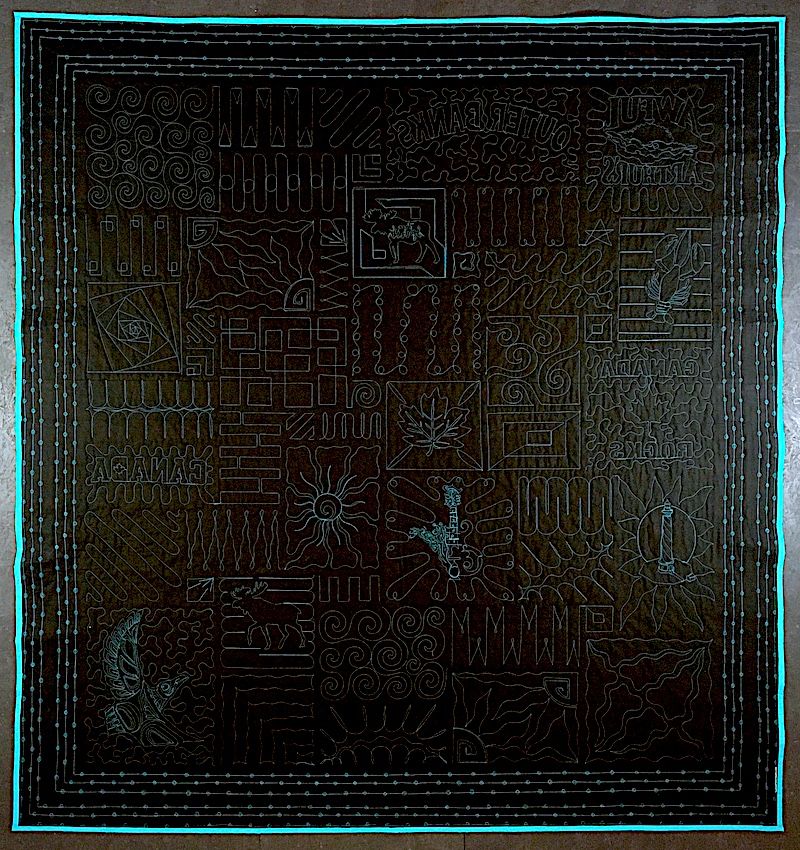 What's my favorite quilt? They all are! But there is one quilt stands above every other quilt I've made. And I have made some awesome quilts since 1992. Here's all about this quilt.
This Stained-glass quilt is made from all black travel T-shirts. The leading is teal. Queen size – 92 x 100. Border: Double 4" solid border.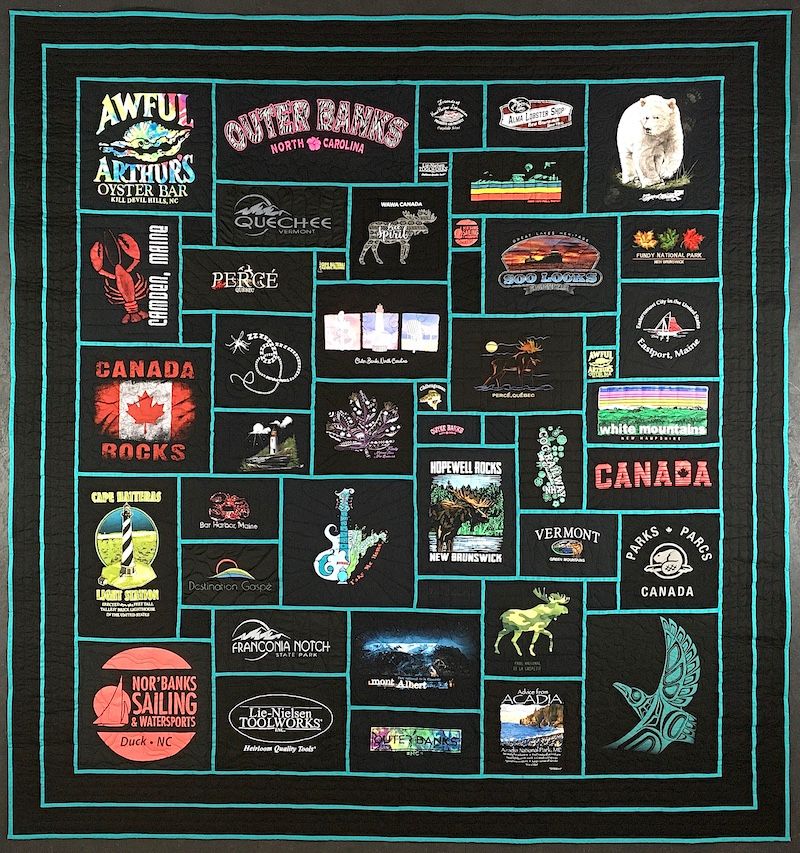 How This Quilt Came About
I just didn't sit down and create this quilt. Well I did. But, there was a lifetime journey that prepared me to make this awesome quilt.
It began with my parents.
We are all products of our upbringing, and I was fortunate to have great parents who each gave me skills and knowledge that lead me to become a T-shirt quilt maker.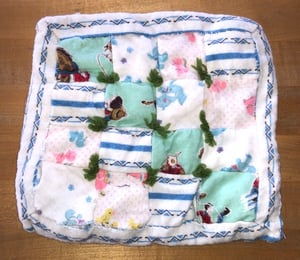 Back in the 1960's when I was a kid, my mom made all the clothes for our family. I sat on the floor and played with the scraps. I am sure I begged to use a pair of scissors, or demanded to have a needle and thread. And that's how I learned to sew.
When I was five, I made my first quilt. I have been quilting and sewing since 1968. As I am sure that Malcolm Gladwell would agree, I have my 10,000 hours of practice in. (Closer to 75,000 hours by now.)
My dad was an industrial designer and college professor at Michigan State University. He studied with Ansel Adams when I was a kid, and before I was born, he designed the Toaster-R-Oven for GE. My dad taught me about art, design, scale and how to see the world through an artist's eye.
Let's go back to December 2018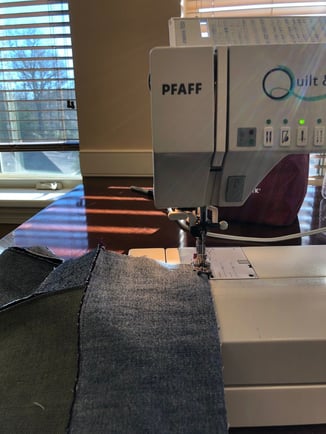 Last year in late December, David and I were getting ready to go on a 6-week vacation in our campervan. This included a week staying with David's 93-year-old mother in her retirement village. This could have been a very long week if I had not had a project to work on.
The First Project
I wanted to make a blue jean quilt of some sort. Doing what anyone would do, I Goggled images of blue jean quilts. I came across stained-glass blue jean quilts. I loved the look.
Then I got the bright idea of making a stained-glass blue jean quilt with my Too Cool method. I thought, let's do it at ¼ scale. Before I actually began the quilt, I did a small proof-of-concept block. It worked, but it would be insane.
I bought the blue jeans at Goodwill. I made a map or drawing of the quilt. I gathered all the tools I would need. Then we headed out on vacation.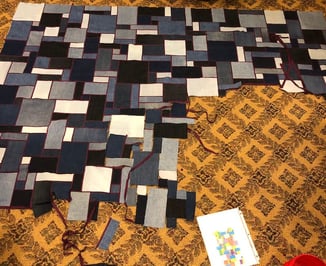 For the week we were in the retirement village, I cut and sewed 8 hours a day in a sunny lounge down the hall from my mother-in-law's apartment.
Each day, more and more of the resident would stop by and visit me. They wanted to make sure I was making progress. Word got around I was doing something strange! By the end of the week, people were coming up to me at dinner and asking about my progress. It was a delightful week.
A photo of the completed quilt is at the bottom of the page.
A Second Project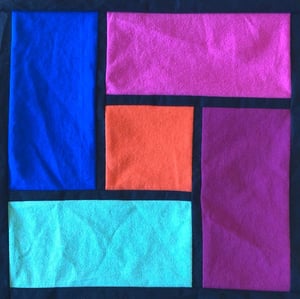 Before I left on vacation, I realized that I could make a stained glass T-shirt quilt with the same method that I was using for the blue jean quilt. To make sure it would work, I made a small proof-of-concept block.
It was possible. And my vacation was the perfect time to collect the T-shirts. It was so much fun. David could talk me into doing anything by saying, "They might have a gift shop." I returned home with more than enough T-shirts to make a quilt. And each T-shirt had a story.
Order of Completion
The stained-glass T-shirt was completed first. When I got home, I carved out time each day to work on it. Catching up after a 6-week vacation is a little crazy. A few months later, I finished the blue jean quilt.
We introduced stained-glass T-shirt quilts to the world and have made over 30 of them since. They are a hit.
A photo of the first stained-glass T-shirt is at the bottom of the page.
On to How This Quilt Came About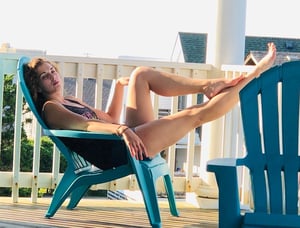 We had a weeklong vacation planned at the end of June in Nags Head NC with David's family. Somehow, we were able to finagle a six-week vacation out of that one week. (It helps that my daughter can now run the business while I am out playing)
As we left on vacation, my employees asked me about what type of quilt I was going to make from this vacation. I told them that I knew it would be another stained-glass quilt. Beyond that, I didn't know.
I was trying to decide what I wanted to do. I could choose to make a quilt with just blue T-shirts. Or I could choose all pastels. Or I could…. I had so many choices.
The T-shirt That Began It All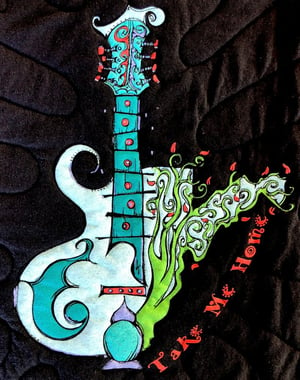 I had my first opportunity to purchase a T-shirt in West Virginia. We had been listening and singing to John Denver's "Take Me Home, Country Roads" as we pulled into a rest area. This rest area had a gift shop. Perfect.
In the gift shop I found this T-shirt. I loved it. The memory we had just created singing in West Virginia was echoed in the T-shirt. The design was great. I looked around to see if I could get it in any other color. But, like the Model T, it only came in black.
You ever have a moment when you are sure that someone could see a light bulb light-up over your head? 💡💡
Oh, I was having one of those moments. I knew I was going to make an all-black stained-glass T-shirt quilt with teal leading.
The quilt came to me fully formed. I just had to collect the rest of my T-shirts.
What I learned about black T-shirts.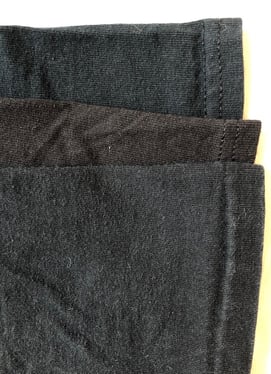 I learned so much. I've been working with T-shirts since 1992. I didn't think I could learn as much as I did. Here's what I learned…
There are so many different shade of black. Some have more red undertones. Others have blue or brown undertones. I knew a little of this, but hadn't put it all together until it was in my quilt.


Sometimes a dark navy can trick you into thinking it's black. I bought one T-shirt I only discovered to be navy when I was outside in the sunlight.


Graphics on black T-shirts tend to be geared toward men. Women don't wear as many black T-shirts. This meant two things for me:

Graphics on black T-shirts sometimes were uninteresting.
Sometime I had to purchase two T-shirts. A black one for the quilt and a colorful, fun one to wear.



Printing colorful designs on black T-shirts means the printer has to put an undercoat of white ink down first. This means that it can cost more to print a black T-shirt. This meant two things for me:

Some T-shirts were not as colorful as I wanted.
Some T-shirts were limited to just text.
It became a fun game to search out the cool black T-shirts. And sometime, I didn't buy one.
Many of the black T-shirts used red ink. Black and red do look great together. I could have chosen red leading. But that's such a cliché. So, I tried to limit the T-shirts I purchased with red graphics.
The Actual Making of This Quilt
It was about 2 months after I returned from vacation before I had time to work on this quilt. It sat there taunting me for the rest of the summer after I returned.
The Border
I began designing cool borders in my head for the quilt shortly after leaving that rest stop in West Virginia in June. I settled on a design in late September when I began the quilt.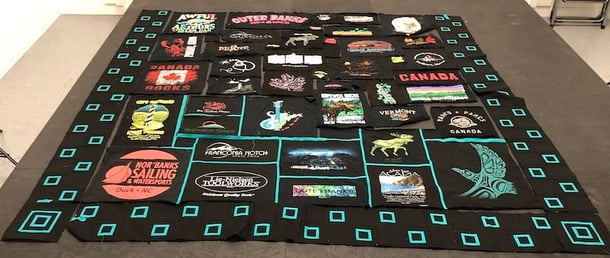 I began working on the border first. I had three side completed when I decided I wanted to work on the body of the quilt. I laid out the quilt and began sewing. After I had sewn about half the quilt, I put the border next to the quilt.
No. No. No.
It's a cool border, but it just didn't belong on this quilt. The scale was wrong. It just wasn't right. I sent a photo to my Dad to get his opinion. He agreed it wasn't working. (My dad's an artist)
It needed a simpler border. Thus, I just added two four-inch borders to the quilt separated by more of the teal leading. It was perfect. Simple and elegant. And I fell in love.
Help on the Quilt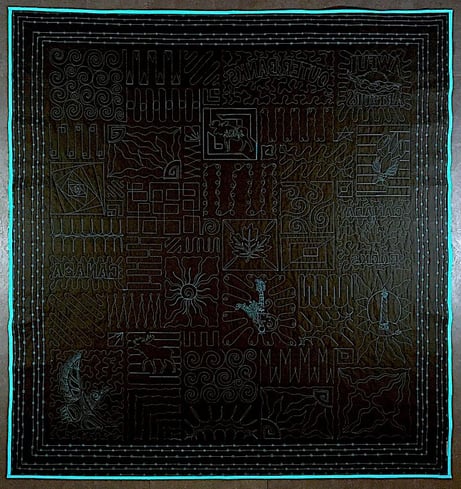 I have to admit, I did not completely make this quilt myself. My daughter Milie started thinking about the quilting for the quilt long before I began sewing it. I had wanted to do the quilting myself, but that didn't happen.
We have black fabric on the back of the quilt. We used a teal thread on the back and black thread on the front. We decided that teal on the front of the quilt would be distracting. We almost never use a different color thread on the front and back. Usually you see thread from the front on the back and vise versa.
Milie played with the tension on her machine to eliminate most of this look. There are still areas where you can see the thread from one side on the other. But we decided this would be better than the alternative.
Milie can long-arm quilt like no other! (Mom's can say that about her kids!) Check out her Instagram Page!
My Summer Vacation
Remember that paper you had to write each fall when you went back to school? "What I did on my summer vacation."
Well this quilt is my paper. It's what I did on my summer vacation. It was a great vacation. We drove over 4500 miles and were everywhere. Every time I look at the quilt, I get to remember the places we visited.
I also get to see a great looking quilt. I think it's the best looking quilt I have ever made, at least in recently.
PS
Here's the completed blue jean quilt.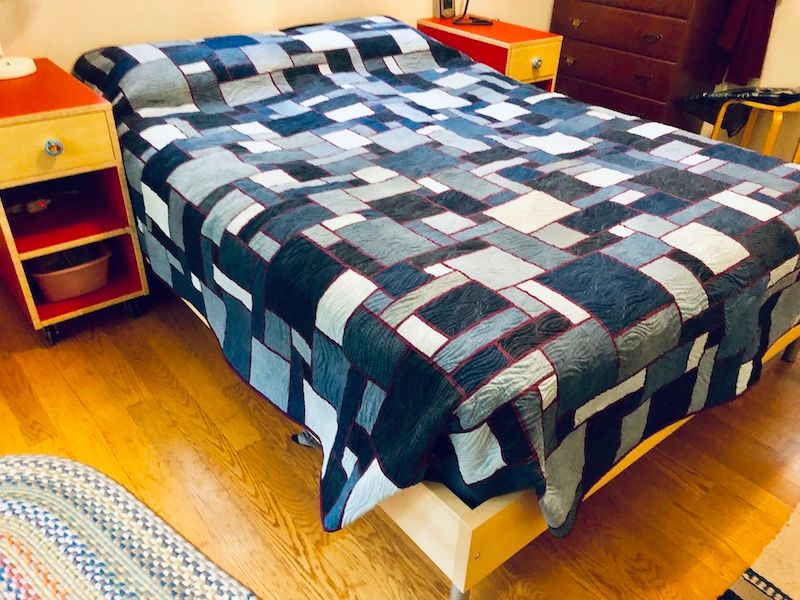 Here's the first stained-glass quilt.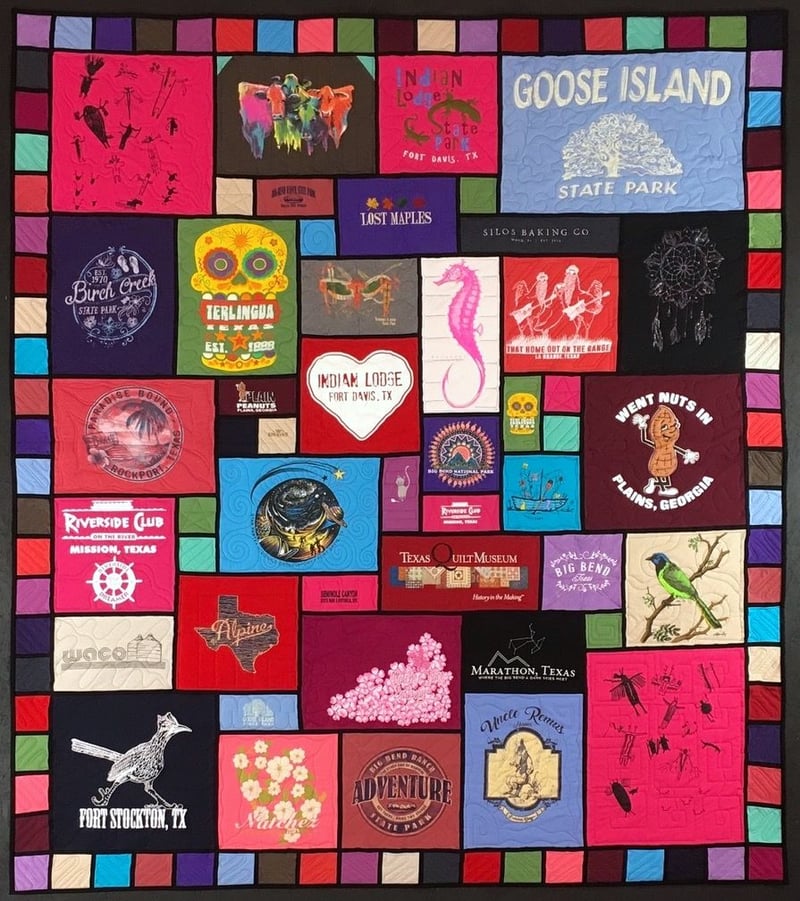 Here's the travel stained-glass quilt on a bed.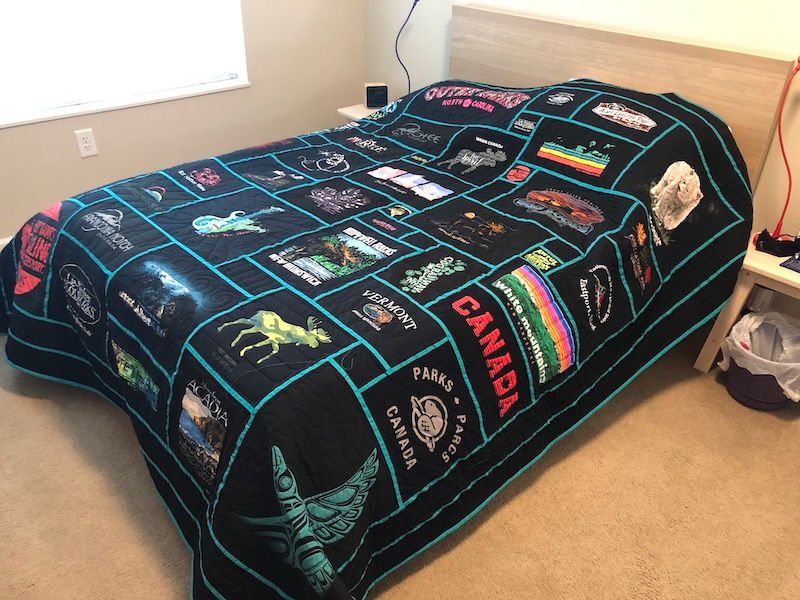 Andrea Funk is the inventor of T-shirt quilts made with multiple blocks sizes. The modern method of making T-shirt quilts. In 1992 she founded Too Cool T-shirt Quilts. Her life has been immersed in T-shirt quilts ever since.