Relay For Life T-shirt Quilt
The challenge was this, take six Relay For Life T-shirts and make them into a fun quilt.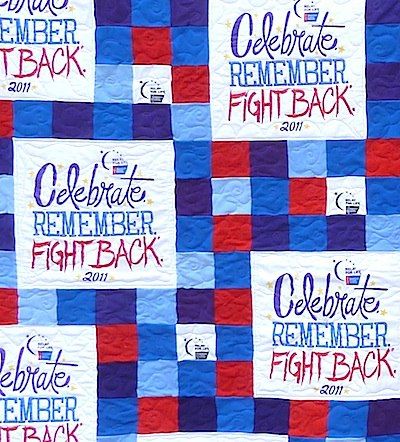 Six T-shirts? That's it? Really? I love being handed a challenge because it takes me out of my comfort zone. And this was a challenge. Not only were there just six identical T-shirts, they were all white!
Planning
I started my planning by first looking at the T-shirts. I needed to decide what size block each logo on the T-shirt could make. From there I then looked carefully at the colors that were used to print the T-shirts. Next, create a plan.
There were five colors in the text: purple, red, royal, light blue and yellow. But the yellow was not a major player in the graphics. Instead I looked at the message that the T-shirt was sharing. "Celebrate" was in dark purple, "remember" was in royal and light blue and "fight back" was in red. I think the designer of this T-shirt did a great job choosing a color the represented each word. So in my quilt, I wanted to use those same colors.
Designing
I tried a number of different designs. But I settled on this one because first, I liked the way that the small blocks lose their individuality and become the backdrop for the six main focal T-shirts. This, I think, is how people are to the fight against cancer and to the relay for life. I decided that the individual blocks represent individuals and families and when they come together they backdrop for the fight against cancer. Each and every one of them is important individually, but collectively they are powerful.
Once I settled on a design, I then had to work at the backdrop of the small blocks to make sure that each block was not directly next to or on top of a block of the same color. This took longer than you might have expected. The six small white blocks with the logos from the front of the T-shirts helped break up the field of colored blocks and make the layout a little easier.
Finding the Fabric
After I had the design finished, we had to find the four colors from our stash of T-shirt material. To multiply the issue of finding enough of the four fabric colors was the fact that we were making three identical quilts.
Our stash was large enough that we were able to find enough of each of the four colors. Cutting all these blocks – there are 510 of them – took about 6 hours.
Sewing
Next each quilt was sewn together. This took considerably longer. The sewer had two major concerns. First, getting each colored block in the right spot to ensure that no two blocks of the same color were next to each other. Then each intersection of 4 corners had to be perfect. There were a lot of intersections to sew. These quilts were as important as any quilt we make and all of our corners have to meet up perfectly.
Quilting
A different long arm quilter quilted each of these three quilts. We traced the words on two or three of the white blocks on each quilt. But no quilter did it the same as the other. The result was three quilts that look a like on the front but are very different and unique from one another on the back.
Silent Auction
These three quilts were donated to Relay for Life and were sold at a silent auction. Auctions are a poor way to raise money with a T-shirt quilt. People don't tend to value the work of craftspeople, not to mention the amount raised is generally a lot less than the value of the quilt. We suggest a raffle rather than an auction. Read why here.
If you are looking to learn more about having a T-shirt quilt made from your T-shirts, consider downloading our T-shirt Quilt Buyer's Guide. It's a perfect place to begin your search for a T-shirt quilt maker.