Quilts Made With Car Show T-shirts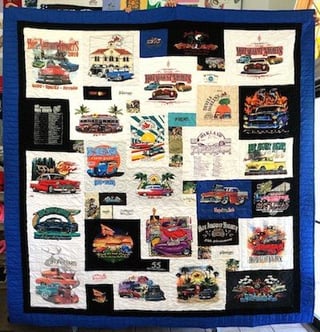 These quilts were memorial quilts that were made for the three adult children of a man who had passed away. Right away you can see that this man loved cars and went to a lot of car shows!
His wife separated the T-shirts into three groupings based a little on color, which T-shirts her children liked and which shows the each had attended with their father. We then worked with the family to make three very unique quilts based on each adult child for whom they were made.
The Blue Quilt
The blue quilt was made for this man's son. We chose a 4" + 2" solid border in royal blue and black to make the quilt more masculine. We chose the royal blue to pull out the color of the two royal blue T-shirts and the royal blue in the graphics.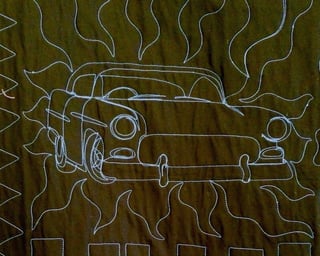 On the back of this quilt we use black backing, and royal blue thread. We finished it with a royal blue binding. This combination made for a masculine looking quilt.
Zoom Zoom
The Green and the Red Quilts
The other two quilts were made for this man's daughters. Each of these quilters were jazzed up with a 4" pieced + 2" solid border. Beyond the color theme, these two quilts look so different because of the 4" piece part of the border. The green quilt only had two colors, black and green, repeating in the border. This gave this quilt a much different feel from the red quilt where we used 3 different colors in the 4" pieced border. This one little change in the border, from two colors to three colors made a big difference to the look of the quilts.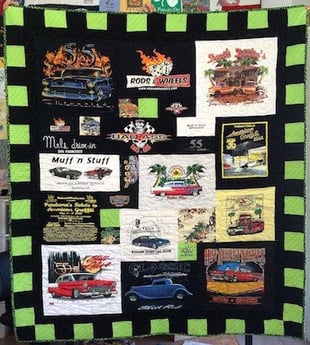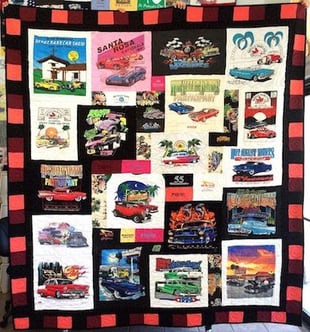 In the green quilt, there wasn't a lime green block in the quilt. Nor was any of the text lime green. But this young woman liked lime green. By adding just three little blocks of lime green into the body of the quilt put enough lime green into the quilt that adding a lime green border looks like a natural fit.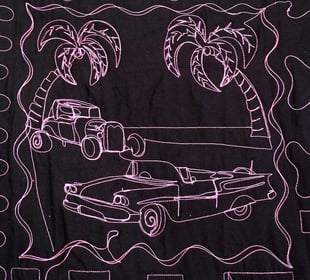 On the back of the red and green quilts we also use black fabric. We used quilting thread for each quilt that matched the color theme. The contrasts in the thread color to the black backing made the colors pop! The cars just drive right off the back of the quilts.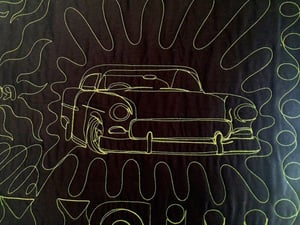 To learn more about having a T-shirt quilt made from your T-shirts, consider downloading our T-shirt Quilt Buyer's Guide. It's a great place to begin you search.