How to Use a T-shirt Quilt to Raise Money for Your Organization
April 13th, 2017
By Andrea Funk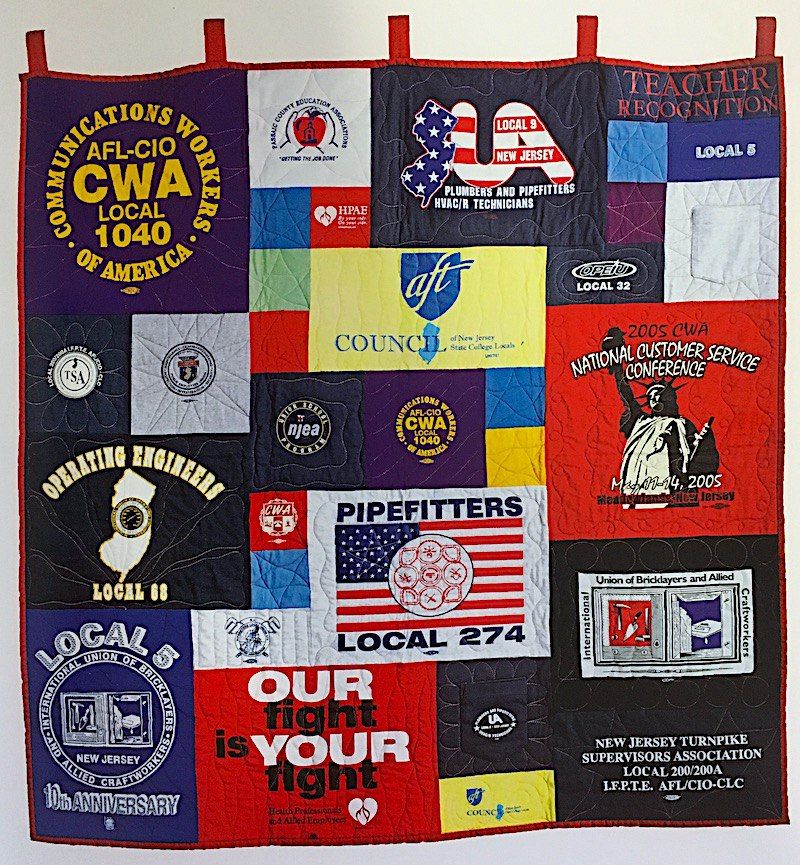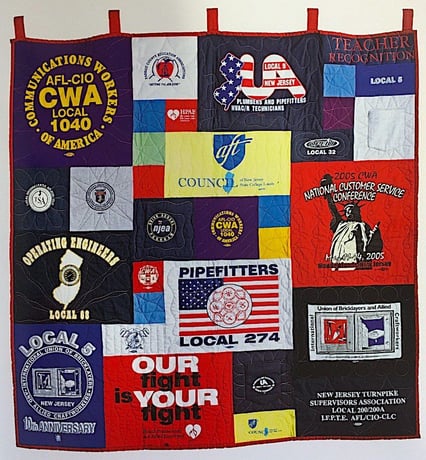 Think about using a T-shirt Quilt as part of your plans. Here are two great ways and one poor way to use a T-shirt quilt to help your organization to raise money.
1. Make money from the solicitation of the T-shirts.
The American Labor Museum in Haledon, NJ used T-shirt quilts made by Too Cool T-shirt Quilts to help in fundraising for the museum in a very clever fashion.
The Museum sent a call out to different labor unions around the country. They asked that each union donate one T-shirt and $100. By asking a lot of Unions for a small donation they were able to raise a lot of money.
Each time 12 to 15 T-shirts had been collected, they hired Too Cool T-shirt Quilts to make a wall-hanging sized quilt. This project stretched out over about 6 months. As the quilts were completed, they were able to use photos of the completed quilts to entice other unions to take part in the fundraiser.
So here is the math…
They took in 15 T-shirts and $1,500 and then paid Too Cool T-shirt Quilts $400 to make the quilt. The profit per quilt is $1,100. We ended up making a total of 10 quilts. More math… 10 x $1,000 = $11,000.
Not bad! Plus, they have the added bonus of being able to use the quilts as an exhibit in the museum. They also loan out the quilts for exhibits around the country.
---
To learn more about having a quilt made from your T-shirts, download our free T-shirt Quilt Buyer's Guide.
It's a great place to learn about the different styles and quality of T-shirt quilts.
---
How could you use this concept to raise money for your organization?
This method works if your contributors have two things – T-shirts and money. You might not want to make 10 small quilts. But, you could aim for more T-shirts and a high contribution per T-shirt donated and one larger quilt.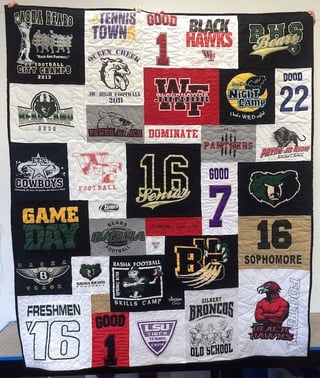 A small-town chamber of commerce could use this method as follows…
Ask each merchant or Chamber of Commerce member to donate a T-shirt from their company and $250. You would encourage donations because they don't want their company to get left off the quilt.


You could aim to get 40 T-shirts. 40 x $250 = $10,000.


The actual quilt would cost less than 10% of your total.


Some towns make T-shirts for merchants to sell which feature a drawn map of the town with the different businesses locations. This is a great T-shirt to put in the middle of the quilt.


After the quilt is made, it could be hung in the city offices, moved between the different small businesses.


The quilt could also be raffled off to raise even more funds.


This method would also work with a high school football team fundraiser.
Ask each member of the football team to donate 1 high school themed T-shirt and $25.


The average football team is 60 to 90 players. 60 x $25 = $1500. 60 T-shirts would be a lot, so focus on getting the money and perhaps half the T-shirts.


The actual quilt would cost less than 1/3 of your total.


To add to the fun, you could have each football player sign one T-shirt. Try to keep the signatures within a 16 x 16-inch area.


After the quilt is made, it could be hung in the coach's office or somewhere in the school.


The quilt would then be raffled off to raise even more money. Most of your income would be through the sale of raffle tickets.
2. Raffles
We have found that a raffle is the best way to use a T-shirt quilt for fundraising.
For example, an 8th grade class needed to raise money for a trip.
They had each student bring in a school-related T-shirt and $15 (the amount per student will depend on how many students and what size quilt is made). The amount they collected covered the cost of the quilt.


We made a multi-use quilt.


They then held a raffle for the quilt. Over two months they sold tickets to the entire school – 1 for $1 and 6 for $5. They sold over $1,200 in tickets.
The quilt was so cool and the topic (the school) so relevant to the students, parents and teachers that they were able to raise a lot of money for the trip while limiting each student's outlay.
But note, the quilt has to be awesome. Just any traditional style T-shirt quilt won't do it. It will not raise anywhere near the amount that a Too Cool Style quilt will bring in.
Hint for finding extra T-shirts for a raffle quilt:
Most organizations order extra T-shirts just in case someone forgets one or one is lost. Many times, they have extra T-shirts that go back years! We have found T-shirts that were over ten years old in the band storage room.
3. Silent Auctions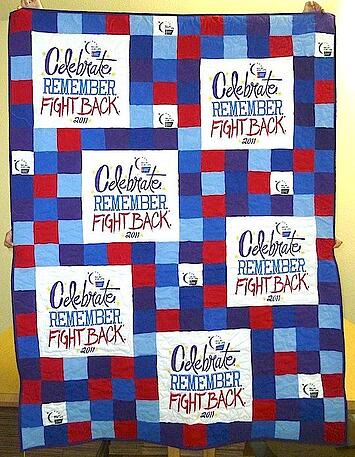 Most of the time silent auctions don't bring in enough to cover the cost of the quilt. This is because T-shirt quilts generally are very personal. Someone else's T-shirts are just not enough to get someone to bid over the cost of the quilt.
I would suggest not doing a silent auction. A few years ago, we made a quilt for the American Cancer Society 24 Hour Challenge. It was an awesome quilt. Although we did make the quilt pro bono, the quilt would have cost over $500 to make.
In the silent auction, the quilt received a high bid of $125. I was devastated at the result. I felt like it was a waste of my time and effort.
Too Cool T-shirt Quilts does make about a half dozen charity quilts a year pro bono, but not for silent auctions. But we can't make them all for free.
How can you make money with a T-shirt quilt?
How can we help you raise funds for your organization? Give us a call; we would be happy to consult with you. 517-541-8225 or email us!
Back to Odds and Ends
Back to the Resource Page
Four of the American Labor Museum's T-shirt quilts hang in Skidmore College's Tang Museum in Saratoga Springs NY.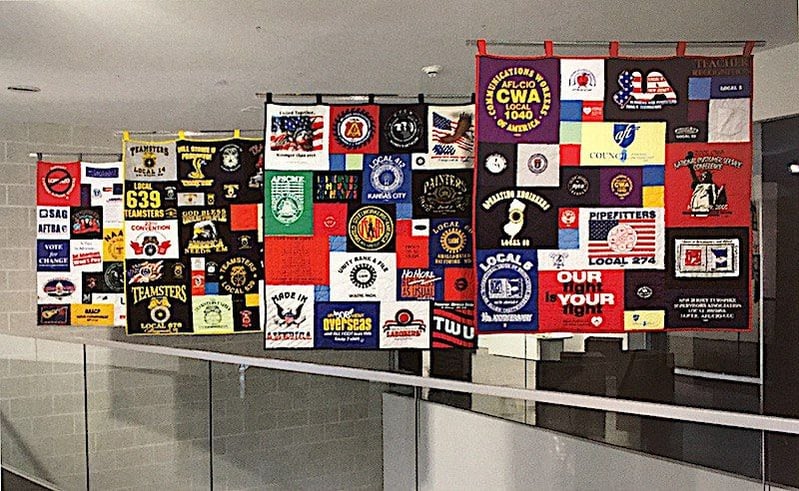 Andrea Funk is the inventor of T-shirt quilts made with multiple blocks sizes. The modern method of making T-shirt quilts. In 1992 she founded Too Cool T-shirt Quilts. Her life has been immersed in T-shirt quilts ever since.